Welcome

to
LeonaChoy.com
My Online Workspace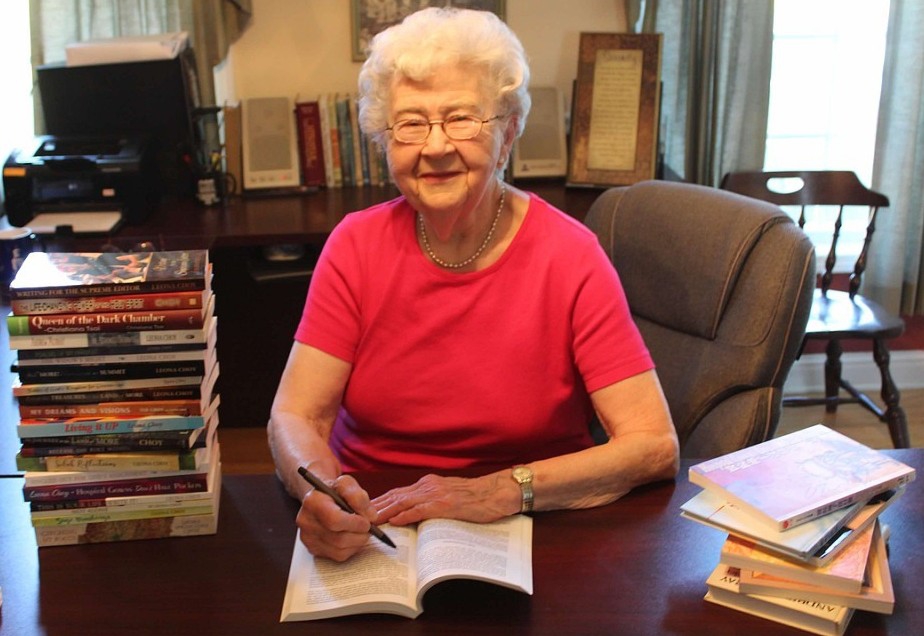 In real time you can usually find me in my writing studio. It is in my home which I call "Eagle Summit" in the beautiful Shenandoah Valley of Virginia pictured above.
I'm Leona Choy and I'm passionate about sharing my experience of creative writing with YOU.
Whether you're an aspiring Christian writer or an already published author, young or a late bloomer in your 70's or above, it's never too early or too late to pursue your writing dreams. I'm here for you.
I've had decades of editorial writing, teaching writers' workshops, conference presenting, publishing and radio broadcast production.
I've written, collaborated, ghosted, edited and published more than 45 books through both royalty publishers and indie self-publishing.
It didn't happen overnight! I was in my mid-twenties, exhausted, with three toddlers in tow returning from the mission field when I experienced the sweat and thrill of seeing my first piece of writing published in a giveaway Sunday School paper. No payment, but oh, how sweet to see my byline! Read the whole story in ABOUT LEONA.
I knew God was calling me to write for Him. A long road lay ahead. For the past 26 years I've been Executive Director of Golden Morning Publishing, our indie ministry. We've produced close to 30 books, my own and also those of other authors. As your cheerleader-coach, I'd love to share YOUR sweat and thrill to see you become published.
THERE'S MORE! Writers can arrange for a free "Jump Start" consultation with me by email to explore your goals. For in-depth personalized assistance, I offer what I call "Stage Coaching" to work with you to reach the next level in your writing.
I feel a special connection with my many readers. I'm eager to tell you the back-stories of how and why I've written each book. I always have more than one book in process. On this site I'm giving you exclusive sneak-peeks of what's next on my publishing schedule.
Download your FREE multi-page PDF, "Fan the Flame—Creative Christian Writing"