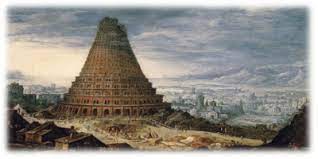 Let's stretch our minds more than a little and peer with virtual night-vision binoculars into the growing darkness which is trying to smother us in modern society.
While we have slumbering in our hideaways like the legendary Rip Van Winkle, we, the people, were being conditioned to wear masks both over our mouths and, as it were, over our eyes. We could neither see nor speak our minds about what was going on. Since 2020 we have been submitting meekly as sheep to distancing and "sheltering-in-place" and now to accepting an experimental injection for our protection from Covid-19. [Like sheep, yes, but following the wrong shepherd?]
Meanwhile, mankind has been "probing the heavens from the top of our towers" replicating the Tower of Babel in the ancient land of Shinar. Looking upward, modern man seems obsessed to search space, "the heavens," for life, Also searching inward into the far reaches of our DNA trying to create life artificially. Why? God already created life. (John 1:1-3) "...all things came into being by Him...in Him was life...."
Isn't it high time to wake up, expose the world "gone woke," rip off all masks and reveal the true agenda of this so-called scientific masquerade for what it really is? Because mankind resists God's control, it insists on playing God from scratch. In an attempt to control people totally and globally the major areas of scientific exploration are taking place in the transhumanist world in neurotechnology, artificial intelligence, and genetics. In the same ways that technology research and development drove the space race and nuclear arms race, a race for experimenting with nano-robots is occurring.
Nano-robots? Simply said, they are microscopically small molecular level entities about the width of a strand of human hair which can be programmed to carry out a variety of tasks—including creating life without a soul.
What is humanism's ultimate goal? Mankind is trying to copy what God the Creator did—but "Build Back Better" after canceling Him. The ambitious project which mankind is attempting is a biological and non-biological hybrid of human and artificial "flesh." We are told that we are just a few scientific breakthroughs, a few decades away, from achieving eternal life!
Scientists anticipate that at last through transhumanism, we will be able to meet all the challenges of the coming global civilization that is being established under our very noses. This hybrid without a God-gene will more easily be controlled by tyrannical powers. Arrogant humans are intent on creating this life with the ability to reproduce itself without divine interference.
These pseudo-creators in their white coats in clandestine labs want to show God that they don't need Him! They call this upgraded entity that is "not made in the image and likeness of God" Human 2.0. Their superior creation/creature will be a different species that will live and move far beyond human abilities, expectations, and parameters. It will be programmed to break free of limiting mental concepts, thoughts, and beliefs.
To create this "super-man," its proponents believe that a global super-brain must first be created through the use of nanobots. [But One and only One universal super-brain already exists—the Most High God!] Is this just an illusion? No, they are serious. Literally with their heads "in the cloud," scientists predict that the internet of thoughts will be a reality within decades.
They anticipate that such exponential progress in nanotechnology, nanomedicine, artificial intelligence, and computation via thought alone will give mankind instant access to vast knowledge [Already in Christ we have ALL wisdom and knowledge, and we are invited to "have the mind of Christ."] What's their plan? To connect neurons and synapses in the brain to the vast cloud-computing networks in real-time.
Hmm. Doesn't that sound like the objective of early mankind described in Genesis chapter 11? The ancient man might have been more tech-savvy and highly civilized than we ever imagined or than we have even now attained. We know that their goal was global unity symbolized by common language and culture and unity of thought.
Mankind seems again to be trying to build a modern Tower of Babel to reach a higher level of intelligence, to control its own destiny, and do away with any concept of God. This is a futile attempt to be gods of our bodies and of our futures. [One day all will be revealed and they will see that "they exchanged the truth of God for a lie, and worshiped and served the created rather than the Creator." (Romans 1:25)]
Most of us have no idea that this monumental upset and reset is going on. It seems so absurd that many refuse to believe it or choose to ignore it. They are "given over to a strong delusion."
Their goal is to transfer an individual's personality to a more advanced non-biological carrier and extend our life on this planet to the point of immortality. That, they claim, will require the fullest possible merger between the world's major spiritual and religious traditions, science, and society. [Sound familiar? Antichrist prophesy?]
Is your mind stretched enough yet? By 2020-2025 scientists expect to have created "an autonomous life-support system for the human brain to be linked to a robot, 'avatar' (hologram), which will rescue people whose body is completely worn out or irreversibly damaged to return to a fully functioning bodily life." [God's plan in 2 Corinthians 4:16-18; 5:1-5 is far better!]
Some of us aren't familiar with the term "cloud" being anything more than the atmospheric fluff in the sky which holds wind and water and lightning. "The cloud" in computing storage terms is an information technology (IT). This is a paradigm and model for accessing shared pools of resources (such as computer networks, servers, storage, applications, and services) almost instantly over the Internet. The cloud makes global storage and usage available from virtually any location on the planet.
Wake up! Watch the news: the worldwide global cloud-based information processing technologies are nearly in place! Next comes serious experimenting with interfacing "the cloud" with the human brain as a "human brain/cloud interface" ("B/CI"), based on technologies called "neuralnanorobotics." [Great word for the Scrabble game.] This carries the promise of unlimited human knowledge. At "...the time of the end, many shall run to and fro, and knowledge shall increase." (NLV Daniel 12:4)
Humankind has a powerful, ceaseless drive to explore more and improve its collective condition. From the beginning man has relentlessly probed and pushed boundaries until there seems to be no separation between the possible and the impossible.
Humankind is always intrigued with exploring the spiritual world but without regard whether the spirits are good or evil. Space and its mysteries draw our attention and efforts. We want to go beyond the tops of our towers and explore the universe. But at the original Tower of Babel God had the last word. "Now nothing they propose to do will be withheld from them." With this prideful drive comes a constant desire for social interaction and communication. The judgment of God scattered the people globally and made different languages and cultures necessary.
Deception is the hallmark of these perilous times. We are so easily deceived. Without the mind of Christ, we can't discern between truth and falsehood. God has blessed humankind with great intellect, but without Jesus who said "I am the Way, the Truth, and the life," evil will attempt to fill the void.
We may think this experiment of connecting man's brain to "the cloud" is crazy. It is. But it's happening. When things reach a certain point, which only God knows, His mercy and patience turn to judgment.
God will deal with this. He will allow only so much and no more! He will say "Enough!" as He did at the original Tower of Babel. And at the flood. At Sodom and Gomorrah. At all the towers we arrogantly try to build to probe the heavens. At all the judgments throughout history when natural laws and divine laws have been transgressed. Are we possibly close to the edge?