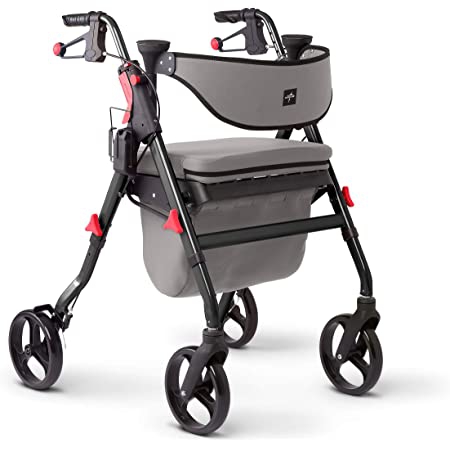 Well, it's finally come to this—and how blessed I am with the recent provision from my four sons of this luxury mobile unit of transportation. Its real name is Medline Rollator, but I have named it my Rolls-Royce.
Back when I was in my eighties, I still depended on being self-propelled for exercise and fresh air along our quiet residential road with my own foot power. A few decades before, I biked the same route.
As the calendar pages turned, my pace slowed and peripheral neuropathy made me less certain of where my feet were meeting the road. My then 14-year-old grandson Jeffrey (now 22 and in the Army jumping out of planes) gave me a hand-crafted walking staff. Not an ordinary, run-of-the-mill hiking pole, but one carved out of natural hardwood and 54 inches long! Folk art with an eagle's head at the top. Jeffrey knew that the eagle motif is the décor in my home which I call Eagle Summit. "Grandma, if a savage wolf comes out of the woods while you're walking, you can bonk him with the sharp eagle's beak on the staff!" Jeffrey advised.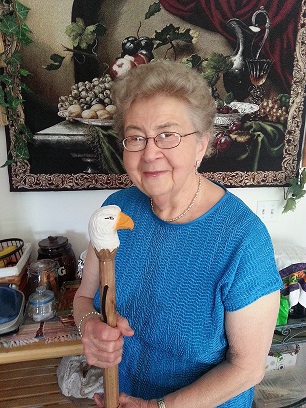 Next came the use of a "HurryCane" on the advice of my modern "medicine men" for my increasing geriatric uncertain balance. I needed some secure assistance in walking. Three-pronged feet with cups on them, the cane pivots like my ankle and supposedly can fold up. Highly over-rated, it doesn't really stand by itself and tends to fold up when in use! I preferred a cane decorated with colorful butterflies.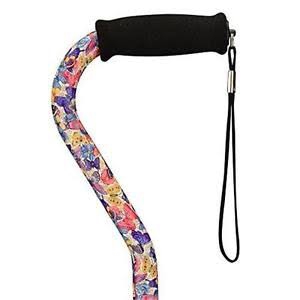 A variety of canes have helped to restore my self-confidence. "Be careful not to fall!" is the parting warning each of my doctors offers me when an appointment is over.
To strengthen my leg muscles and cardio, a couple of years down the line my sons surprised me at Christmas with a heavy box even Santa struggled to carry through the door. A steel Schwinn 270 Recumbent bike with an electronic dashboard that resembles an airplane cockpit—that doesn't go anywhere. (It took all 4 sons sprawled in various positions on the floor to put it together without any pieces leftover.) I faithfully pedal 8 miles a night ever since that Christmas—a piece of cake, since I positioned my "Harley", as I named it, facing the TV.
I confess that with the onset of my nineties, just walking about in my spacious home without tottering, losing my balance, or stumbling has become a challenge. Again, my alert, thoughtful sons to the rescue.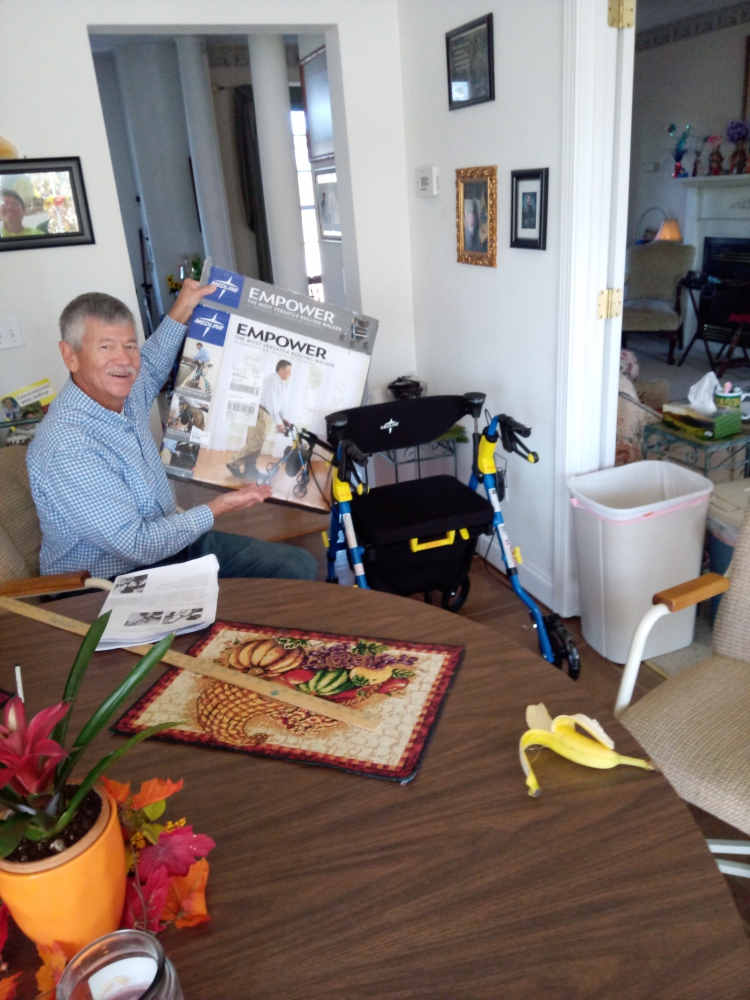 I don't need to describe my spankin' new Rollator's multiple, smooth-rolling comfort features which you can see above. They are itemized at length on Medline.com. The many adjustments are designed to keep me walking erect, avoiding falls, and even sitting when needed. My son Cliff assembled it in record time with no leftover parts!
I do admit that wonderful as this assistance is, all these inevitable speed bumps that come with advancing years slow my pace and chip away at my independence. Yes, and my pride. Especially for those of us accustomed to being in control and on the helping end of life. We desire to remain independent as long as possible. A worthy desire. Of course, we want to fend for ourselves and not be a burden to others.
Many of us have been caretakers of others during much of our lifetime—helping spouses, raising children, caring for aging parents. We ourselves don't want to feel weak and needy. We want to keep feeling strong and in control. Not vulnerable or fragile. We find it difficult and uncomfortable to see ourselves in a position of having to be cared for now. Truly, it is harder to receive help than to give help—as much as we might really need assistance.
There is a time and season for all things—a time to help others and also a time to be helped.
Bringing it into our personal spiritual realm, it would seem that God looks at this matter of independence differently. In our Christian walk, we are mistaken if we consider spiritual maturity as becoming independent of God—insisting on doing it our way, by ourselves, not leaning on Him, walking alone without His help. He wants to work through our weakness, wants us to lean hard on Him, seek and depend on His counsel for everything. Not lean on our own understanding (Proverbs 3:5,6), not depend on our own "horses and chariots" no matter how much horsepower our modern chariots may have.
"Without Me, you can do nothing" is quite clearly God's modus operandi. Sometimes He lovingly but purposely allows us to come to a point of helplessness, of diminished strength, loss of health, of being faint and weary with the length of life's journey. It is when we are weak that He can infuse His power into us. (2 Corinthians 12:9,10) Our utter dependence upon the Lord is what pleases Him.
God wants to be our rod and staff—and walker.
And God bless those who are called alongside to help us walk.