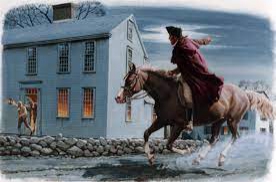 Let's take the Time Tunnel back to eighth-grade literature class. Do you remember memorizing portions of the poet Longfellow's ballad, a slice of Revolutionary history?
"Listen, my children, and you shall hear
Of the midnight ride of Paul Revere,
On the eighteenth of April, in Seventy-Five:
Hardly a man is now alive
Who remembers that famous day and year....."
Longfellow wrote the poem in 1860 when our still-fledgling nation was facing a crisis of unity in a conflict that threatened to shatter our fragile Union. (Not unlike our country today?) America was on the verge of the bloody brother-against-brother Civil War (1861 – 1865). It was fought between "the Union" or "the North" and southern states supporting the federal union who were voting to secede and form the Confederate States of America. A central cause of the war was the status of slavery. Four million of the 32 million Americans were black slaves. Himself an abolitionist, Longfellow often used poetry to remind readers of cultural and moral values.
Longfellow's poem, however, is not historically accurate, but his "mistakes" were said to be deliberate. He researched the historical event well but manipulated the facts for poetic effect—to create American legends. The poem was meant to arouse Northerners' sense of urgency—to be a bugle call to action because, Longfellow implied, history favors the courageous. The Civil War was pending.
Revere's midnight heroic episode took place in a much earlier era of our country's history—1775, at the beginning of the American Revolution against British tyranny.
Let's adjust our perspective: Think colonies, not yet states. Think days of Patriots pursuing new freedoms against the Loyalists to British King George. Think primitive guns and gunpowder, cannons to manufacture, and cannonballs to hurl across the battlefield. Think local militias, every man armed and ready to defend his family and help his neighbor.
Think of society before the Constitution took shape, before a government of and by the people. The West was still to be won by pioneers. Men were pledging their lives and fortunes to establish a unique concept, a nation which they dreamed would be indivisible and not answerable to any foreign dominance.
Think communication limited to foot couriers or on horseback. No phones, electricity, radios, cars, planes. Our hero, Paul Revere, a successful businessman, was one of those clandestine messengers appointed by the Patriots as a "Federal Express" rider to spy on the movements of the British troops. He carried news, messages, and copies of important documents as far as New York and Philadelphia.
On this foreboding April night, he was given the task of riding horseback to Lexington, Massachusetts. His "message, should he accept it," was the breaking news that regular British troops were about to march into the countryside northwest of Boston and then on to Concord, gaining control as they went. As he galloped through the countryside in the midnight hours he was to wake up his countrymen patriots by pounding on their doors.
JUST THE FACTS, M'AM. Let's weed out Longfellow's poetic license. He described the lantern signal in the Old North Church as meant for Revere, but actually, it was Revere who ordered it. The British would be coming "One lantern-lit if, by land, two if by sea." Friends rowed him over the Charles River by pre-arrangement. He didn't transport his horse in his rowboat! Slipping past a British warship in the darkness, Revere landed safely. He was to warn Patriots John Hancock and Samuel Adams in time for them to escape arrest. Mission accomplished. The Patriots needed a heads-up that the British planned to seize the militia weapons stored at Concord.
In their mission, they were joined by Samuel Prescott, a doctor who lived in Concord. The plot thickens. Revere, Dawes, and Prescott were captured by British troops on the road to Concord. Prescott and Dawes escaped, but Revere was seized by the British in the wee hours. His trusty steed was "horse-napped" to serve a British officer whose nag was too tired for battle.
After interrogation, Revere, at the points of the bayonets of three British officers, was force-walked in disgrace all the way back to Lexington. He never did reach Concord that night. That part of his mission was unaccomplished.
Revere and his fellow courier William Dawes had agreed to take different routes in case either of them was captured. Wise decision. Only Prescott arrived at Concord in time to warn the militia to hide the stockpiled artillery from the enemy.
To present him as heroic, in Longfellow's poem he gave sole credit to Revere for the collective achievements of three riders. Oh well. Poetic license.
In the obituary of Apollos Rivoire Jr. (aka Paul Revere) age 81, son of a French immigrant, his accomplishments were immortalized as being a master goldsmith, silversmith, engraver, printer of currency for the Revolution, manufacturer of tons of gunpowder, dentist, his part in the "Boston Tea Party" uprising, and as the father of sixteen children. No mention of his"Midnight Ride" which Henry Wadsworth Longfellow made so famous.
In 2021 we are once again "in the hour of darkness and peril and need." Strange changes are taking place in our times. High tech communication is beyond imagination and at the fingertips of almost everyone. Our standard of living is the highest ever, yet the hearts of many are failing them for fear of our very survival if the course of our government is not changed. We are immersed in racial tensions which permeate all areas of our lives. Confiscation of our lawful possession of guns for our protection is getting closer.
Children are being taught to hate their neighbor if the neighbor does not agree with the new status quo. We are losing our hard-won freedoms, and dissent is not tolerated. We are being groomed to a strange image and forced to embrace tyranny. Once again we are on the brink of disunion and disintegration as a civilized and moral society. We are in danger both from our enemies abroad once again and from those of our countrymen who have drunk the Kool-aid of socialism.
Have we learned nothing from the past?
History cycles and repeats itself.
Freedoms and tyrants come and go
Extraordinary moments beckon us among the ordinaries of life
A brazen act of defiance for a righteous cause may at times be necessary
Courage and risk are always in style
There is a time to tear down and a time to build. Ask God for wisdom.
It takes the sacrifice of lives and fortunes to upset and reset a society
Each generation births its loyalists to the status quo and its rebels
The sands of time blur what we may think is important
The only certain thing in life is change
God uses many couriers to carry His messages
It only takes a few hours to do a deed that will have memorable significance
Let God hand out the credits—just do what is to be done.
Longfellow concludes his poem with the warning: of a coming "hour of darkness and peril and need," implying that a breakup of the Union could have taken place in the Civil War—which it almost did. He challenged "the people to awaken and listen to hear the midnight message of Paul Revere" once again. By emphasizing common history, he was attempting to dissolve social and racial issues.
"And so through the night went his cry of alarm
To every Middlesex village and farm,—
A cry of defiance, and not of fear,
A voice in the darkness, a knock at the door,
And a word that shall echo forevermore!
For, borne on the night-wind of the Past,
Through all our history, to the last,
In the hour of darkness and peril and need,
The people will waken and listen to hear
The hurrying hoof-beats of that steed,
And the midnight message of Paul Revere."
What message of alarm would Paul Revere announce, if he knocked on our doors at midnight tonight, or if he texted or emailed or cell-phoned us?
"People of America—Awake and listen and act—the TYRANTS are coming! Both lanterns in the belfry are lit! The tyrants are both offshore and already among us!"