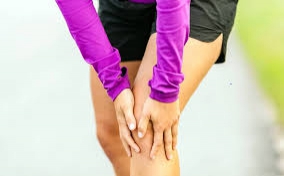 I can't even count how many of my friends have had knee replacement surgeries. Has the problem developed from too much kneeling in prayer? Not so much, I think. Physical reasons may be many, but I'm not a doctor, nor, as they say, do I play a doctor on TV. So let's spend a few minutes on the spiritual aspects of knee problems and their connection to our hands.
We've been looking together at the long haul we've all been enduring for these many months and the emotional drag it's been on us. Yes, we are tired and weary and all of us feel like marathoners. The prolonged stress has even affected our physical posture—our hands and knees in particular. And that has affected our walk. We find ourselves limping and tottering. God's Word prescribes some non-pharmaceutical remedies with no side effects.
What follows is a grouping of translations and versions from two verses in the New Testament book of Hebrews 12:12, 13, which are guaranteed to build us up and spiritually energize us, if taken regularly according to the directions.
We'll start with trusty King James version and expand it from there: "Wherefore lift up the hands which hang down, and the feeble knees; And make straight paths for your feet, lest that which is lame be turned out of the way; but let it rather be healed."
"Brace up and reinvigorate and set right your slackened and weakened and drooping hands and strengthen your feeble and palsied and tottering knees.
"Now stand up straight! Stop your knees from shaking. So take a fresh grip on life and brace your trembling, tottering, disabled, shaky limbs.
"Don't wander away from the path but forge steadily onward. On the right path, the limping foot recovers strength and does not collapse. Don't sit around on your listless hands! No more dragging your feet! Clear the path for long-distance runners so no one will trip and fall, so no one will step in a hole and sprain an ankle. Help each other out. And run for it!
"Put your hands to work. Strengthen your legs for the journey. Stop letting your hands go slack or droop or dangle. Get some energy into your sagging knees! Brace up. Reinvigorate yourself, straighten up. Be made strong even in your weakness by lifting up and stretching forth your tired hands in prayer and worship.
"And strengthen your weak knees. Cut through and make smooth, straight paths for your feet [that are safe and go in the right direction], so that the leg which is lame or injured may not get wrenched out of joint, but rather may be healed.
"Make a level path for your feet. Mark out a straight, smooth path for your feet so that those who follow you, though weak and lame, will not fall and hurt themselves but become strong. Wherefore lift up the hands that hang down, and the failing knees."
Rx Take as directed:
Read and heed these divine words of instruction first thing in the morning and the last thing at night for extended relief. Share the dose with others who are suffering from mask-itis, isolation fever, and societal confusion. Increased strength in hands and knees should become noticeable immediately.