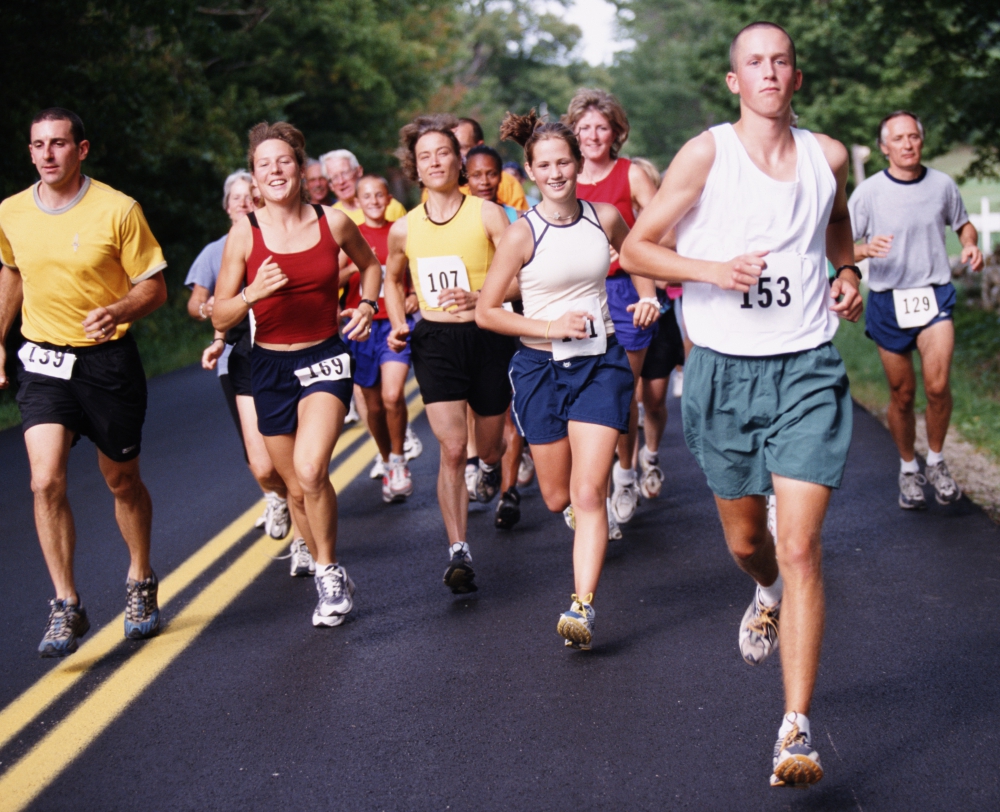 I admire my friends who run Marathons, some of whom are also calendar-challenged. I wish I still had that kind of stamina. But the Marathoners I have in mind aren't out on a literal long-distance endurance competition. They run the nitty-gritty, life and death, daily survival experience of suffering, weakness, and pain.
Nevertheless, they are Marathoners in God's "race that is set before us" as the Apostle Paul described our life journey.
Like the miles I clock on my recumbent stationary bike daily, they pedal and puff but seem to get nowhere. These friends are "running" although they may seem to be immobile. Some are bedridden, wheelchair-bound, shut-in, hospitalized, confined to care facilities, or debilitated in a variety of ways in their bodies or minds. They don't compete with other runners. Theirs is a race of personal endurance.
The dictionary defines a Marathon as "any long contest with endurance as a primary factor." That's life, right? I peeked into the backstory: The original Marathon took place in 490 B.C. not as a sporting event but a one-time, news-release run of 26 miles by a professional military messenger named Pheidippides. He was a Greek from the area of Marathon, a plain in S.E. Greece who was commissioned to carry the news to Athens of the victory of the Greeks over the Persians. (Obviously, no newspapers, phones, radios, TV newscasters, telegraph, email, or texting—just running, probably barefoot or in sandals.)
The legend goes that upon arrival he shouted "Greetings! We won!" Message dispatched. Then he fell dead!
Not until 2000 years later in 1896 was the Marathon race established in its modern form. The rules and length were standardized at 26 miles or 385 yards. Now there are many variants, among them a wheelchair division. Until 1972 women were not allowed to participate. The race was considered too strenuous for the "weaker sex." The oldest man to finish was 100 and the oldest woman so far was 92.
The Apostle Paul often used sports terms in his New Testament letters. We are all running a race. We should run not to simply compete but to win. To win means to finish our particular course and cross our finish line—not necessarily with the most speed or to compete with one another, but to persevere in our faith with endurance until the very end. However long it takes, all who cross the finish line are winners!
There is laid up for us [in store for us] an imperishable crown of righteousness, (2 Timothy 4:8) not a fading, woven-flower crown. We have help from On High—we have "a great cloud of witnesses" in Heaven (Hebrews 12:1) cheering us on—angels and saints, our loved ones who have gone on before, those who have won their race and kept the Faith and are now rejoicing in the presence of God, praying for and encouraging us who are still running our unique races.
"Completing the race" and "crossing the finish line" is the Marathoner' goal—not the speed at which they run their course. Marathoners are not sprinters with a short, concentrated dash and it's over. A Marathon is an experience for the long haul. My Marathoner friends may not feel the rush and surge of energy provided by being a part of a like-minded crowd of competitors as in the Boston Marathon. More often than not, they are running their course alone. Even more likely since the protracted lockdown and mandated distancing blamed on the pandemic.
These are my hale and hardy friends of our younger days. I grew up with some of them, worked with, served the Lord with, enjoyed life with them. Now we are companions in fragility and weakness. Some of us have been blessed by God with longevity which also means a longer time in a weakened state. And longer to walk with the Lord, trusting Him to give us strength for the journey.
The running course set before us is not a level one. The daily terrain for some is rougher and tougher and steeper than that of others. Tons of blessings and joys, yes, but also a lifetime of hills and valleys, speed bumps, potholes, and afflictions physically, mentally, emotionally, and of course spiritually. Each one strains with difficulty toward the Finish Line. In God's eyes all His children, regardless of age, are champion Marathoners, close to His heart.
Let's be mindful of our fellow Marathoners and help each other bear our burdens and crosses and "so fulfill the law of Christ," the law of love. Jesus said that inasmuch as we do anything for the least of these we do it unto Him.
We need angelic help for our long and wearisome life Marathon run. We each have personal "lions and snakes" in our pathway. Angels must be good at kicking them out of the way. God's promise from Psalm 91 in a modern version is:
"He ordered his angels to guard you wherever you go. If you stumble, they'll catch you; their job is to keep you from falling. You'll walk unharmed among lions and snakes, and kick young lions and serpents from the path.
"If you'll hold on to me for dear life," says God, "I'll get you out of any trouble. I'll give you the best of care if you'll only get to know and trust me. Call me and I'll answer, be at your side in bad times; I'll rescue you, then throw you a party. I'll give you a long life, give you a long drink of salvation!"
Now that's a party I don't want to miss!