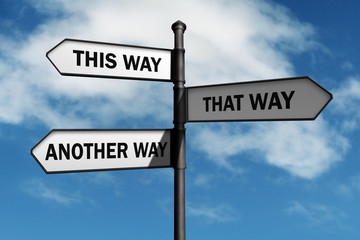 "Make your WAYS known to me, Lord; teach me your PATHS. Lead me in your TRUTH—teach it to me— because you are the God who saves me. I put my hope in you all day long." CEB Psalm 25:4, 5
It's a fact—all day long we make multiple conscious and automatic decisions. We depend upon the Lord to teach us Truth in His usual WAYS, His well-trodden PATHS, the manner in which He customarily works. He has given us such guidelines in His written Word and in the examples of godly men and women through the generations. We have experienced the WAYS He has led us faithfully in the past. We are comforted by His familiar, ordinary leading. We follow Him without question because we trust His WAYS.
There are also times when God does surprise us by pointing out a fresh path, a way less traveled; we follow Him in anticipation of the new thing He wants us to do or be. Jesus promised to "make all things new." I want to be part of His "New Wineskins" people in these prophetic end times before His return, don't you?
In His tender love and compassion, He may lead us otherwise in different seasons of our lives and when our life circumstances change. The Lord's eyes are always upon His children, the young and the mature. He has constant oversight of putting together the puzzle pieces that comprise my life and yours. While we are in our mortal bodies, we don't see the glorious, multi-colored, perfected picture of us He chose for the cover of our life-box. Only in Eternity will we see how the dark pieces fit together with the bright ones. That will be celebration time!
As we gladly wait upon Him and make ourselves available for His purposes, God lets us know by Holy Spirit whispers and heart and mind impressions which PATHS to take. Then He brings together the circumstances and people to activate His plan through His children on earth as it is done in Heaven. What a joy to be even a small part of His eternal Kingdom plan!
Recently, nudged by my late season of life and the increasingly heavier backpack of decreasing strength that longevity brings with it, we believe God is leading us to make some positive, long-range decisions in our writing ministry and our publishing entity, Golden Morning Publishing.
It's ALL good news! We are happy to announce our new association with Carpenter's Son Publishers, which is an imprint of Christian Book Services. GMP has become another imprint of CBS while remaining an independent contractor continuing to use our present GMP logo.
This new association brings with it access to all of CBS's excellent editing, design, production, printing, marketing, and distribution services. These are now available to GMP and to writers we refer to them.
The following will not change: I plan to continue posting on my encouragement website www.leonachoy.com, and with great joy, I hope to keep coaching writers.
Here's what changes: I will no longer accept editorial work on manuscripts for the publishing of books through Golden Morning Publishing. GMP will discontinue book production and printing. For such services, with confidence, we refer writers to Carpenter's Son Publishers.
Writers will especially benefit from the marketing service now available to them through CBS. With regret, we have not been able to provide that in past years for authors whose books GMP published. After more than 25 years of publishing, this is a significant forward step for GMP. I personally hope to take advantage of the marketing services of CBS for some of my already published books.

Email me at [email protected] for more detailed information about how our new association can benefit YOU. I will be happy to introduce you to the helpful team at Carpenter's Son Publishers to publish your next book or to market your published books.

As your writing coach, I'm eager to help you pursue your writing dream and fulfill your calling "to write for the Supreme Editor [God]."
Leona Choy