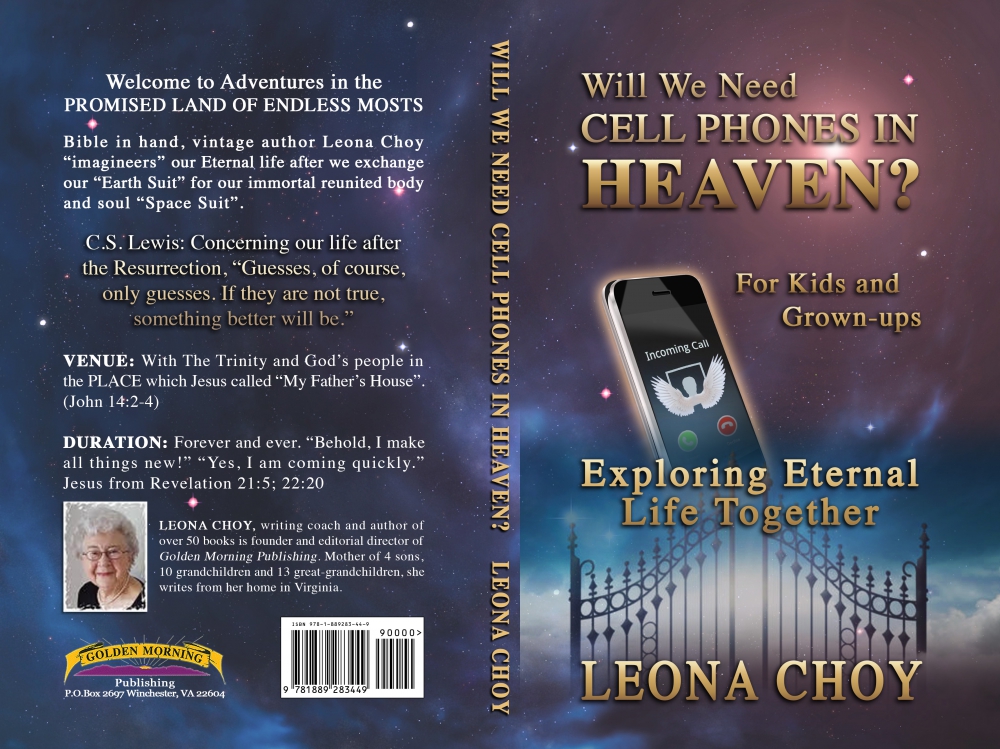 WILL WE NEED CELL PHONES IN HEAVEN? is an appetizer for Heaven. A reader-friendly biblical exploration to expand on 1 Thess. 4:13 "And now, dear brothers, I want you to know what happens to a Christian when he dies so that when it happens, you will not be full of sorrow, as those are who have no hope." This may be the most important of all the books I have written.
After a Christian lays aside his mortal "earth suit" body, then what? Will our body and soul be separated? When will they be reunited again to form our "space suit"?
What happens after the return of Christ to earth and the resurrection of our bodies?
What are we going to be doing for the rest of Eternity in our new immortal bodies?
Based on the characteristics of Jesus' resurrection body and that the Bible declares "we shall be like Him" what might Heaven be like when we have our new "space suit"?
I call my awesome thoughts "imagineering" based on the Bible. When you read the final section, THE REVEAL, prepare to shout Hallelujahs and weep for JOY for what we may be experiencing for Eternity. Certainly we will not be bored or spend our time singing in a choir or taking harp lessons on some cloud.
I wrote separately for both kids and grown-ups—a seemingly impossible attempt in one book. You will listen in on a "Kid Conversation" with my grandson Jeffrey. Then the rest of the book is for YOU to virtually experience.
In the Introduction I virtually asked Saint Augustine (354-430 AD) what he thinks about the subject. Thank you, Saint Augustine, I feel validated to have freely and creatively imagineered the Heavenly scenario, as you did.
You are welcome to chuckle at my humor because you will find Heaven a JOYOUS place. Jesus "promised to go and prepare a PLACE for us"—it couldn't be less than perfect.
How about we make a date to compare notes about how we really found it to be once we got to Heaven? Let's meet at some "STARbucks" on Celestial Avenue in Heaven for a slice of "angel-food" cake with our specialty Caffe latte (certainly not instant coffee, although everything in Heaven is immediate. Fast food means something different in Heaven.
Or perhaps you would prefer hanging out together somewhere on the "Milky Way?" We wouldn't need Scotty of Star Trek to "beam us up." Just a blink of an eye will transport us anywhere, anytime in the universe.
There is "no one who doesn't need to read this book." You'll want to buy multiple copies for all your friends and families as if their life depended on it—because Eternal Life does! Don't leave for Heaven without the Bible truth this book contains!
*****
Contact [email protected] to order copies--with instructions to whom the buyer wishes the book signed by Leona and the postal mailing address to which the books are to be sent. Price per copy $12 plus $4 S/H
Payment: Send checks or use PayPal.me/LeonaChoy to Golden Morning Publishing
P.O. Box 2697 Winchester, VA 22604.