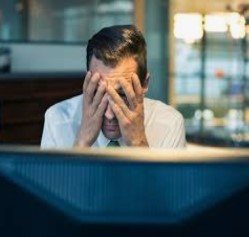 Back in 1997 a little book hit the popular reading market titled, "DON'T SWEAT THE SMALL STUFF with the subtitle...and it's all small stuff."

My four adult sons, two of whom are grandfathers in their own right, are always after me for micro-managing. Well, okay, but that's what moms have to do when they are bringing up kids. No matter how old the "kids" are. Mine (lovingly) complain that I worry too much about the small stuff. I plead guilty.
However, I have to disagree with part of the book's title "...and it's all small stuff." No, it's not ALL small stuff. There's plenty of BIG stuff out there in all of our lives: in mine, in my family's, in the issues my circle of friends are going through. Certainly in the literally life-threatening crises we are grappling with in our society, culture, nation. We should take seriously all of the upsetting/resetting matters that are closing in around us.
The point is, we should be perceptive and discerning and not make mountains out of mole hills, as they say. But not ALL things are mole hills for us to brush aside or be passive about. May God help me to sort out the difference in my life, pray for the things I can't change, and trust the Lord to macro-manage them from the vantage point of His Eternal Plan. I can't promise that I won't still "sweat" a little in the process of stepping back and letting God do the driving.
I agree that I should be reminded not to be so concerned about the passing trivia of daily life and happenings that seem to morph before my eyes into something monstrous and menacing.
I shouldn't waste time and energy and anxiety and worry about things which are temporal, of this earth, of this flesh, of the strictly present tense kinds of situations.
I shouldn't argue about the inconsequential or insist that I am right about unimportant matters. Truly, "What difference does it make who wins a debate over lilliputian issues?"
By next week or next month or next year, will I even remember the worries which I lost sleep over last night? Other people are imperfect. So am I. We may see things differently. If we don't agree on some matter, so what?
Not every emergency is an urgency that needs my management. I should keep a heavenly perspective. So what if there is a glitch in my well-laid plans. Is it worth losing my peace over? Couldn't I give everyone the benefit of the doubt rather than fret uselessly about something that isn't the way I like it?
We are told to choose our battles wisely. That's only half true. Perhaps I shouldn't battle at all, if I've concluded that something is really small stuff. There will be times when I'll want or need to argue, confront, even fight for something I believe in. So many things in life are really not a big deal. Why should I be frustrated and unhappy by fussing with the inconsequential?
I admit that a part of not sweating the small stuff is my tendency to be melodramatic. I blow things out of proportion. I can get too worked up about something that is minor and petty. I know I should lighten up.
Reality check: Why do I too often feel compelled to deal with other people's issues? I need to butt out of things that are not my business. I trespass into places where I have no responsibility or control and in which I can't be of any help. My efforts almost always prove fruitless and unappreciated or resented.
So it boils down to discerning what is really important not only in my limited, finite sight but from God's eternal perspective. Where is my focus? My earth-time is not endless. I make choices every day that affect eternity. I know I shouldn't waste my efforts in the niggling quibble about the small stuff.
So what is the conclusion of this matter? How temporary is this world and its works! How fragile are we human creations of God! 2 Peter 3:10-13 MSG puts it plainly where I can understand it:
"But when the Day of God's Judgment does come, it will be unannounced, like a thief. The sky will collapse with a thunderous bang, everything disintegrating in a raging inferno, earth and all its works exposed to the scrutiny of Judgment.
"Since everything here today might well be gone tomorrow, do you see how essential it is to live a holy life? Daily expect the Day of God, eager for its arrival. The galaxies will burn up and the elements melt down that day—but we'll hardly notice. We'll be looking the other way, ready for the promised new heavens and the promised new earth, all landscaped with righteousness."
Let us occupy until Jesus comes again and be about our Father's business.