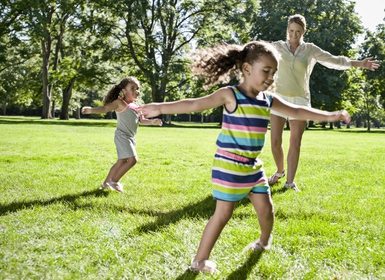 I remember the childhood game of Statue. Players were supposed to "freeze" in whatever position they were in when the word "STATUE!" was shouted. Our little world came to a halt as we struggled to stand still in some awkward pose.
Sometimes I've felt the urge to seize a significant moment and hug it tightly, nail it down so it couldn't get away. I want it to last forever. It might have been a particular period of my life or some enjoyable experience. I imagined that if only I could freeze time at some ideal age or permanently capture an especially happy event without any changes in my present family situation, my strength, or my health, it would be perfect.
As years slipped by, many of us fantasized how wonderful it would be if we could carve out a slice of time to slow our pace and spend the rest of our days in a leisurely manner just "cruising down the river on a Sunday afternoon," as the sentimental song of bygone days would have it. Others were obsessed with running still faster from a sense that time is chasing them. Where's the balance?
Suddenly, out of nowhere, it seemed, our fantasy came true—forced upon us personally, on our families, jobs, careers, our society, nation and globally. A pandemic shouted "STATUE!" and everything came to a standstill. We were obliged to be sheltered-in-place and life was frozen, as it were. The emergency brake was pulled. Society paused and people had to distance themselves from one another and wear masks. Life in the rat race as we knew it stopped right where we were. We abruptly had all the time we thought we needed—but for how long would the pause last, no one knew.
Looking in the rear view mirror, we tried to gain some perspective on the changing paradigm. In our early years we struggled to fulfill ourselves through education, careers, possibly in marriage and family relationships. Our talents and skills and the approval of others impelled us to run toward those goals but it seemed as if we were on a perpetual treadmill. In our youth and prime we usually had enough energy to do so. Time seemed to be on our side. We rarely gave its earthly termination a thought—obviously we had a generous supply. I too was quite sure of life and made long-range plans.
Just as suddenly, it seems that years rolled by and I found myself in the mature years of life, becoming aware that my energy has leaked out. But I am not done yet! I haven't finished what I started. I haven't reached my goals. Many dreams haven't materialized. I'm forced to abandon some and readjust others. I haven't yet become what I hoped to be.
When I was younger, time seemed to drag its feet. Now time is pushing the accelerator to the floor with both feet. Life is like mist or smoke: when I try to catch it, my fingers close around nothing. I keep asking, "Where did the time go?" Has the entire centerfold of prime time disappeared? I feel crowded into a corner.
Previously, trying to speed up or slow down or remain static, I thought to be fantasy! The statue-halt has turned out to be a reality beyond my control. I imagined what a lovely dream it would be, if I could stop time for awhile. It is not all a blissful joy to be in lockdown with open-end time. Its a struggle of introspection and uncertainty, frustration, anxiety and fear. I hope that what God has planned for us all may be better than anything we've experienced heretfore. Ahead may be the invigoration of fresh challenges, hurdles to leap over, perhaps new mountains to climb. Sometimes the Lord saves the best wine until the last!
Today, sequestered in the plan of God, is still the best day ever for me as His child. I must live intentionally in the NOW. The Lord must have something special in mind to keep us "vulnerables" around so long on Planet Earth. I've already lived many yesterdays—not repeatable. My tomorrows are in God's loving hands—not accessableyet. Today is the only time for which I'm accountable. Life may have crowded me into a solitary corner, but I can't afford to let today slip through my fingers without celebrating each day as God's gift. And I hope and pray the same for you, my reader.
The Lord generously redirected us from the fast-lane during this pandemic, pressed the pause button for us, slowed the Merry-go-round and gave us the extra time we so desperately wanted. In any case, I don't have a choice. I'm temporarily squeezed into earth's time frame and the human condition it is in.
This pause in time is not a full stop—a period. It's more like a comma, a semi-colon or a colon—or even a dash. The punctuation indicates that there is more coming after this STATUE time. Let's trust ourselves, our families, livelihood, country and the world to God's sovereign planning and control.