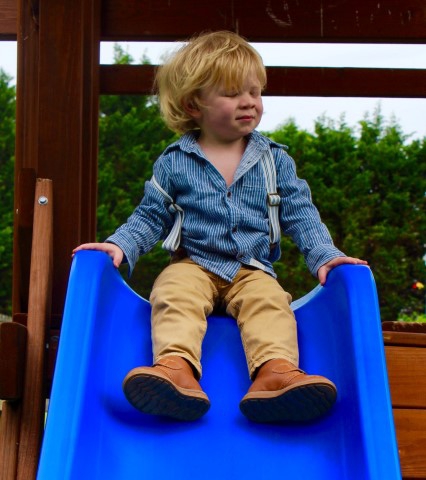 "It's scary way up here.... Don't rush me! I'm trying to decide. Can't I go back down the ladder again? I wanna be brave...but it seems like such a long way down to the bottom of the slide!"
Only God (or perhaps Kyle's guardian angel) knows what my two-year old great-grandson was really pondering as he hesitated at the top of the slide. For him it was a major decision!
I am bountifully blessed with 14 great-grands in addition to 10 grandchildren! I don't expect to be around on Planet Earth when the little ones are grown and making much bigger career or matrimonial decisions than Kyle's dilemma at the top of the slide.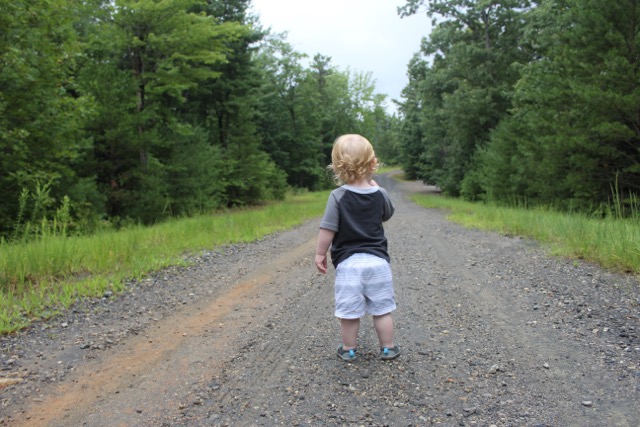 When Kyle had barely learned to walk and before he could form intelligible speech, his decisions were mental and age appropriate, such as, "Shall I go down that strange road all by myself?" I will pray even now for the Lord to guide him to make the right decisions about the road ahead of him in life when he is old enough to understand.
With all due respect, some of my longevity peers waste their time wondering, "Why am I still here? I'm too old to be of further use. Heaven would be so much better."
Some of us have concluded correctly from experience and insight that we are survivors left on earth not by chance but because we have an important assignment from the Lord. My family is at the center of my world and at the center of my prayers. I believe part of my sacred duty in my mid-nineties is to pray for my children as they journey down life's road.
Thank God none of them are mentally or physically challenged; nevertheless, they are all "children with special needs" in the sense that whatever their age, they continue to have unique needs. Each is a one-of-a-kind masterpiece with personal, relational, educational, financial, physical—and at the top of the list—spiritual needs.
At this writing, our four sons are in their AARP-eligible years; two are already grandfathers in their own right! Our grandchildren range in age from nearly twenty to forty-five; our great-grandchildren are infants to high-schoolers. When I pray, my prayer is indestructible and ongoing through space and time. It doesn't disappear into thin air. To our Eternal God, my prayer now will be as relevant and effectual to answer when the little ones become adults.
No matter what I may have accomplished during my career or ministry in my lifetime, this spiritual responsibility to pray for my family flock may be my most important assignment. My prayers can influence their wise choices of the moment and down the unknown road of their future lives.
It seems that I'm continually praying one or another of them through some crisis or struggle or situation or need. As a "single parent" (widow), I've carried that prayer burden for our extended family circle by myself as "the trunk of the family tree" for nearly 30 years. Not really alone, however, since I believe our loved ones still intercede for us from Heaven. If that is true, my husband is continuing to pray for our family as he did so faithfully while on earth.
At times I pray and sing with joy for some happy occasions they are going through. At other times I am groaning and sighing about some of their kid-size or man-size problems. It is a matter of the heart. Our children grow up and eventually leave our nest and our home, but they never leave our hearts.
And there are times when I'm not sure whether what they face is an assault from the enemy, against which I should battle in spiritual warfare on their behalf, or a test from the Lord which they should persevere through and grow stronger. Or whether their physical affliction is a call for faith and healing prayer or is permitted by God for some divine purpose and for which they need courage.
The most I can do, in fact, the very best I can do, is to bring to the Lord each situation, each person and each family and ask Him to carry out His perfect will in His perfect way in His perfect time for his or her age-appropriate good and for God's glory.
My prayer below has proved meaningful to me. The exact words are not important. The condition of my heart and my trust in God is what He hears when I pray whether with spoken words or with the intentions of my silent spirit.
Prayer For My Family
Our Father in Heaven, I pray for Your grace and mercy upon each member of my family—natural born, adopted, or in a blended family relationship, the young and adult children, each spouse, my grandchildren, great-grandchildren and those yet to be born.
Holy Spirit, draw each of their eternal souls toward salvation and grant them eternal life through believing and receiving the promises of Your Holy Word. I ask that their guardian angels will protect and lead each one to his Heavenly Home.
Please protect my family physically and spiritually. Lead them in Your paths of righteousness, bless them with Your favor, give them their daily bread, and provide their needs.
In the Name of Jesus I resist the devil on behalf of my family members. Deliver them from evil and the evil one. On the authority of God's Word I ask that spiritual strongholds be torn down and any generational curses be broken.
Because of Your love and faithfulness to Your generational promises to my godly forefathers and in agreement with their prayers, I thankfully receive Your favor and grace and mercy for myself and for my descendants. Through the synergy of our prayers united with the Communion of Saints, help me to pass on Your Truth and generational blessings to our posterity with vigor and faith.
I pray that Your will be done on earth as it is in heaven both in my life and in the lives of each member of my family. Help us to be diligent to establish and bring forward a godly heritage to the children in our care and those yet unborn. Help us to faithfully and courageously fulfill the purposes for which You gave us life and opportunity in our particular time in history.
In the Name of Jesus, Amen.

FAMILY TREE
Leona Choy
I am part of what has been and what is yet to be.
Sandwiched in between—is me:
I am the present trunk of my Family Tree.
I have roots and also branches.
Generations from antiquity pass through me.
They have determined what I have become.
They are my history which has made me what I am.
New branches spring from me; they are my posterity.
I've had some choice in assisting and inclining them
toward the best of what they might become.
Yet they are still free to grow and change
within the range of their heredity and opportunity
and God's special plan arranged from Eternity.
I pray for me—the trunk between—that I might be
a planting strong against the inevitable storms
bending with the wind, if need be
passing on the best from roots unseen
but giving branches room to stretch and reach
upward to new heights
because I faithfully fulfilled
in my Family Tree
with the help of God
my trunk destiny.
****