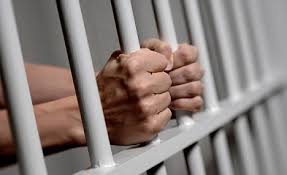 Do you know where you are and why?
Are you in isolation?
In social-distancing?
Feeling incarcerated?
Alienated from loved ones?
Under house arrest?
In self-quarantine?
Perhaps you feel like a prisoner sentenced to
solitary confinement as punishment?
You may be totally alone or housebound with family or designated people, It may be voluntary, by choice or by mandate to keep you away from the rest of humanity for a time and keep illness at bay. I suggest, I sincerely recommend that we all look at our situation in the following way:
I am alone but I need not be lonely. My situation is for my good, for public welfare, for the common good. Moreover, I am under the intensive care and watchful eye of my loving Heavenly Father God. He knows where I am and is with me in the person of the indwelling Holy Spirit. I am not forsaken or forgotten. He is with me 24/7.
How about accepting my current separation from other people as SHELTERED IN PLACE? That puts a positive spin on it and shifts my perspective in God's direction.
Let's consider that we are set apart for multi-faceted, infinite reasons, ultimately known only to God and in His eternal plan. Our personal, national, and global state of affairs is fully under God's control. He was not caught by surprise by any invisible virus by whatever name we call it. The name of Jesus is above every name in heaven and on earth, and He has the final authority over whatever is happening.
How long will our present confinement last? When the notable Dr. Andrew Murray, missionary statesman, Bible teacher, and deeper spiritual life author a few centuries ago was asked what counsel he would offer to one of God's children who was enduring a time of trouble of uncertain duration, he recommended declaring:

"I am here--
By God's appointment
In His keeping
Under His training
For His time."
And he offered Psalm 50:15 as God's sure promise in such time,
"Call upon Me in the day of trouble; I shall rescue you, and you will honor Me."
Everything may look chaotic, confusing, and out-of-control to you and me. We may feel anxious and disoriented because our status and the instructions given seem to change daily. We are tempted to fear, anxiety and panic. God's Word has a calm directive for us, a balm for our mental state and emotions and spiritual welfare in Psalm 46:10, "Be still and know that I am God. I will be exalted among the nations." To understand the implications of that mandate, we can help ourselves abundantly to the various translations or versions.
"Our God says, 'Calm down, and learn that I am God! All nations on earth will honor me.'"
"That's enough! Now know that I am God."
"Let be and be still, and know, recognize, understand that I am God."
"Let go of your concerns, I rule the nations, I rule the earth."
"Be in awe...."
"Stand silent!...."
"Step out of the traffic! Take a long, loving look at me, your High God, above politics, above everything."
"Cease striving and know that I am God."
"Be quiet and know...."
"....know that I am Elohim...."
"Surrender your anxiety! Be silent...."
"Be still, be calm, see, and understand I am the True God...."
"Desist, and know...."
"Be still. Stop fighting. I will be praised throughout the earth."
Let's look at the blessings of suddenly being forced to slow down, to lay aside our frantic pace, step away from our daily routine and be quiet, distance ourselves from the agitation of the market place. In some cases spend quality time with our family and loved ones, get to know one another without the tension of everyone's scattered schedules. To get to know ourselves, if we are living solo. Above all, this is a prime opportunity to spend intimate, unhurried time with the Lord, to listen to His voice without the static of the frenetic world drumming into our ears.
Yes, there is a sandpaper side to nonvoluntary close encounters day and night with other people, even/or especially those of our own flesh and blood. We need to activate all the nine fruits of the Spirit until we finally see the light at the end of the tunnel of this shelter-time. Yes, there's the danger of contracting "cabin fever" and the virus of claustrophobia. But let's change our perspective to being mega-grateful for the huge blessings of being SHELTERED IN PLACE in the specific, protected place and for whatever duration of time God designates.
Let's enjoy this comparatively brief slice of solitude God planned for us and do our happy dance while we can. Jesus declared He was "preparing a PLACE" for us, and I'm 100% sure there won't be any "social-distancing"—no viruses there." Privacy in Heaven? Not so much, methinks. Especially with the eternal presence of myriads of angels and the multitudes from every nation and culture through the ages.