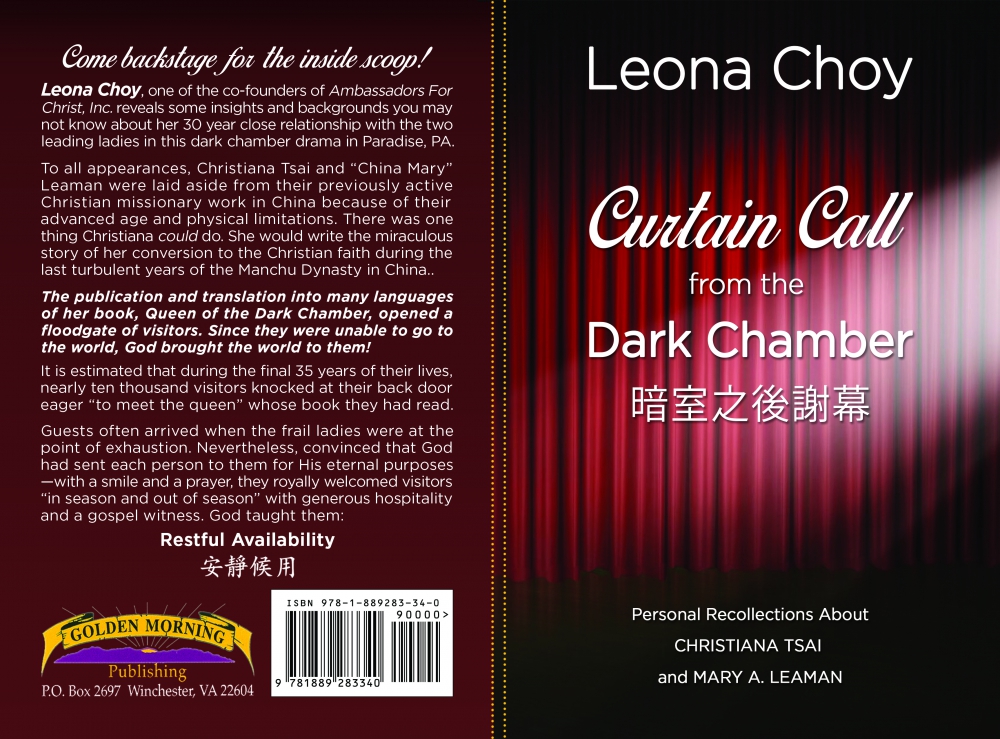 This was an exciting selected memoir to write! NEWS RELEASE! This book is going to press as I write!
I drew on more than 30 years of dramatic events and relationships I shared with two celebrated Christian ladies, Christiana Tsai and "China Mary" Leaman. I pretended to be interviewed. Here I am pictured with Christiana Tsai way back when these events took place: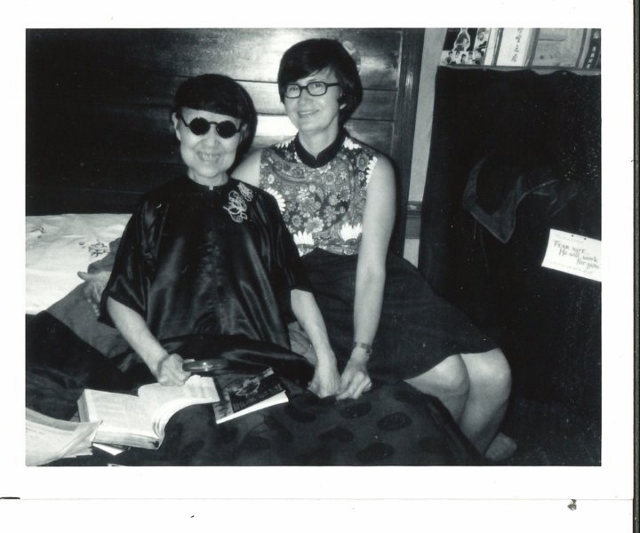 Why should I be interviewed? Because I'm the only surviving member of the co-founders of Ambassadors For Christ, Inc. The two celebrated people, the Misses Tsai and Leaman, were the benefactors of the mission property given to the organization. They figured largely in the birth of this para-church mission 55 years ago. I wrote this book to preserve for history some insights and facts that wouldn't be known if I didn't write them.
I visualized a stage on which an impressive lifelong drama had been performed and the actors were called back on stage to take their bows. In reality, the starring actresses had left for Heaven almost 35 years ago. Would you like to know the backstory of how I developed this theme? The following is from the Preface of this new book.
What is a Curtain Call?
When a performance with live actors in a dark theater concludes, the curtain on the stage closes. The audience claps to express their appreciation. The house lights are turned on and a spotlight shines with anticipation on the closed curtain.
With a flourish, the curtain opens again and the entire entourage of actors runs out on stage to smile and make their bows. That's a curtain call—a noisy, exciting celebration to honor the performance of the actors.
In this case, the starring actors, Christiana Tsai and "China Mary" Leaman, hold hands and lift them high to acknowledge the accolades. They have played their destined-by-God parts and left the earth's stage more than 30 years ago. No one born after 1984 would have had an opportunity to meet these gentle, godly Christian ladies in person.
In this book, therefore, we can all go backstage to learn some things about their private lives. I "bring them back" briefly by means of this virtual curtain call. They step into the spotlight for one more accolade and I will introduce them anew to several generations of readers who didn't have a chance to meet them.
During this "virtual curtain call," the performers acknowledge our applause with a bow or a curtsy, in the case of women. Asian cultures understand that gesture better than we do in the West. It symbolizes respect and gratitude and humility. We give these godly women a standing ovation. They are our role models not only because they kept the Faith but passed it on.
Rather than accepting the applause for themselves, we watch the two lead players turn and acknowledge their "supporting cast"—their co-workers and the community of believers and prayer partners who helped them fulfill their destiny. They point fingers upward to give all honor to God who directed and enabled their performance.
During a curtain call, the stars sometimes appear in ordinary clothing, having laid aside their costumes. They shed the character identities which they assumed. At times actors are hard to recognize without their props. In this case, however, our starring actresses were not acting. They lived their lives in a genuine, honest way in season and out of season, on stage or in the seclusion of the dark chamber. In these women of God there was no guile, no pretense or false role play.
Christiana also used the drama and stage analogy for the activities of her life as a bedridden invalid. The theater was the more than 200 year old Leaman Homestead. Her stage and props were her dark chamber. The platform from which she spoke her lines was her high-backed antique bed that had been in the Leaman family since the Revolutionary war. Her dark silk Chinese coverlet was her podium.
She explained, "I set up two stages everyday. In the morning we bustle to get my room ready for the public eye by putting away all my night things and changing into 'my day costume'. At night after the curtain closes, I turn my chamber into a hospital room with all the props I will need to manage alone throughout the night."
How do our lead players respond during this well-deserved public "curtain call"? They are presently "in the Father's House," as Jesus called our Eternal state with Him, I can only imagine that our esteemed friends instead of receiving bows, are themselves bowing low in worship, no longer with arthritic pain, before Him whom they have loved and served. They are singing "Thou art worthy, O Lord!" I imagine them casting their rewards and well-earned crowns and accolades at His feet because they lived their mortal lives with God's glory as their priority.
Come backstage now and you'll have a chance to ask some questions and discover some heart-attitudes that will serve us well in the days of our lives.
Available in December!
Pre-publication discount only $12.95--if you order by email to [email protected]. Let your friends know about this advance discount. Order more at this price. If you hurry, you may receive your copies for gift giving at Christmas!