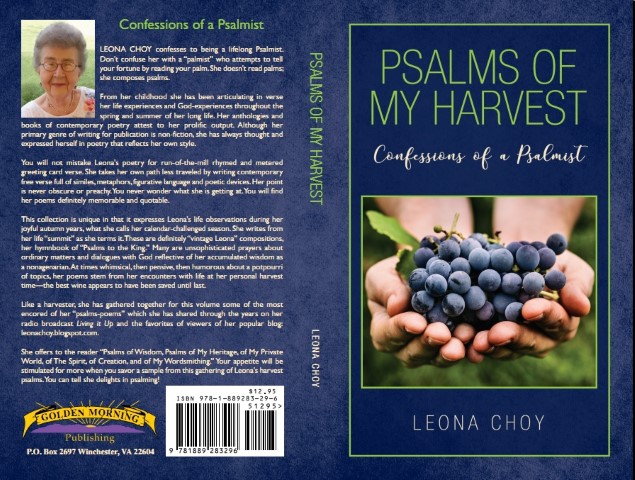 We're in the midst of the agricultural harvest time. The season is autumn. According to the calendar, I'm navigating the autumn season of my life. And I've been harvesting my lifelong writings in these latter years, while continuing to write fresh encounters with life.
I'm also a lifetime "psalmist." Don't confuse me with a "palmist" who attempts to tell your fortune by reading your palm. I don't read palms; I compose psalms. Psalms are poems written to, for and about God.
From my childhood I've been expressing in verse my life experiences and God-experiences throughout the spring and summer of my long life. I've written and published a half-dozen or so anthologies and collections of my contemporary poetry and read them on my radio broadcasts, Living It Up! I've used them in my decade-long blog. I've peppered many of my published books with my poetry.
I've had the joy of conducting how-to poetry workshops at writers' conferences, where I used my book Release the Poet Within! as the resource textbook.
Although my primary genre of writing for publication is non-fiction, I've always thought and expressed myself best in poetry. You won't mistake my poems for run-of-the-mill, rhymed and metered greeting card verse. I take my own path less traveled by writing contemporary free verse in my own style full of similes, metaphors, figurative language and poetic devices.
I've tried to avoid being preachy and at the same time avoid moralizing. I hope my point is never obscure to make you wonder what I'm getting at.
This collection is unique in that it reveals my life observations during my joyful autumn years, what I call my calendar-challenged season. I'm writing from the perspective of my life "summit."
These are my vintage compositions, my hymnbook of "Psalms to the King." Among them are my unsophisticated prayers about ordinary matters. Some are dialogues with God reflecting my hopefully accumulated wisdom as a nonagenarian. I'm at times whimsical, then pensive, then humorous about a potpourri of topics. I hope these encounters with life at my personal harvest time will be the best wine saved until last.
Like a harvester, I've gathered for this volume some of the most encored of my "psalms-poems" from my radio broadcasts and favorites of viewers of my blog.
I share with the reader Psalms of Wisdom, Psalms of My Heritage, of My Private World, of The Spirit, of Creation, and of My Wordsmithing—this book's chapter divisions.
In sync with the season, I offer for your pleasure one of my seasonal psalms from the chapter Psalms of Creation:
Autumn's Paradox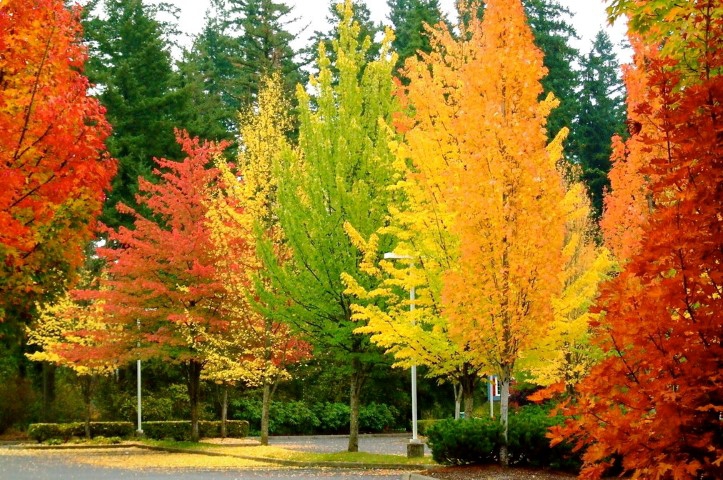 AUTUMN puts on a Paradox Performance:
She hurries to change scenes and costumes
making me dizzy with her diversity
as she passes briefly through between summer
and winter's blustery polar breath.
AUTUMN quickly comes and goes
a transient season of diminishing sunlight
and shortened fugitive days
still she turns once more to bless me
with the ineffable glow of a splendid sunset
leaves fall from soon bare branches
yet such glory in their surrender of life
a part of nature dying all around
midst a time of bountiful harvest.
Autumn's paradox inevitably brings
sadness for diminishing mortal years
yet deep gratitude toward seasons past
for course of life I might have changed
now decreed and appointed
I must let go of what I cannot alter
embracing the joy of what's to come.
Autumn's paradox offers me time
to gather all my nostalgia
like creatures forage for their winter larder
I will store up my treasured memories
to savor on a frigid winter's night
around the warmth of the dying embers
of my friendly hearth
and rest content in God's best plan.