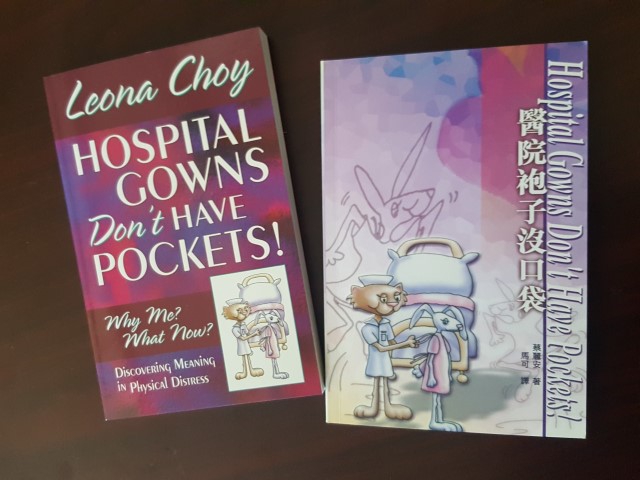 I wrote this book several years after my own major lung cancer surgery. I wanted to help people succssfully encounter illnesses, surgeries, accidents, hospitalizations or other disorders of their "earth suits" (our mortal bodies) with God's help.
Not because I navigated my health struggle perfectly. I didn't. Nevertheless, I offered to walk in my virtual hospital slippers and accompany the reader as a patient—and we would together call upon God to help us make it through the trauma of illness with Him.
Go to the BOOKSTORE section of this website leonachoy.com where you are viewing this Back Story. Click VIEW PRODUCT to read what this book covers.
Shortly after its release, this book gave birth to a Chinese translation which is available to Chinese readers worldwide. An audio version for the blind soon followed .
Today this original flagship book is sending out another "Birth Announcement!"
HOSPITAL GOWNS has been one of my most popular bought-to-be-given books. Now in its "mature years" this book (like the aged Sarah and Elizabeth in Bible days) has become pregnant again and given birth to 3 "new" short books pictured below. They are on the printing press this week!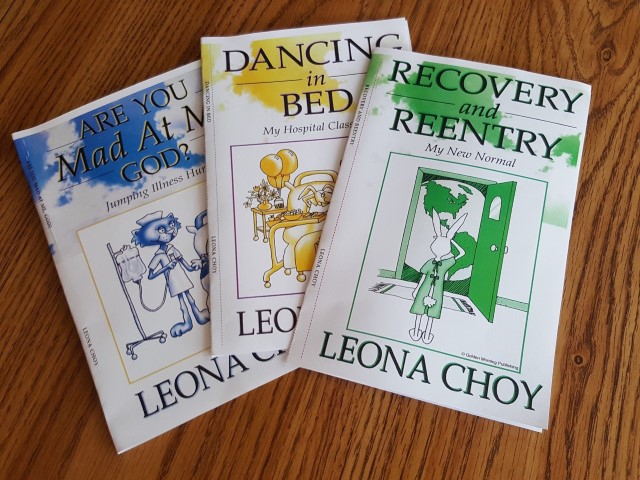 The short books were formed by separating the 3 sections of the original HOSPITAL GOWNS book. Why should I do that?
I have perceived through the years that readers might be better served to receive smaller and separate subject books specific to where they were in their illness journey rather than one large book of 314 pages at the beginning or the end of their hospital experience that covered everything. Divide to multiply is my focus!
The ministry trajectory for these short, inexpensive books is Christian healthcare related. We start with the demand by individual Christians eager to buy them for their friends and family in times of illness. Think beyond the immediate need—the waiting rooms of Christian doctors, Christian medical associations, Christian nurses training schools, chaplains associations, hospital gift shops, care facilities.
Think further beyond—Churches all across the country will want to order them in quantity to have on hand to encourage their members in specific times of health need. They are especially appropriate for pastoral and staff hospital visitation and care ministry to shut-ins.
Lending a dash of humor to a serious topic, the talented art work for the GOWNS book was created by artist Gail Waeber. The cartoon-like bunny named GG and the solicitous feline Nurse Meow scamper throughout the book in situations matching the bunny's hospital experience. At the end of each chapter, GG welcomes the reader to a My Personal Workout of questions for self-inquiry or group discussion.
It's a biological fact—bunnies reproduce rapidly! In this literary venue, so does our bunny GG whose sketches are copyrighted! In process are a number of potential spin-offs to enhance the ministry of the shorty books. The three new books are adult-oriented and non-sectarian with a biblical worldview.
Some adult spin-offs: Among the potential ideas in process are: A variety of healthcare greeting cards using the various GG sketches and leaving space for personalizing them by the sender. They will be marketed widely in bookstores, gift shops and churches; a CD of myself as the author of GOWNS reading some of the first chapters of the book verbatim for one hour is already available for patients and others who prefer the audio version; a super-size white nightshirt (or long T-shirt), one size fits all, unisex, with a GG bunny imprinted on the front and a Scripture phrase on the back could be sold with the book to wear while in the hospital or at home recovering; a porcelain coffee mug with a GG design.
Although the original book and 3 short books are for adults, juvenile patients can be included in related ways. Ordering from the Asian market small, inexpensive stuffed bunnies, the Dollar Store variety, wearing plastic ID hospital bracelets; an attractive large 8 1/2 x 11 GG coloring book with a laminated color cover and accompanying box of crayons, one simple sentence on each page at a child's level; a child's plastic bracelet with a GG bunny symbol and a Bible phrase to accompany the coloring book for the child patient; a larger stuffed bunny dressed in a hospital gown similar to his sketch could be available for purchase with the hardback book for a child to take as a comfort token to the hospital. Factories in Hong Kong mass produce them to specifications cheaply; balloons with a GG pose for patients, adults and kids, to accompany the books; a plastic cup or mug with a GG design; a similar to the adult's large size child's T-shirt;
A contest through my website will be offered for writers specializing in books for children to try their hand at composing the story line that would accompany the 17 different GG illustrations in a hardback storybook to read to or to be read by an elementary school child. The story line would be GG the bunny's illness and hospital adventure and returning home to recover. The winner would receive a byline for the story text when the book is published. A nominal entry fee might be considered which would include a copy of the original GOWNS book to spark ideation and a packet of the GG sketches with writing guidelines. * See WRITERS CORNER Butterfly Briefing #17 for Contest Information.
The potential outreach of the HOSPITAL GOWNS books is not limited to the U.S. Sales of the small books in English can extend to England and the Continent targeting their similar markets. Apparently, the book is not difficult to translate into other languages, as proven by the translation into Chinese. The transferable concepts and Christian worldview expressed in the original book are valid cross-culturally.
Illness cuts across all age groups because our "earth suits" are always getting into accidents, becoming sick and wearing out. The need for encouragement to walk with the Lord in times of bodily distress transcends time and generations.
GG and his "multiplying descendants" are alive and well through Leona's HOSPITAL GOWNS series!
If you would like to be involved at any level in the above project or its spin-offs or could help in financing, Welcome! Email Leona about your interest and we'll take it from there.