BACKSTORY: CZECHING MY ROOTS,
A HERITAGE SAGA AND AUTOBIOGRAPHY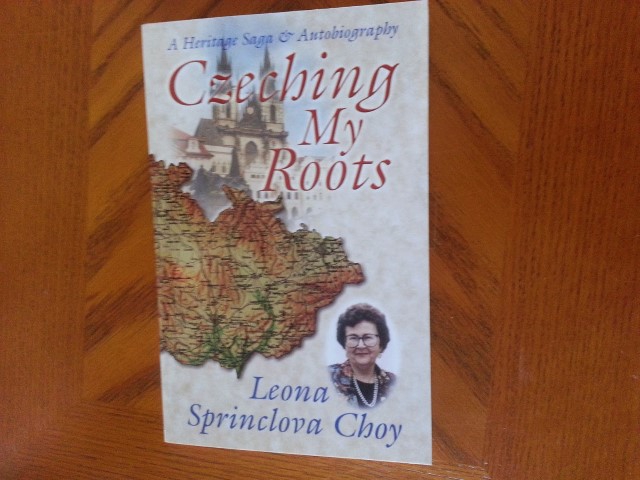 I had just given a speech to a Writers' Group in Florida on the topic of one of my books, This is Your Life-write it! It was also the popular topic of one of my recent seminars for writers. Someone in the audience dared to ask me why I hadn't written my own autobiography.
I tried to deflect the spotlight from myself and the growing feeling of guilt I felt from not practicing what I preached. I replied that I had already written my husband's biography and six biographies of other people, unfortunately, mine was still in progress.
Suddenly I felt that I should drop my other writing commitments temporarily and give my autobio priority because this was the fullness of time—not later. I set my own deadline and wrote at full speed for the next six months which included research trips to the Czech Republic seeking my living and underground roots. I met my personal deadline. A year later it was in print.
I wasn't concerned with genealogical charts, only with human interest events. It turned out to be more difficult emotionally than I expected. It was a bumpy, introspective journey—more like a roller coaster. Memory recall is often painful.
In doing the research for my own story, I was at times fascinated, sometimes startled, also dismayed and disappointed to find out some things about myself as I dug deeply into my own past. I gained insights and found some reasons why I am like I am. In part it is because of my genetic code. It is also because of early influences and experiences which I still carry within my mind, body and spirit, some of which I pass on to my progeny.
I searched for a theme for my life story and expressed it as The story of a Czech girl who didn't want to be Czech. I followed that thread to sew my narrative together. It fell into place as did the title of the 439 page book.
When I look in the mirror, especially in my mature years, I can't deny that I'm a full-blooded, full-bodied Czech. I have Czech features, body build, and characteristics. In my childhood and youth I rebelled against my ethnic background. I wanted to hide my roots so that no one would see them.
At that formative time of my life I disliked being part of a minority cultural group. Sometimes people would refer to Czechs in a derogatory way. Such experiences contributed to make me shy and introverted throughout my life.
I desperately wanted to blend in, to "fit in" with my classmates, although they really weren't as different as I perceived myself to be. They too were products of a melting pot society from immigrant stock. I know now that my perceptions were flawed.
In my teens I even refused to speak the Czech language which I spoke from infancy. I was embarrassed in front of my friends when my dad spoke English with a heavy Czech accent and my beloved live-in grandmother spoke no English. I was ashamed of my ancestry, although I knew almost nothing about the wonderful, rich Czech heritage and culture which I discovered years later and of which I am now justifiably proud.
Part of me wanted to assimilate with my classmates. Ironically, from as early as I can remember I also wanted to escape my birthplace, my hometown, and get as far away as possible from my perceived uncomfortable situation.
How did that work out? I married my college classmate, Ted, who was of a different race and we sailed off to live in China, in the most distant land possible from the heartland of Iowa where I grew up.
I lived a lifetime, nearly a half century among Chinese people in mission work with my husband. I willingly immersed myself in a culture and environment totally different from my ethnicity. I never did feel that I achieved anywhere that "fit in" status for which I initially longed. I always seemed, like a salmon struggling upstream, to go against the status quo.
Somehow all the above assimilation conflicts and restlessness and venturesome spirit might have its source in the immigrant blood in my veins and pioneer spirit in my heart that I inherited from my courageous ancestors. They left everything behind and fled their European homeland escaping its political and economic and wartime turmoil to make the dangerous voyage in the late 1800's to the young, awakening-with-opportunity "Promised Land" of America.
This same restless and venturesome spirit might have influenced many of the defining choices of my life and also my writing career. But this I know: God has been in control of my life. In Him "I live and move and have my being."
*****
Don't wait to read my fascinating life story! Go to BOOKSTORE on this website and read my "View Product" for a review – then order your own copy on this website.
Whenever I feature a BACKSTORY of one of my books, for the following 10 days only, you may order that particular book for only $9, postage included, instead of $16.94. Just indicate "Special" when ordering. No limit to number of copies—order for your family and friends at this deep discount.
Be sure to cruise around my entire new author website: www.leonachoy.com while you are here. Just click on the link.
Please "subscribe." No obligation, only convenience for you!