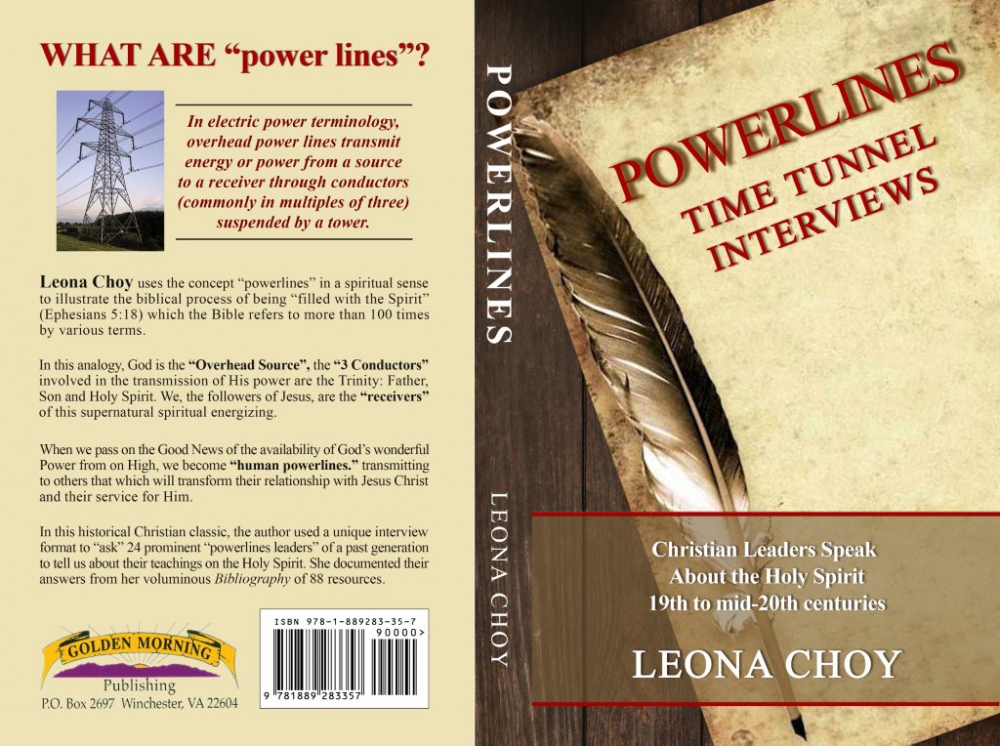 Here is the final re-release version of English POWERLINES book cover designed by professional graphic designer, Tanya Turner.
A highly qualified Chinese graphic artist, Adam Kung, is working on the cover of the Chinese re-release edition of POWERLINES. Because of the annual vacation schedule of the staff of MORRIS PUBLISHING where it will be scanned and printed, production cannot begin until the first week of the New Year. WATCH FOR RELEASE DATE!
Production Manager Rick Choy has finalized the PDF of the contents of English POWERLINES, including adding the portraits of each of the Chapter Persons. These were not in the original English edition. The PDFs will be submitted before Christmas to start the printing process. PRAY for the potential wide outreach of this Re-Release Classic to another several generations of Christian readers now that it will be available again.
See A Word from the Publisher below to understand the significance of re-releasing POWERLINES.
LET EVERYONE KNOW that you can order copies in advance so you can receive your order as soon as the books are off the press—which could be right after New Years! The price is $18.94 shipping included. Order easily by email to [email protected] and pay through PAYPAL or by check through the mail, however is convenient for you.
A WORD FROM THE PUBLISHER
Golden Morning Publishing has re-released this historical Christian classic in both English and Chinese versions in order to make its message available once again to all seekers of the deeper life in Christ. We believe POWERLINES will inform and inspire readers in this generation and beyond as it has blessed generations past.

In letting these prominent Christian leaders "speak for themselves," the author has made no attempt to elevate the teaching and experience of one person above another. To that end, chapters are arranged alphabetically. The time tunnel interviews cover the pre-Pentecostal denominations period and the pre-Charismatic movement.

POWERLINES' unique interview style will help you understand their teachings and experience of being filled with the Holy Spirit. The consensus of these "interviews" is that it is not restricted to a very few in public ministry, nor is it limited to special occasions of revival or renewal. The Spirit-filled life is meant to be the ordinary, consistent, normal experience of every Christian believer.

What does the title mean? God is looking for "powerlines people" in every generation: Christians who are open not only to receive this Power from on High from the Holy Spirit but to become channels or "powerlines" to convey the good news to others so they too may receive His power.