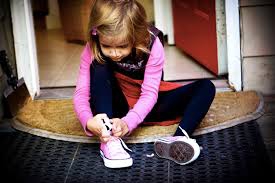 "Do you want me to put your socks and shoes back on?" the sweet,
young podiatrist's assistant asked me.
It was such a simple, innocent gesture. I could still have done it myself, only it would take me longer. Harder to bend down, too. I had just finished my regular appointment to have anything foot-related attended to. "Sure, thank you!" I replied.
It caught me by surprise. I smiled and relaxed and let it happen. Well, why not? Full circle—I'm navigating my nineties now—second childhood some call it. I've been there and done that for years on end.
I had a flashback to when I was a toddler and my mother put my shoes and socks on because I hadn't learned to do it myself yet. Soon enough, however, I wanted to do everything for myself no matter how clumsily. It was the grown-up thing. Dependence turned to independence and being in control of myself for a long lifetime. Independence became a habit. I accepted that as the mature normal for adulthood.
Fast forward to the present. Suddenly, it seems, the decades flew by. The new normal of the advancing in age process is the decrease of one's capability and relinquishment of being in control of one's activities. Gradual dependence looms ahead. It's a simple fact that I need greater assistance in the physical areas of life.
At the same time, I resist being helped. I admit that I'm not as strong as I was, but I don't want to give up control. I want to stay competent and efficient. I want to remain independent. I want to stay strong. I don't want any help!
The facts are against all this. We progress from total dependence as an infant through the seasons of life to inevitable dependence in the last season of life. That's part of the aging package. We must embrace the reality road to serenity, to accept the things we cannot change; to change whatever we can, and wisdom to know the difference. The need for assistance looms high on the roster of things we must accept or else we will make ourselves and everyone else miserable.
I'm accustomed to quoting, "It is more blessed to give than to receive." That's not always true. We are also blessed when we have learned to receive. If we fail to accept assistance, we reject the natural order of things.
I dislike the four letter word weak. I have always been strong and in charge. There's a time to help others when we are young and strong; there is a time to let others help us when we become more frail. I don't like that word either.
My friend's husband is elderly and becoming unstable in his walking gait. His doctor strongly advised using a cane for balance. His male pride got in the way; he refused the cane, stumbled, and ended up in the hospital for hip surgery, then in rehab, and now is confined to a walker. He's the poster boy for our resistance to assistance. What a blessing awaits us if we accept help joyfully and thankfully! It is God who provides that through family and friends and caregivers!
Resistance to assistance has its parallel in the spiritual realm. We have an innate desire to micro-manage our lives, to "do it my way," even spiritually. God's norm is that we should look to Him in all our ways, to lean on Him for understanding and for everything else, to accept His help because "without Me you can do nothing."
The Lord offers us bountiful help and wisdom and blessings, if we admit to our need. It is in our weakness and leaning posture that we experience His strength.