KEEPING A TRADITION
Thursday, November 15, 2018 by Leona Choy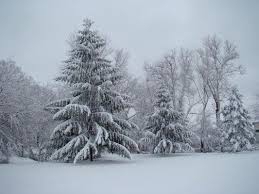 It's a tradition, so they say, if you do something more than once. Absolutely—if you repeat it for 11 years! For the past more than a decade that I have been posting on my blog, as winter approached I shared the following of my collection of Winter Poems when we had our first snow. Well, big flakes are coming down as I write and I can hardly see my car in the driveway. For my cyber friends who live in the Southern climes—curb your envy. Just confess that you miss the delightful change of seasons!
The poem is excerpted from my book PSALMS OF MY HARVEST on p. 117. I can't break tradition this year:
Winter in My Valley
The wind whines in a minor key
blowing its icy breath
through cracks in our doors
feeling with frigid fingers
for gaps 'neath window sills.
The gust heralds a blizzard that lurks
in the somber gray stretch of sky
and advances with threatening certainty.

As if to toll a frantic warning bell
the wind tugs at the oak tops
shaking the nearly naked branches
showering the ground beneath
with a flurry of faded leaves.

Sniffing the scent of winter
small prepper creatures scurry about
furtively preparing shelters
vying with burrowing insects
to stockpile their larders
in the seasonal struggle for survival
while pond life retreats to deepest waters
and puts vital signs "on hold" till Spring.

Sudden dusk descends on The Valley.
A hush settles over the silhouetted landscape
the gusty gale subsides, its announcement dispatched.

The first few flakes of snow soon merge
into sifting, swirling powdered sugar
swiftly frosting peaks of pointed frozen grass
into stiff meringue on neighboring field and hill
until a silver coverlet obliterates the familiar.
Accept my invitation, friend
to welcome the appointed storm
by enjoying the polar panorama together
before the warmth of our crackling hearth.
Join me in retreat behind our Jack-Frost windows
to view the outdoor bluster silently
in snug pleasure and the treasure
of good company as we toast our toes
and drink a toast to the impending snows.

So let us celebrate the manifest cycle of seasons
and winter's measured approach
in the Shenandoah Valley.
---