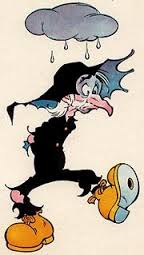 Excerpt from DANCING IN BED: My Hospital Classroom—
Leona's most recent book coming off the press next week.
Setting: I was still in the hospital recovering from major lung cancer surgery.
(Attitudes reflecting any of us whenever we reach a low point emotionally,
especially when our "earth suits" are experiencing pain or disorder.)
I'm gazing at my own navel and wallowing in my gloom. I feel forgotten and forsaken since the doctor shocked me with the news that I have "The Big C." I'm sure that if I looked up, I would see a black cloud hovering over my head like the one in the comic strip that floats above Charlie Brown's little friend wherever he goes.
I feel gray and blah, dull and numb, bleak and drab, dismal and somber. Surely I can't be of use to the Lord in this condition. (I hope there isn't a tag clipped somewhere to my case file identifying me as a "Christian.")
I want to wallow in my self-pity shell and lick my wounds. Figuratively—I can't see my actual surgical wounds because they are around at my back—a 12 inch long incision still held together with 40 tiny wire staples. Hard to believe that the surgeons accessed my lungs from my back!
Do I pray? I'm too tired to think or pray let alone say anything spiritual or uplifting to anyone.
Okay, so I haven't been looking up except to keep track of that black cloud. I've been looking down, looking inward. My chin is on my chest. Yes, I know better. But don't I have an excuse from acting like a child of God under these circumstances? Can't I take a vacation from "being a witness?"
Surely I can't shine for Jesus when my batteries are so low. I'd just as soon leave my light under a bushel—or at least under my hospital bed for awhile so no one would see how small my flame is.
A nurse brings me today's mail and the local newspaper. I toss aside the newspaper. Who cares what's going on in the world? Even war isn't important to me, certainly not politics, the economy, or the latest fashions. I only care about my own sorry condition.
I shuffle the get-well cards. Here's one from a good buddy who included a Bible verse in her own handwriting: "I sought the Lord, and He answered me, and delivered me from all my fears. They looked to Him and were radiant, [italics mine] and their faces shall never be ashamed" (Psalm 34:4,5).
Whoa! Awesome! Timely. The Holy Spirit must have led her to send me that special zinger and caused her to mail the card four days ago to arrive exactly at this moment, at my time of need!
Really God, can't I ever take the phone off the hook spiritually? I know that You never hang up on me. The Psalmist put it plainly: "Bless the Lord at all times; His praise shall continually be in my mouth" (Psalm 34:1). I suppose the time I spend in a hospital bed is included in "at all times?"
I don't need anyone to tell me that I'm not radiating Jesus, since I'm looking at myself and not up at Him. I'm responsible for my attitude. Each time I've sought Him in the past He answered and delivered me. Therefore, I should know that He can deliver me again and again, as needed.
All right, let's get on with it. Lord. I'm sorry for this senseless withdrawal into my shell. "I trust in You; teach me the way in which I should walk; for to You I lift up my soul" (Psalm 143:8). Lord, change my failing batteries to "EverReady" charged by Your power.
After all, how much effort does it take to reflect Your light? All I need to do is face in Your direction. When I fully behold Your glorious light, I will glow automatically.
Yes, I know all those trite expressions: stars shine brightest on a dark night; when the going gets tough, the tough get going. Lord, please make such truths real to me. I do want to be a good "radiate-er" for You even here in my hospital bed—in my horizontal classroom.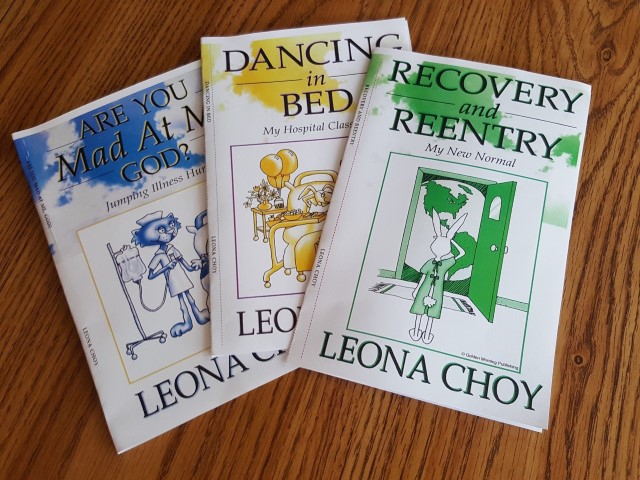 Pre-orders for DANCING IN BED will be mailed first, as soon as the cases are delivered—at your advance order discount of $9.95 postage free. Email Leona: [email protected]
At this discount, buy more copies in advance for your friends or family (or yourself!)
who are facing or are in a hospital adventure.