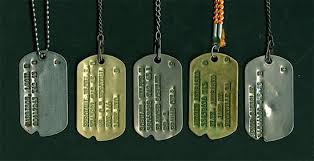 Nothing is more solemn and heart-wrenching than watching TV each September 11. In silence we listen to the repeated ringing of a bell. Then the reading of each name of the 2996 people who lost their lives in the tragedy of the Twin Towers, the Pentagon, and the Pennsylvania farm field in 2001. Not only was it a massive catastrophe but an intensely personal one—hence the speaking in remembrance of a person's unique name.
A name is one's private possession. We live and we die along with the rest of humanity that has ever been born or will exist in the future. Although one's name may somewhere in history be duplicated, each life is unique and identifiable to God who created our distinctiveness.
When I was in Jerusalem, I visited the Yad Vashem memorial for the Holocaust. The library has cataloged the names of the six million Jewish martyrs. Not only where they were born and lived, but anything that could be found about them. They existed and mattered and continue to matter. "Yad Vashem" literally means "memorial to the name."
The Vietnam Memorial in Washington, D.C. displays fifty thousand names of American soldiers killed in Vietnam. Loved ones experience profound emotion when they touch a name with their hand.
The more than 400,000 white crosses in Arlington National Cemetery display real names. Even the body in the tomb of the Unknown Soldier and the other unknowns buried there since are fully known to God and each has a name unforgettable to God.
Men and women in the military are issued formerly aluminum metal "dog tags" currently made of an alloy of copper and nickel with their names and vital information.
The Scriptures record the words of Jesus declaring that He calls us each by name and we hear and respond to His voice. Until we experience the heavenly dimension of immortality for ourselves, we can never grasp the details of how intimately God knows each of us. "Such knowledge is too wonderful for me; it is too high, I cannot attain to it" (Psalm 139:6).
We are each important and our lives are important and worthy to be remembered and recorded. As a coach to writers I encourage each person, whether gifted in writing or not, to take pen in hand (or computer) and leave some legacy to posterity that this is who we are and how we lived. I believe it to be part of our stewardship to God in thanksgiving for His gift of life—and name.
We carry our name lifelong, respond to it in a classroom, answer when our name is called at graduation, and present our I.D. thousands of times when asked. Although we seem to leave our name behind engraved on a cemetery marker, the truth is we carry our particular identity into Eternity and keep it to respond to a heavenly roll call.
"Rejoice that your names are recorded in heaven," Jesus declared. The apostle Paul writes about has fellow workers "whose names are in the book of life" (Phil. 4:3). The disciple John six times mentions in the book of Revelation "the names written in the Book of Life, the Lamb's Book of Life."
In that heavenly Book of Life our names are written in indelible ink! Jesus promised never to erase them. Revelation 3:5, "He who overcomes shall thus be clothed in white garments, and I will not erase his name from the Book of Life, and I will confess his name before My Father and before His angels."
What's in a name? Everything!