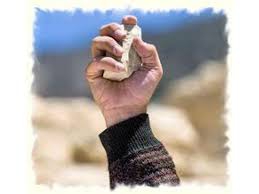 Let's each first go outdoors and find a stone, any kind, bring it in and display it as a reminder of Jesus' encounter with stone-throwers and finger pointers. Why do you suppose the record pointed out that the longevity accusers sneaked off first? Long accumulated and covered up sins? Perhaps clericalism (perks of age, status and leadership)?
We need Nathans who obey God fearlessly to confront a person of status who has transgressed regardless of his royal position. "Thou art that man!" King David reeled under the shock of guilt but repented and lived out Psalm 51—yet not without suffering the consequences.
We have permission to use a broad brush in the present mega-scandals that assault us across the board. Not only is corruption and wrongdoing found on the political scene or in celebrity circles but also in every ecclesial entity—in high places in cathedrals, rectories, seminaries, mega-churches, in popular TV congregations, in one room country churches or storefronts.
The venue is irrelevant. The heart of unregenerate man is the same, inclined toward self-aggrandizement and evil. But how about the residual inclination of the one who is an avowed follower of God?
The devil is not choosy whom he leads into temptation. "The devil made me do it" is a lame finger-pointing excuse that has been used since Eve tried it. Not discounting the reality of genuine spiritual warfare, all of us who call ourselves God's children must take responsibility for our own choices and wrongful conduct. Particularly, our moral choices.
Blatant sin in high places by people to whom much is given, who enjoy lives of prestige on a pedestal or a public platform in a religious context is nothing new. It happens through the ages, but that is no excuse for inaction when it does happen.
Have you ever heard a sermon about Hophni and Phinehas? WHO?? I haven't.
They were two brother priests, sons of the high priest Eli, who served in the temple of Shiloh (1 Samuel 1 and 2). They abused their power positions and were utterly corrupt in their dealing with money and morals. They stole from the sacrifices and "sinned with women who served at the door of the tent of meeting."
Where was papa, God's appointed leader of all the priests, when this abuse was going on? Eli was very old, the Scripture says. Okay, so what? He was still responsible for the priests under him. He did scold his sons but it was like a slap on the wrist—and too little, too late. "They did not listen to their father," the record says. Nor did they respect his exalted leadership position.
It was obvious what Eli knew and when. How long had Eli engaged in cover up for his sons? "I hear of your evil dealings from all the people," Obviously, reports were reaching him from victims of their abuse. Eli warned the boys, "If one man wrongs another, God will mediate for him; but if a man wrongs the Lord, who shall intercede for him?" The end of the story? Both of his priest sons died in one day. Eli himself died upon hearing the news.
As Jesus often said, and repeated in Revelation 2:7 "He who has an ear, let him hear what the Spirit says to the churches."
Isn't the word "holy" – often repeated three times "holy-holy-holy" by angels and men—the prime attribute of God? And isn't the call to holiness the priority call to the people of God?
"Be holy, as your Father in Heaven is holy." "Holy is the Lord God of hosts." His Bride, the Church presented to Him holy and blameless, without spot or wrinkle. Holy is everywhere in Scripture: holy people...His holy name...not give what is holy to dogs...Holy Father, keep them in Thy Name...present your bodies a holy and living sacrifice...holy both in body and spirit...lifting up holy hands...called us with a holy calling...Holy Spirit....
What is there about "holy" that we don't understand?