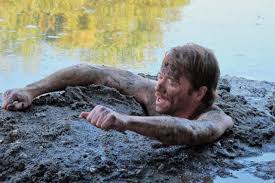 STUCK IN THE MUD?
There's nothing wrong with speaking to yourself. It's not necessarily a sign of mental illness.
The Psalmist, King David, talked to himself a lot. "Why, my soul, are you downcast? Why so disturbed within me? Put your hope in God, for I will yet praise him, my Savior and my God." (Psalm 42:5)
David always seemed to be calling for God's rescue squad to get him out of life's dilemmas and entanglements. Me too. I often need spiritual and tangible rescue—like right now.
I feel stuck in the mud. Or as David says, in the miry clay, or in a pit from which I can't climb out. He was often in the pits of depression. I think I know how he felt.
Joseph in the Old Testament found himself in a pit too, thrown there by those closest to him, his own brothers. But it was not by accident. He was being shaped and prepared for the exalted place God wanted to bring him later in life. Even then, still another pit experience awaited him in a prison experience. He was unjustly accused or as Jesus put it, "suffering for righteousness sake."
This muddy place, the miry clay, the quicksand in which I am stuck stinks. Okay, so I want out. NOW!
I'm pleading with God "three times," which is the traditional Jewish way of saying "a bazillion times," not just a simple count of three. I have that in common with the apostle Paul who felt he couldn't bear that "thorn in the flesh" any longer.
Surely, I must be in this muddy place by accident. There must be some mistake. It looks like things have slipped out of God's control. Like there's no tomorrow, no bright light at the end of the tunnel. I just don't understand why I have to go through such unjust trials. "Go through?" Could that be my answer? This too shall pass?
O my soul, who says you have to understand? Your part is to quiet down and trust in God's providence and sovereign plan not only for the entire Planet and Universe but for you! It's incredible that He has numbered every hair on your gray head—but Jesus said so.
Why, O my soul, are you in DISTRESS? The last six letters are S-T-R-E-S-S and that's worse than any disgusting four letter word. It has umpteen side effects—mental, physical, emotional and spiritual.
And then to my inbox came this generic but godly word of counsel below which I accept as a message from my loving Heavenly Father to reprove me for whining instead of trusting.
Is there anyone else out there in the blogosphere who needs this as much as I do?
Where you are today is no accident. God is using the situation you are in right now to shape you and prepare you for the place He wants to bring you into tomorrow. Trust Him with His plan even if you don't understand.
********
Be sure to check out all the other goodies
in my new author website www.leonachoy.com
where you are right now
as you read this blog post.