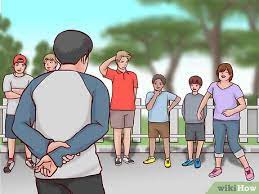 Way back in my childhood, this game was one of our neighborhood favorites. A backyard would do, or an empty lot, or a playground. In heartland Iowa, in the 1930s we played right in the middle of a quiet suburban street. Not everyone owned cars yet so there wasn't much traffic. We'd play in the evenings until the street lights went on. That was a universal neighborhood signal to head for home.
You could play this classic group game with a mix of young and old—kids, tweens, teens, even adults if they wished. One person started out as the "Mother." The participants lined up side by side opposite the Mother at a starting line down the field. The child who played the Mother was the authority figure to give the orders. She was to be strictly obeyed.
The first one to reach the line on which the Mother stood was the winner and became the new Mother for the next round. Young and old had a chance to be the Mother in their turn—if they conformed to her every command.
The Mother would call on one person at a time and tell them to take a certain number and kind of steps toward her. If they started to do so without first saying "Mother, may I?" they were penalized for disobedience. The Mother was free to act on an impulse, a whim, not by fairness or justice. If the child replied with the required phrase, they could take those steps forward and then wait in place for their next turn.
The Mother could command a variety and number of steps: baby steps, giant steps, frog hops, backward steps, sideways crab steps, jumping steps holding one leg up—anything that the current Mother could creatively think of. If the child neglected to say "Mother, may I?" after being given a specific command, they would be sent back to the starting line, no matter how close to winning they might have been.
The Mother could be mean, strict, partial, a bully, unjust, nasty, according to her whimsy. Or kindly. Why did they call the leader "Mother" and not father? Back in my day, moms were the stay-at-home permission-givers and child-raisers while traditional dads were at work earning the bacon. Roles have changed drastically through the decades. The pendulum has swung wildly during the era of feminism and the apparent need for two paychecks "to keep up with the Jones's."
Do you notice any "Mother, may I?" analogies in our downward slippery-slope lives today? Let's take a good, hard look at this past year and the sweeping efforts at resetting our society, our moral compass, and our freedoms.
If the present Mother, our government leadership, demands that we take two giant steps backward or six sideways steps to let someone else pass, or sends us back to the starting line, we are not allowed to ask questions. We are swiftly canceled and silenced. We are expected to meekly comply with the dozens of new commandments issued which are destroying our country, even if we don't agree.
Could we be reaping what we sowed? The leadership that we the people [apparently elected?] have gone right ahead to act on the full authority and control that we gave them over every aspect of our lives.
Every four years we do have the opportunity to elect a new "Mother." In the USA we take turns peacefully. Some countries are forced to accept their leader for life and they turn out to be totalitarian tyrants. The people no longer have a choice. We still choose our leaders; we decide whom we will follow, and we accept the chosen line on which that leader stands.
We are willing to sacrifice and take giant steps if it is for the common good. Sometimes we feel as if we are on a see-saw, up and down, good government years versus some years causing devastation for their term of office and far beyond. Has our current government moved us toward a totalitarian regime rather than a benevolent administration as our founders intended? We are freedom-loving citizens, not subjects. We are blessed with a Constitutional right to a government "of the people, by the people and for the people."
This is not a game we are playing. The stakes are the highest. We shouldn't need to say "Mother, may I?" if we decline to get vaccinated so we can pursue our careers and earn our living or enroll in school or engage in sports or travel.
We shouldn't have to say "Mother, may I?" to send our children to school without a mask if we have that conviction. Parents shouldn't have to ask "May I?" to become involved with what their children are taught in the classroom. Where did the idea come from that we have legal permission to kill the unborn or that our children may change their gender at will?
"The Mother" may be aka Uncle Sam, USA, Uncle Joe, or whoever assumes he or she is in charge of all aspects of our lives in 2021. They presume wrongly. They have no power human or divine to punish "we the people" for non-compliance to man-made mandates or to "send us back to an unconstitutional pseudo-starting line." The question of whom to obey was settled with the declaration in the days of the early church that only Jesus Christ is Lord. "Peter and the other apostles answered, "We must obey God, not human authority!" (Acts 5:29)
Should we not resist being dragged toward some strange line on which an "aka Mother" has planted her feet and insists that we become part of without questioning? God help us not to bow to any entity or be wimpy to ask "May I?" permission to follow orders, proclamations, edicts, decrees, declarations, commands, whims, notions, or ungodly agendas meant to entangle us into evil. No matter how many pens the documents were signed with and celebrated.
It is time to make our choices and stand steadfastly on our decisions. "If you decide that it's a bad thing to worship God, then choose a god you'd rather serve—and do it today. Choose one of the gods your ancestors worshiped...or one of the gods…on whose land you're now living. As for me and my family, we'll worship God." (Joshua 24:15)
If you think you still have time, look around. See how dark it is becoming? "We must quickly carry out the tasks assigned us by the one who sent us. The night is coming, and then no one can work." (John 9:4)