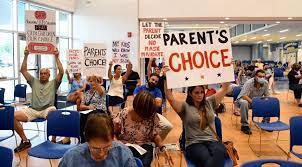 "Parents, you don't have a say in what public schools teach your children!" This public declaration was brashly made by a candidate for a state governor, no less.
Remember (probably you don't) the "Father Knows Best" TV series aired in antiquity, it seems? Moms and dads apparently "don't know best" anymore. The word is "Butt out!" Stay away from school board meetings. Muzzle yourselves or we'll call the FBI to arrest you as "domestic terrorists." Poor, fragile, know-it-all school board members need protection from the Constitutional rantings of some soccer moms.
Be forewarned. Soon it may come to what is happening in civilized, sophisticated Australia: School authorities mandate, "Drop your kids at the gym. We'll teach them what we want them to know behind locked doors. We'll let you know when to come to pick them up."
This is intentional brainwashing and indoctrination, plain and simple. In the good ol' USA we are on the brink of complete abolishment of freedoms based on Judaeo-Christian values and morals. What are we offered instead? A chance to be part of the grand experiment—to show the world how beautifully socialism/communism will work when it has failed everywhere else before.
We're promised that what is going to be Built Back Better in what used to be "America the Beautiful" will be a modern version of "a land flowing with milk and honey" (where everything is promised free while "we the people" are "taken care of" by our super-generous government. )
Where have we been while tyranny was pushing hard with both feet on the accelerator? Asleep for 20 years like the legendary Rip Van Winkle? Allowing ourselves to be put on the shelf under the pretense of protecting us from the pandemic, bowing down to the idol of deception?
While we have been learning meekly to play the butt-out game in every aspect of our lives, there has been an all-out attack on each age level of our society. The elderly are shunted aside with the expectation that time will run out for them with their morally antiquated ways. The rich are moving toward experiencing redistribution of wealth. The voting population is being intentionally ballooned through mass illegal immigration which the middle class will be forced to educate and support.
The working classes are being thinned out through disappearing jobs. Workers are being groomed into the new socialistic mindset by allowing the government to provide their paychecks. Personal initiative and creative ingenuity are being squelched in the tangle with government regulations. Individualism is waning as the government assumed all power and authority.
The father-mother-children monogamous family unit, as it has been throughout recorded history, is coming center stage to be attacked as a primary obstacle to the new order. It has not been perfect; there have always been aberrations, but they were recognized as other than normal.
Considerable headway has been made in the past couple of generations in the Western world to shatter this pure image and disintegrate the family. To crash and burn the nuclear family, indoctrination must begin with the youngest and shape them to think and act contrary to "old-fashioned morality." That morality was based in large part on Christian values. A secular society was essential as a backdrop.
Pliable immature minds could willingly grow new pathways of immorality and blur the lines between black and white and good and evil and call it all relative. Pre-adolescents were easy to persuade that for them it's a new world out there, that for them "anything goes," "whatever feels good" is perfectly normal.
I'm pretty unshockable. But I happened to be cruising the TV channels the other day and came upon a program

which highly recommended the book pictured above for children at the elementary school level. I kid you not—the book being promoted was titled It's Perfectly Normal. No pages or illustrations were allowed to the viewing audience because of their sexually graphic material.
Parents, I invite you to go to amazon.com books, search for an edition for which there is a Preview of the first 60 pages. I dare you to watch the Preview together as a couple privately but not in the presence of your children. Don't take my word for it. View it to be informed and decide for yourselves with your elementary-age children in mind.
It's late but not too late. Will you take the time to find out if this book is openly accessible to your kids in their school library or your local public library or in the brick-and-mortar bookstores for purchase in the children's department?
We're not advocating book burnings nor violence. Let's stay civil. We don't want to take over what qualified teachers should legitimately be expected to teach our future citizens. In those areas, we should leave the driving to the teachers who are trained. Here we should butt-out. But let's firmly challenge and speak out boldly what teachers should not teach outside of the standard curriculum like CRT nor recommend books like this one.
Seriously, do you want your precious kids to think that what is presented in this book are your family's normal standards of morality and sexual activity? Do you want them predisposed to pornography, pedophilia, sex trafficking, transgender options, and other deviant behavior as normal if they are approached by adults with ill intent? Or when peer pressure to experiment overwhelms them? This book makes the case that any conceivable sexual deviation IS perfectly normal. Should this book be in your children's school? Do parents have a say?
God has made parents responsible for the physical, mental, and spiritual nurture of their offspring. Are you willing to leave your family's standards up to their school and their playmates? Do you really believe that whatever is going on in our fallen society IS perfectly normal?
According to the American Library Association, It's Perfectly Normal has been one of the most frequently challenged books of the past two decades because of its enticing "no holds barred" content to tempt children to experiment with the deviant. Libraries have called the book blatant child pornography.
Some parents have not been silent. They are willing to mask off and accept the target on their backs for the sake of their children. They are courageously standing up for human decency, righteous behavior, and Christian values. Are you and your household among them? As a result, the book is being removed from many school district library shelves across the country.