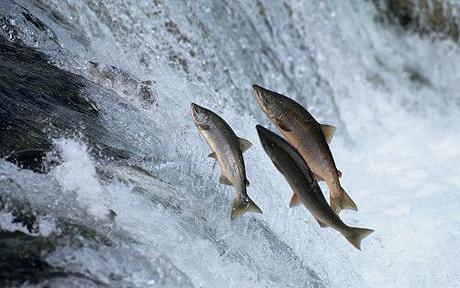 At a recent Christian writers conference, I signed up for a workshop on BRANDSTORMING. I thought it was a misprint. The workshop must be about "brainstorming" for writing. That would be good. But it wasn't. I was relieved that it didn't have anything to do with branding cattle on a ranch either. I was in for an interesting self-evaluation exercise that I could apply to both writing and life itself.
I knew about brands on foodstuffs and merchandise—trade names or brand names. But people branding? Not so much. I discovered that the process of personal branding involves "finding your uniqueness, building a reputation on the things you want to be known for, and then allowing yourself to be known for them." You could come up with a brand by studying your own past experiences, your unique combination of individual characteristics, activities, and events that have made up your life. That would be one's "brand."
Hmm. Too late for me to build "something I want to be known for." I've been there, done my living. I'm thinking more about legacy these days. I only have a long past to analyze. I guess I can do that. At my calendar age of 96, I have a wheelbarrow full of life events and adventures to look back on and examine to find some common thread, a "brand."
Trying to recollect the high and low points, the ebb and flow of my life for almost a hundred years, provided me with a view from the summit of my life from which to come up with one phrase or brand that uniquely reflects me.
I began to wonder whether I might already have come close to branding myself by signing "Sal" along with my signature when I emailed close friends. I had been referring to myself as "God's SALmon still swimming upstream." Continually leaping up the rapids or going against the current or taking the road less traveled closely reflects my manner of life. Rejecting my own Czech heritage even from childhood, going against convention with interracial marriage, assimilating into a Chinese family for a lifetime. Pioneer blood must be flowing in my veins. My ancestors left Europe with little more than a carpetbag and steamer trunk for the Promised Land of America. I've always loved the exhilaration of change. I chafe under the same old—same old. It's been upstream all the way.
Voila! I think I have myself a brand!
We're all in the swim to our Finish Line. Only our direction differs. "Merrily, merrily, merrily, gently down the stream" doesn't require any effort. Only the ability to passively float. It appears that God is pleased with up-stream swimmers, who trust His plan for their lives without reserve. He keeps endowing His children with courage and resilience regardless of the risks, the changes and hard knocks encountered throughout life.
The backstory for my salmon analogy: By amazing instinct from its Creator, an Alaskan salmon swims from the rivers and streams of Alaska's wild frontier an ocean-cruise-long distance to the immensity of the Pacific Ocean. From fresh water to salt water and back again to its hatching place.
Hatched from small eggs in a tranquil stream bed, a salmon begins a journey that will last a couple of years. When it arrives at the salty northern Pacific Ocean, it swims and feeds for more than 2000 miles for up to four years. At every point a salmon is constantly hunted by seals, whales, and fishermen for business or sport.

When fully mature, an adult salmon will head back to re-adapt to fresh water—a feat requiring great stamina and risk. It swims against the strong current through rugged rivers to leap up miles of rapids and rocky waterfalls, traversing fish ladders, avoiding nets and hooks of fishermen, and trying to stay clear of fierce and ravenous wildlife.
Those that survive and at length reach their natal stream, breed and lay their eggs. Their life cycle is complete. After spawning, they generally die within a week or two, fertilizing the stream with their own bodies to provide a nutrient-rich environment for the infant salmon about to hatch.
The several memoirs I have written demonstrate the consistency of my salmon-like life. I have been on a prolonged, venturesome life journey spanning decades and geographical and relational scenarios on several continents under challenging conditions, physical and spiritual. By God's strength I have overcome or bypassed obstacles and hazards and adversities or accepted and managed them with the His help. I hope I have matured in wisdom while I have been weathered by the contrary winds and shifting circumstances of life.

At times I felt that the change from life's freshwaters to salty waters was impossible to endure. God helped me to adapt and keep swimming forward. In the arid seasons of my life, He brought me to His palm-shaded oasis for "times of refreshing in the presence of the Lord" to teach me how to be "a watered garden," how to provide Living Water for other thirsty life-travelers.

Violent bear and whale attacks, both material and spiritual, have been frequent in my life. I have survived cancer, widowhood, and other vicissitudes of life along with my own willful detours off God's plain path of righteousness. The hooks of the enemy have often come too close. I don't think it strange that the evil one tries to devour me. I know that he only pretends to be a lion—or a hungry bear prowling and growling for a salmon dinner. (1 Peter 5:8)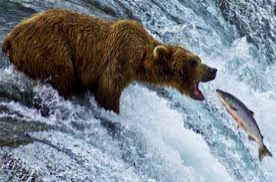 My life battles may have seemed fierce to me at times but were not terminal. Some wounds and scars remain. At times I've struggled through emotional waters and stormy seas. I've often had to swim against the current of naysayers and misunderstanding friends and intentional opposition to what I have known was God's destiny for me.

The waiting times necessary to accomplish my life goals, which I believed the Lord gave me, often seemed daunting. The due time for their fulfillment seemed impossibly distant. Sometimes I felt as if I lost my direction in the vast ocean of life. A fish navigates without a compass. God is my compass. Time and again He helped me re-calibrate to align with His will and sent me on my way once more toward the destination He planned before I was born.
Like the salmon on its return journey, at times I've been exhausted and weary because of the length of life's road. I've been tempted to stay in the perceived safety and shelter of the familiar ocean, forget my dreams, waste-basket my goals and drift with the tide to some easier, closer safe harbor. Forget that swimming upstream. At my age anymore, leaping rapids seems far too arduous. Even ridiculous. That's for the young. I've been there, done that.
Nevertheless, the vision and destiny God planted in my heart from my youth at my surrender to Him, like the inborn instinct of the tiny salmon hatch-lings, impelled me to head downstream into the thick of teeming ocean life in my youth and prime years. Full of vigor, I engaged in life's battle. In mature years, though weary, I "press on [keep leaping upstream] in order that I may lay hold of that for which also I was laid hold of by Christ Jesus. And I press on [keep leaping upstream] toward the goal for the prize of the upward call of God in Christ Jesus" (Philippians 4:12-14).
As long as God provides His life and breath and strength and fresh opportunities to serve Him with gifts He has given, I hope to keep leaping the rapids of life. To be faithful wherever and however and whenever I can to reproduce Christ in others. That's my "Sal" calling.
God's call has no expiration date. It's for a lifetime and Beyond, just as there is no end to God's faithfulness from Here to Eternity. No retirement program, if our focus is to do the will of God "on earth as it is in heaven." A joyous upstream adventure all the way!
By signing "Sal" with my signature, I remind myself that I am also "branded" in the usual sense of ownership-branding by God as one of His own sheep. (Do they even brand sheep on ranches or would their wool catch fire?) I bear Jesus' name as part of His Kingdom flock. I can recognize His voice when He calls my name. I follow Him whether He calls me "Leona" or "Sal."
Wait...how about your brand in the various meanings of the word? Your overall identity, who you belong to, how you are recognized and trusted because of your brand? Jesus' disciples after His resurrection were known as "those who had been with Jesus." They were branded as men and women who were "turning the world upside down."
How has your life been shaped by events that happened to you and how have you been known to respond? What does your well-worn pathway in life look like? A time of quiet reflection from your present vantage point could prove meaningful to discover your unique brand.