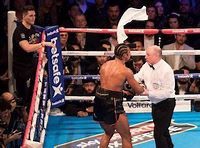 Christian friend, is the fight to stop the onset of the evil reset getting to you? Is it just too much anymore? Are you battle weary? Do those who are against us seem stronger than our side? Is it time to quit and surrender? To throw in the towel?
Don't even think about it!
The metaphor of throwing in the towel comes from the boxing ring. When a boxer is suffering a beating and it looks like he will be seriously injured, from their corner his trainer or handler decides to stop the fight. He literally throws in the towel to indicate his man is conceding the fight.
At first it was a wet sponge the handler would throw into the ring as a signal to stop, acknowledging defeat. In the earliest days of boxing, fighters fought bare-knuckled, without gloves. In their corners was a bucket of water and a sponge used to mop away sweat or blood from the boxer's face. The bell rang and the prize-fight was over. The match was lost. The prize went to the victorious opponent boxer. In more recent years, a towel, always white, is thrown into the middle of the ring, white being a universal sign of surrender.
The decision to quit is not up to the fighter but made by his handler, his manager who is responsible for his welfare.
In our country the fight for our Christian faith and moral standards and freedoms is not yet physical. We have not yet suffered the loss of blood.
Our brothers and sisters in the Faith in other countries, however, are being persecuted and continue to suffer. In our past firsthand experiences with Christians in China whose churches were being demolished, their pastors hauled away to prison, lay Christians discriminated against in the workplace or academia, they consider persecution to be the normal Christian life. They are not throwing in the towel or waving white flags of surrender. The numbers and spiritual strength of Chinese Christians only increases.
Our "light affliction," as the Bible calls it, is just that, not worthy to be compared with the joy that it brings to share in the sufferings of Christ. At this point we are merely getting beat up with words and cancellations and restrictions—soft boxing gloves.
This is the time for bold, courageous push-back of evil, not to cover our faces with our boxing gloves and play defense. As we are being punched repeatedly, let's take a stand, stand our ground and punch back. Not give any ground to the shadowy evil one who is the handler in the opponent's corner.
God is in our corner! He is cheering us on as our Handler. He is not deciding to throw in the white towel and allow us to surrender. He promised we won't get beat up beyond what we can bear, nor will He give us more than we can endure.
"No test or temptation that comes your way is beyond the course of what others have had to face. All you need to remember is that God will never let you down; he'll never let you be pushed past your limit; he'll always be there to help you come through it" (1 Corinthians 10:13 MSG).
In boxing terms, listen to what God, our Divine Handler, Trainer, Coach says:
"Energize the limp hands, strengthen the rubbery knees. Tell fearful souls, "Courage! Take heart! God is here, right here, on his way to put things right and redress all wrongs. He's on his way! He'll save you!" (Isaiah 35:3)
Are we still tempted to fear and cowardice as we face our puny enemy?
"My dear children, you come from God and belong to God. You have already won a big victory over those false teachers, for the Spirit in you is far stronger than anything in the world. These people belong to the Christ-denying world. They talk the world's language and the world eats it up. But we come from God and belong to God. Anyone who knows God understands us and listens. The person who has nothing to do with God will, of course, not listen to us. This is another test for telling the Spirit of Truth from the spirit of deception" (1 John 4:4).