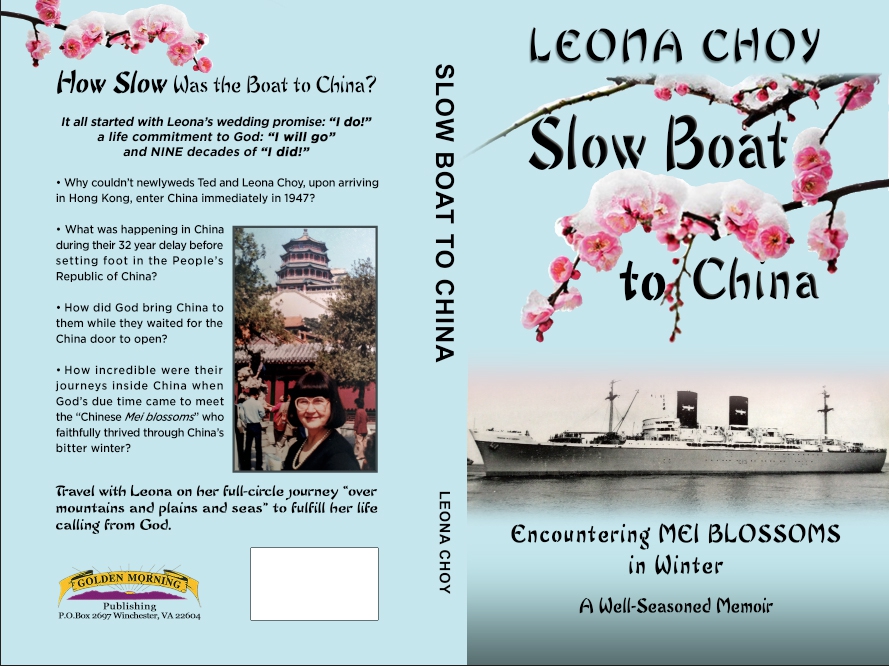 Here's the backstory of my forthcoming never-dreamed-of-writing "Well-Seasoned Memoir" SLOW BOAT TO CHINA, projected to be off the press in a few months.
While sorting my storage areas to determine what to discard and what still had value, I came upon a forgotten cardboard box tied with a blue ribbon containing over a hundred faded, fragile sheets of small font, single-spaced letters and air-letters, fastened with rusty metal paper clips. A dusty journal I wrote 73 years ago as a 21 year old newlywed with stars in my eyes.
I was not prepared for the flood of emotion this long-forgotten diary evoked. Here were my detailed fresh impressions of personal anticipations, dreams, joys and failures and fears as I began the first day of the rest of my life of ministry among the Chinese people. Just out of college, how ill-prepared I felt to sail off to China for missionary work with my husband Ted.
In these pages I revealed how I floundered in my efforts to adjust to an unfamiliar culture on a different continent. I had lived a sheltered life growing up in the Iowa heartland. I had never seen an ocean; now I was crossing one, naively eager for adventures in a different culture. Moreover, my immigrant parents had never seen a Chinese person other than at a Chinese restaurant or in the movies in the detective series "Charlie Chan." Now they had a Chinese son-in-law!
As an only child, I had no idea what lay ahead as I tried to assimilate into my new husband's large and welcoming family of ten brothers and sisters—and all their extended families. How I struggled to find the niche I believed God destined for me in His plan for my life—which turned out to include 46 years of our marriage.
Was this discovery trash or treasure? Should I hide its secrets and quietly toss it out? No one would ever know.
I wrote this collection in the form of letters to my parents as we set sail for China and sent them home to Iowa to be kept for us, if we ever returned to the U.S. I wrote on a manual typewriter, on which you had to pull back the carriage to write each new line. Personal computers were not even near the drawing board—Bill Gates was not born until 1955. I typed on fragile onion-skin paper with carbon-paper copies.
Our four adult sons, two of whom are already grandfathers in their own right, pounced on this surprise musty box of papers as a slice of life and history and legacy that occurred before they were born and during their early childhood about which I had not written in any of my other published books or memoirs. An intimate account of my life in Asia from 1947-1953 which only I could disclose.
They urged me, to give priority to this potential book, suggesting that I expand where needed to explain the venue and situations with historical material related to China—to fill in the gaps—and bring my story to the present.
The logistics of writing and editing this raw material into a meaningful piece of literature were unusually daunting. The original fragile pages plus faded air-letters needed to be photo-scanned, then transferred as documents to my computer so I could painstakingly edit them. Not a task for the faint-hearted nor optically-challenged. A super-difficult mental and physical task for a 95 year old, even if I was the one who originally wrote it.
The title: SLOW BOAT TO CHINA was a natural. That was the title of a popular song the year we sailed to Hong Kong. And yes, it actually was 30 plus years before we were able to enter inland China! Beyond a legacy memoir, it would be of interest to a wide readership as I brought it up-to-date to focus on understanding China in world news today.
Then the book idea ballooned—there should also be an audio version—and I would have to narrate it myself.
I pleaded the poor quality of my aging voice. Granted, many years ago with my young voice I did produce a daily radio program for five years when our WTRM radio station first went on the air. At the same time, my health was declining and I had just undergone a high-risk major surgery.
With my sons' persistent encouragement for what they called my "without-a-deadline-but-hurry-Mom" task, and God's whispered confirmation and energizing, I stepped into the Red Sea to find out whether the waters would part—or if I might have to walk on the water. I wrestled with whether to discard seemingly trivial details at the time of events. My sons weighed in on retaining the details for authenticity.
This is my story, a sequel to my other autobiographical books, bringing my life and ministry full circle. I have presented the happenings of this three-quarters of a past century as I perceived them and lived them, not playing down the significance of the events, excusing my responses, or embellishing them. History is what it is.
******
I encourage advance orders for signed copies @ $14.95 plus S/H $3.00. Publication date: Approximately summer 2021. Please make checks payable to Leona Choy, send to Golden Morning Publishing, P.O. Box 2627 Winchester, VA 22604. You may use: PayPal.Me/LeonaChoy. Be sure to include your mailing address.