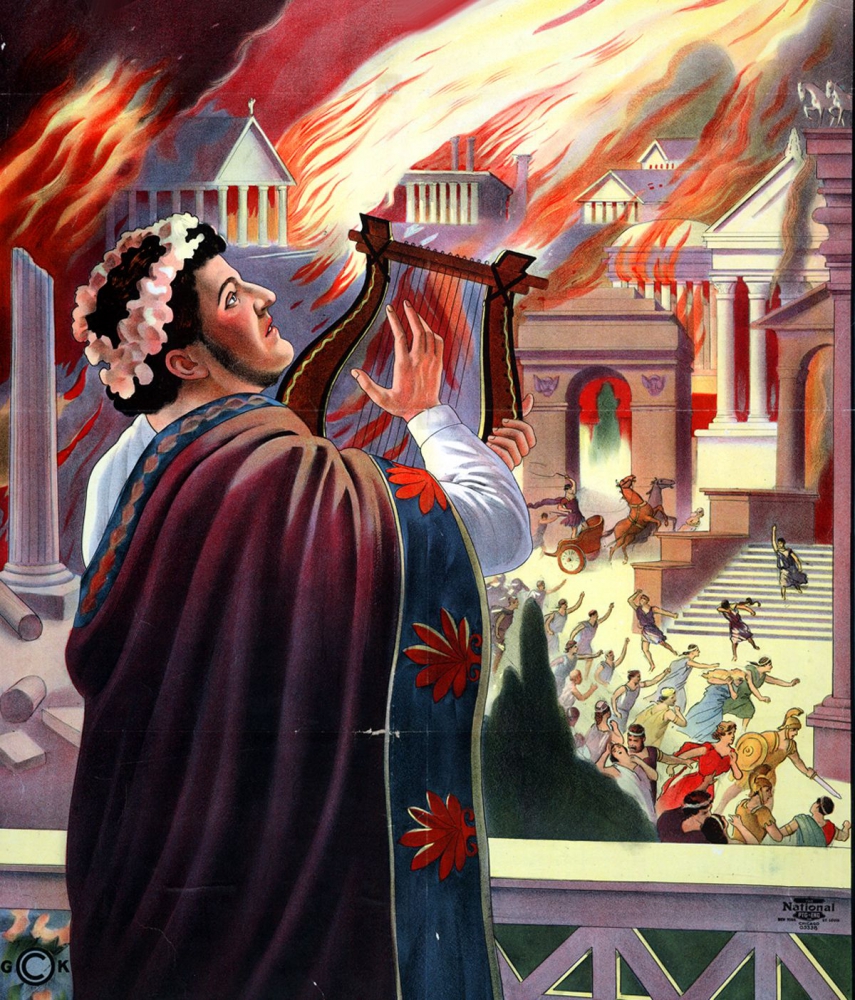 It has been said that Nero fiddled while the great fire of Rome in AD 64 burned and destroyed much of the city. Check history—the fiddle was not yet invented, but he was a musician and did play the Lyre (a small hand-held harp).
No analogy is perfect, but my blog post viewers are thinkers. You can come to your own conclusions about similarities to today's political scenario. Nero took advantage of the fire [think pandemic] to clamp down on the growing influence of Christians in Rome who were boldly but peacefully making the Gospel known and opposing Nero's evil deeds [think whatever you will]. He arrested, tortured and executed [canceled] hundreds of Christians on the pretext [guilt by association?] that they had something to do with the fire. [Think incitement to insurrection?]
Who or what caused the fire [think January 6, 2021?] is unknown. Legend has long blamed the vicious Emperor Nero [switch characters:think outgoing current administration] for secretly setting the fire and deliberately causing the chaos. Some circumstantial evidence. Proud and vain and ruthless, Nero [think newly elected administration] did not like the aesthetics of the city [think MAGA] and used the devastation of the fire in order to plot its change [think "reset"?] and institute new building codes [current mandates?] throughout the city.
Fueled by high winds, homes burned quickly wiping out entire districts of Rome and lasting six days with heavy loss of life. During the tremendous conflagration and confusion, desecration of Rome's sacred monuments and civil statues and heavy looting took place. [Is there nothing new under the sun?]
Young Pastor Timothy of the New Testament lived in those days of the Early Church. He was mentored by senior pastor Paul, his spiritual father. The aged apostle wrote two letters of instruction and encouragement to his young protege some years apart. Timothy and his infant congregation were in a different situation when Paul wrote his first letter. The Early Church was at first tolerated by Rome according to Rome's policy for its conquered lands. His church flourished in relative peace, even infiltrating the highest civil chambers of Roman government.
Suddenly, there was a turbulent political reset under the administration of Nero. [fast forward comparison to 2020] Christians were running for their lives like animals from the horrific trials, imprisonments, vicious tortures and sadistic, gruesome deaths. Neurotic Nero ruled with an iron hand and allowed no words or deeds of opposition to his executive orders. He spewed pure hatred against the Christians because he saw them as a threat to his own power. [think whatever]
To deflect suspicion from himself as the one who set the fire, Nero enlisted the citizens of Rome who were loyal to himself to do his dirty work for him. Not all of Rome believed Nero's propaganda, but he had enough support [think electoral votes?] so that, convinced by false accusations about Christian practices, his supporters took up torches and hunted down the Christians. [think mob incitement to "cancel" them.]
Fear for their lives caused betrayers, defectors, and deceivers within pastor Timothy's congregation to flee the Church rather than suffer with it. At the same time, fiery trials revealed true disciples. Early writings record that many pagan onlookers were converted to Christ after observing the joyful endurance and deaths of the Christians.
This explains the context of Paul's admonition to Timothy in Paul's letter to him. (2 Timothy 1:8) "Don't be ashamed to speak for our Lord. And don't be ashamed of me, just because I am in jail for serving Him. Use the power that comes from God and join with me in suffering for telling the good news." (CEV)
A different admonition was needed now—to remain steadfast in his testimony and unashamed to associate with Paul in prison, to courageously "partake of the afflictions" which the entire Christian community was undergoing. Christians were persecuted simply by virtue of their affiliation with "The Way," as early Christians called the Good News of the Gospel. [think guilt by association today.]
History keeps repeating itself. Statistics reveal the escalation of persecution of Christians in recent centuries: more than 70 million Christians have been martyred in the course of history. "Cancellation" taken to its ultimate—physical death. More than half were martyred in the 20th century under communist and fascist governments. In the 21st century, roughly 100,000 to 160,000 Christians were killed each year. Roughly 1,093,000 Christians were martyred, worldwide, between 2000 and 2010. Can we even wrap our minds around such numbers? (World Christian Database).
I had the rare opportunity during our repeated ministry journeys into the China Mainland to meet families of martyrs and hear and write the stories of China's Christians who presently continue to be persecuted, wrecking balls demolish their churches, leaders are again being imprisoned and sent to labor camps, they suffer discrimination in jobs and careers and academic opportunities. Children are again incited to notify the authorities if their parents are involved in churches. For present Christians in China it is a repeat of the bloody Cultural Revolution of 1966-76. only on steroids.
We met with faithful believers in clandestine house churches as well as in the government-tolerated churches which could only remain open tightly restricted by the government. They were confined to meet only within the their church—no public witness. Pastors were forbidden to preach on certain topics and forced to politicize their sermons. Teaching those under 18 was not allowed. In recent years the communist/atheist government has doubled its fierce crackdown on Christian activity. Another generation is learning to suffer for Christ.
China's Christians told me repeatedly that they were praying for American Christians to be courageous and steadfast when persecution would come to the USA. I admit that sounded generous and compassionate—but far-fetched, given our American freedoms solidly and historically in place through our Constitution.
Fast forward to 2021. Look around with astonishment how quickly our freedoms have vanished and how controlled and restricted we have become in our "land of the free and the home of the brave." Thank you, Christians of China, for being preemptive with your prayers for us. Suddenly we need them desperately! Behind our mandated masks we are squirming under a strange muzzled cancellation culture such as we have never thought possible. You are our courageous role models!
Lord, have mercy on us in this darkness of attempted global reset and give us wisdom, courage and Your strength to be faithful.
(Some historical context from Life in the Combat Zone by Rick Renner)