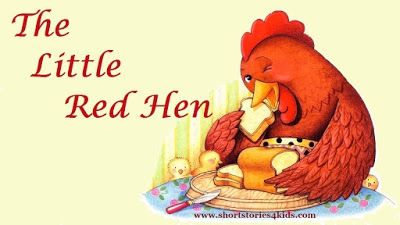 Did you get my point from the previous CHICKEN LITTLE story? Be prepared in case "something will fall from the sky"? I don't mean that you should wear a helmet or not sit under oak trees. The truth is, sooner or later something will fall (befall us). (Matthew 24) The chicken character in the following barnyard story is wise, cooperative, generous but also pragmatic.
THE LITTLE RED HEN, a respected family bird with chicks to care for, finds some wheat on her path, and being frugal, decides grow it and plans eventually to make bread. She asks her other animal friends (the characters vary with the versions of the story: duck, cat, goose, dog, etc.) for help. Each refuses. "Not I," said the duck, "Not I," said the goose. etc. "Then I'll do it myself," she says in response.
The hen then plants, nourishes, harvests and mills the wheat into flour, kneads it into dough, asking at each stage for assistance from her confreres. Same response. "Not I!" Industrious and untiring, she bakes it into bread and asks, "Who will help me eat this bread?" This time the hungry but lazy animals crowd close expecting to freeload. But the hen refuses them stating, "I will eat my bread since I did all the work." She called her chicks and they all had a feast, thanks to a thrifty and hard-working [probably a single mama] hen.
Can you fault her? Was she selfish? Should she have allowed her work-shy friends to eat her out of house and home? Was that the Christian thing to do?
You might ask similar questions of the 5 wise bridesmaids in the story Jesus told. Should they have shared their reserve oil for their lamps with the 5 foolish ones who didn't get to the wedding because of their lack of preparedness?
On the other side of the coin, there was the Old Testament Joseph. As a high administrator in the Egyptian kingdom, Director of Resources, his practical wisdom saved not only the Egyptians during the prophetically forecast years of famine, but also saved the surrounding nations of the known world of that time. When an entire caravan of his own starving family came trekking from afar uninvited, with the express purpose of prostrating themselves to ask for provisions—Joseph was willing to open his storehouses and provide for their needs from the Egyptian national bounty. Joseph pragmatically stocked up during the years of plenty.
Let's get serious. You, my viewer of this blog post, when faced with a similar situation, will be on one side or the other: Like a Little Red Hen, a Joseph, a wise bridesmaid—or—one of the barnyard moochers who expect a generous-heart handout in times of scant resources without having lifted a finger to help prepare.
You may not be worried. An economic crash and food scarcity will never com. The "sky will never fall." How many times do you find the word "famine" in the Scripture as a description of "perilous times" to come? Even as part of God's judgment on unrighteous nations. Don't think of "preppers" as crazed folks hiding in log cabins in the hills with guns and dogs.
If you live in a multi-dwelling complex, some co-op sort of living, or in an urban high rise or a peaceful suburb, what will you do when the shelves of your supermarket are suddenly empty, water doesn't come out of your city water pipes, no A/C, heat,no power. The electric grid is down—think solar storms, natural disasters, asteroid impact, EMP attack—the recovery from the damage will not be a quick fix. Possibly long term—years to restore. Imagine when nothing electronic will work and you have no means of communication. And you have a hungry "brood of your own human chicks" you are responsible for?
"Aw, don't tell me such "it-might-happen" stories to scare me," you may counter. "It's all far fetched! It can't happen here. Can't happen to us."
In recent history, for example, Hurricane Katrina, 2005, was the costliest and deadliest disaster "from the sky" in U.S. history, with 250,000 homes destroyed or damaged, thousands of people displaced, lacking food and water, nearly 2,000 deaths including in the states around Louisiana. Recall Hurricane Isabel, 2003, whose path of destruction extended from North Carolina to New England and westward to Maryland, Washington, D.C. and West Virginia. Winds "from the sky" up to 165 miles per hour, combined with previous rainfall downed trees and power lines, left about 6 million electricity customers without power for an extended period. Information and an alert are not to scare you but to prepare you.
Consider The Little Red Hen and her slothful retinue. "The smell of the bread soon filled the air. The goose stopped quacking. The cat stopped licking herself, and the sleepy dog woke up. One by one, they came hopefully into the kitchen...." What will you do when your family from afar (or near) comes to your kitchen destitute, hungry and needy?
I quote below from a knowledgeable, up-to-date source. I strongly urge you to stop and answer his questions for yourself, from your own venue and circumstances. How will your household fare during a catastrophic event?
From The ABCs of EMP by Jeffrey Yago, Copyright 2020.
"...What will you do if people you actually know or your own kin, perhaps with young children in tow, who haven't eaten for days, knock on your door? Let's make it even more of a dilemma. What if you have spent years of effort and a fair amount of your spare income building up your emergency supplies, and you know for a fact they made no preparations and don't even own flashlight! Nor have they brought any survival skills or supplies with them. So what will you do?
"If you turn them away and they know you have lots of stored food and emergency supplies inside, they just might come back later, only this time with other hungry neighbors more than willing to balance the scales. No doubt they will feel it's just not fair that you have so much, and they have so little—never mind they did absolutely nothing to prepare and believe it's your job [Christian duty?] to take care of them. On the other hand, if you bring them all inside with open arms and a heart of charity, you may end up running a boarding house with no end in sight with everyone wanting to know when you will have dinner ready. [Soon your carefully rationed personal stock of supplies is gone.]
"Crime follows shortages. Even a law-abiding person will be tempted to turn to looting, if their children haven't eaten for a week. Before long, established gangs and individual lowlifes take torches and leave dark abandoned cities for the suburbs and countryside [where you may be living] seeking scarce food and supplies.
"Many people are absolutely convinced the government will take care of everyone if disaster strikes. More than likely, people [who are counting on such rescue] may find themselves on a cot along with thousands of other refugees inside a friendly FEMA camp surrounded by a twelve-foot high fence and security cameras. [Yes, 'being taken care of' ]"
Now back to your decision. Go ahead and factor in the biblical principles to love one another, including your enemies, instructions to go the second mile, feed the hungry, give your coat to someone in need, be a Good Samaritan, turn the other cheek, bear one another's burdens, welcome the stranger etc. At the same time, God holds us responsible for our own household first. Are you ready with answers that will fit your circumstances? Where will you go if you are the ones who have to abandon your home? Do people where you would be going know that you plan on coming to them? Are you going to surprise them? Good luck! What will you do if kinfolk come in your direction?
Role play. Seriously. You, my reader, are a responsible adult. This is not child's play. Are you like the Little Red Hen with the bread recipe in hand preparing for a catastrophic time when "the sky will be falling"? Or have you decided not to worry, just wait, do nothing, and be among the moochers who are heading to someone else's door to freeload on their provisions?