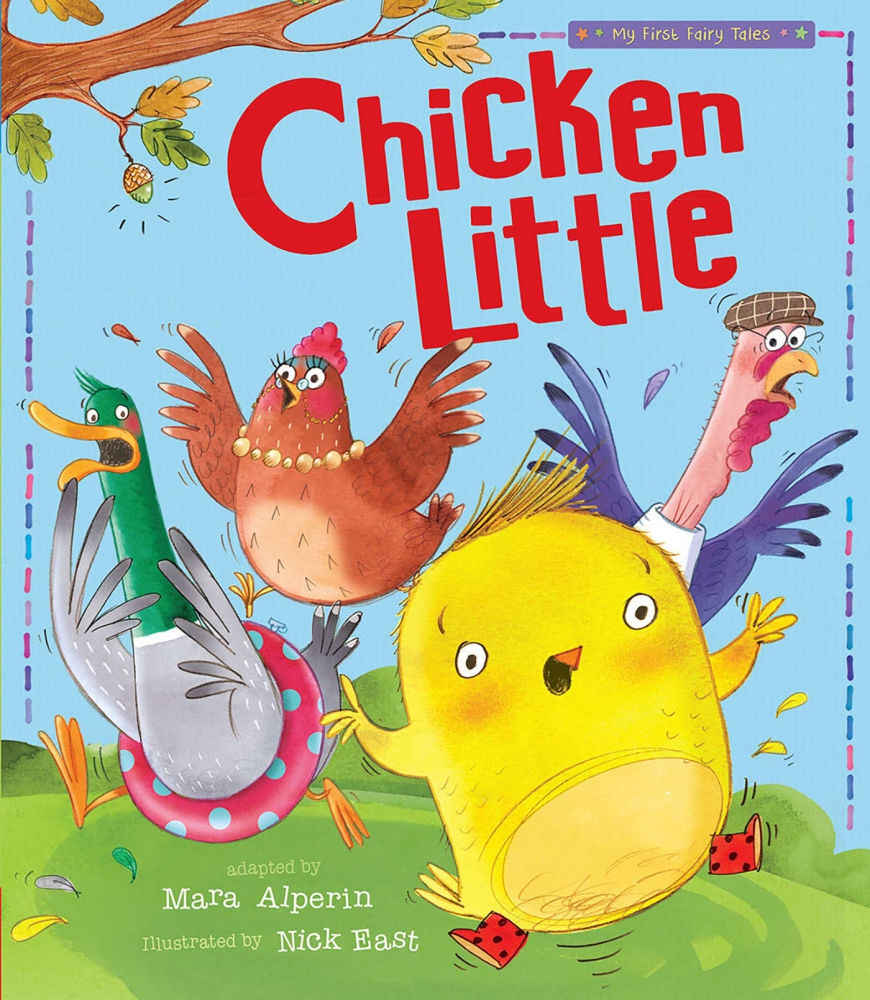 My viewers seem to like "Once upon a time" kids' stories from their childhood with a contemporary application. Let's see of we can spin a yarn for 2021 from the folk tale about CHICKEN LITTLE.
Once upon a time, there was a little chicken and everyone in the barnyard called him—what else? Chicken Little, of course. One day while he was out walking a bird flew over and dropped an acorn on his head. (Lucky it wasn't anything else!) Chicken Little said "Awk" and looked up but didn't see anything, so he cried, "Help! Help! The sky is falling. (misunderstood assumption) I have to tell the King."
(Legend has it that young Isaac Newton was sitting under an apple tree when he was bonked on the head by a falling apple, a 17th-century "aha moment" that prompted him to suddenly come up with his law of gravity. Chicken Little didn't go to the same school as Isaac. He wasn't that smart.) He ran down the road looking for the King. (That part was smart. The King would set him straight.)
First he met Henny Penny (perhaps it was The Little Red Hen in another story, for another day?) who said to Chicken Little, "Buk-buk-buk, what's wrong with you?" "Oh, haven't you heard? The sky is falling! I'm looking for the King." "How exciting. Can I go too?" And they went down the road together shouting, "Help, help, the sky is falling! We have to tell the King."
They met Goosey Loosey who asked the same question with a "Honk, honk!" and joined them. Next it was Turkey Lurkey, and he tagged along with a Gobble-gobble.
But when they met Foxey Loxey, he had a different idea. "He said, "The King is back there in my den. But the King doesn't like to feel crowded, so I'd better bring you in one by one. Who wants to go first?" [Be careful, barnyard citizens. False prophets will come to deceive even those who look earnestly for The King, and will mislead many. Don't believe just anybody who has a long nose and a bushy tail.]
"Me first. I'm the biggest," said Turkey Lurkey [Be careful about pride.] Gobble, gobble. I want to see the King," and he pushed everybody else aside.
"Come with me," said Foxey Loxey, and they went into his hole together. They heard a lot of squawking; some feathers came flying out, and the fox called, "Next." Last of all Henny Penny jumped in. Squawks, feathers...and then...no sound at all.
Oh-oh! Right then, Chicken Little remembered it was his turn to take the garbage out, and he went home. So poor Chicken Little never got to see the King. [He also lived to tell the story.]
Well, that's a silly ending to the children's story, isn't it? It seems there are different versions of the ending, depending on the age of the child listening to the story and the dramatic gory-story barnyard sounds the parent or reader wants to imitate. Can't you make up a better ending?
Dear Grown-up boys and girls, let's put on our "thinking caps" as my first grade teacher used to say. Let's get serious. No more pretending or make-believe. Sooner or later the sky will be falling in your own life or in the lives of those around you. "Perilous times will come," Jesus warned.
Perhaps things in the sky don't look to you like they're falling. But count on it, they will be. Jesus foretold some of those things in Matthew 24—not mere acorns, but powerful things falling from the heavens, stars and the like. Other things come from the sky: lightning strikes, snow storms, hurricanes, tornadoes—and bombs, nuclear missiles, EMP attacks—ominous things against which a new Space Force has been established in our country. And from under our feet, volcano eruptions, earthquakes, the groanings of the earth and the roaring of the ocean causing tsunamis.
"But surely not here, not now, not yet," we reason. (2 Peter 3:4,5) "In the last days mockers...will say, '...all continues just as it was from the beginning of creation....'" History begs to differ. As we look around in the dense darkness which is descending upon us in society, morality in disarray, crash of the economy, unstable currency, loss of jobs, lawlessness applauded, justice a travesty, evil called good and good evil, the "last days" seem to be at our door. Any one of those things may make us feel that "the sky is falling."
Chicken Little had the right idea to go inform the King, (who of course would already have known about it). There are many Foxey Loxey predators around who make grand promises but lure unsuspecting barnyard citizens into their lairs. Our King of kings is the Source of Truth, our only Refuge and sure Way through the maze and haze which is descending upon us. We don't have to go looking for Him. We'll find the King dwelling in our hearts and on His throne with the "government still upon His shoulders."
God is in control, although it seems that the wicked rage and afflict the righteous and have the upper hand at the moment. Let's immerse ourselves in the certainty of the promise of Psalm 37: "[The evildoers] will wither quickly like the grass, and fade like the green herb. Even if the wicked prospers in his way" and tries like Foxey Loxey to "carry out wicked schemes, is full of wrongdoing, plots against the righteous, gnashes at us with his teeth, tries to cast down the afflicted and the needy, slay those who are upright in conduct [see today's front page breaking news—he who has ears to hear, let him hear]"—"The Lord laughs at him for He sees his day of reckoning is coming."
What will you do when the sky is falling in your own life, even when "ten thousand are falling at your right hand?" "No evil will befall [fall on] you." (Psalm 91:7,8,10) Around us, "men's hearts are failing them for fear." Are you trusting the King to see you through? Can you be "hard-pressed on every side, yet not crushed; perplexed, but not in despair; persecuted, but not forsaken; struck down, but not destroyed" (2 Cor. 4:8,9)? We may soon have a chance to be tested.
"You who love the Lord, hate evil! He preserves the souls of His saints; He delivers them out of the hand of the wicked" (Psalm 97:10). Good advice for us as for Chicken Little who escaped out of the claws and den of Foxey Loxey. "It is He [God] who delivers you from the snare of the trapper" (91:3).