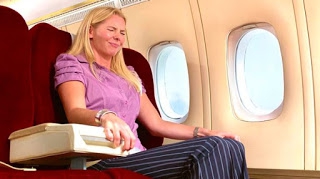 What is turbulence? "Violent disorder or commotion; haphazard or irregular motion in the atmosphere; a state of agitation or tumult; any disturbance from the ordinary; sudden upheaval from normal, peaceful, forward motion in the air; a bumpy ride." (Dictionary definition.)
During my flights to and fro around the world, I've often encountered turbulence—a physical phenomenon due to inclement weather. Sometimes a stomach jerking upset from a sudden drop in elevation on an otherwise calm, sunny day. Whatever the cause, the warning light comes on and over the loudspeaker the pilot instructs us to quickly return to our seats and fasten our seat belts. If the turbulence is likely to be severe or long lasting, he warns passengers to put on their oxygen masks.
Turbulence can also be emotional, mental or spiritual. In our daily lives as Christians we should be realistic and anticipate trouble. We don't live in a protective bubble. Contrary to the popular song, "Oh, what a beautiful morning! Oh, what a beautiful day! I have a wonderful feeling everything's goin' my way." Likely, it may not. "Beloved, do not be surprised at the fiery ordeal among you, which comes upon you for your testing, as though some strange thing were happening to you" (1 Peter 4:12). "Consider it all joy, my brethren, when you encounter various trials" (James 1:2). The latter verse is a pretty big order—all joy?
Our trouble may be personal. Sudden or chronic. A health disorder "out of the blue," an unexpected interruption in a relationship, the loss of a loved one through death, a traumatic job loss or business reversal—any number of causes. It may be societal, national, global and consist of all the above at once—like the trauma we've all been going though this past year. An oxygen mask was not the solution, nor was the mask we have been obliged to wear to protect ourselves from COVID-19.
Turbulence, not status quo or smooth flying above the clouds in our comfort zone, is the norm for us while living in this fallen world and walking around in our mortal body "earth suits."
What to do in our inevitable "times of trouble"? God's Word doesn't leave us in doubt. We couldn't do better than to listen to a few of His promises. Let's take them personally: "Call upon Me in the day of trouble; I will answer you; I shall rescue you; You are my hiding place, You preserve me from trouble, You surround me with songs of deliverance; He delivered them out of their distresses; He brought them out of darkness and the shadow of death; For in the time of trouble he shall hide me in his pavilion: in the secret of his tabernacle shall he hide me; he shall set me up upon a rock; He is their strength in the time of trouble" (Psalm 50:15; 27:5; 32:7; 37:39; 91:15; 107:13,14;)
"The Lord will be a stronghold for the oppressed, a stronghold in times of trouble. And those who know Your name will put their trust in You; For You, O Lord, have not forsaken those who seek You" (Psalm 9:9,10).
So let's sit relaxed and confident, without fear, steadfast and unmovable. Fastened with our seat belt of faith, we'll trust our experienced Divine Pilot and His perfect flight plan for our lives. Take a deep breath and pray until the "All clear" light goes on again. God will touch us down to a safe landing. Great is His faithfulness!