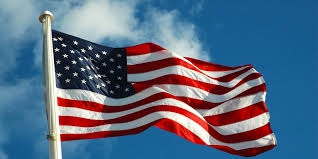 Search the Internet for "America's guaranteed Freedoms." Here's what you will find: "The five freedoms the American Constitution protects for its citizens are: speech, religion, press, assembly, and the right to petition the government. Together, these five guaranteed freedoms make the people of the United States of America the freest in the world."
When I entered Buchanan Elementary School in Cedar Rapids, Iowa, heartland USA, in 1930 at the age of 5, each morning without question the entire class stood to reverently salute our flag, the Stars and Stripes, to recite the Pledge of Allegiance with our hands on our hearts, and enthusiastically sing "My Country 'tis of thee" which we memorized. The final stanza is a PRAYER.
We grew up loving and appreciating our "Sweet Land of Liberty." We were proud to be patriotic. America had so recently fought to bloody success in World War I for our freedoms. My Daddy, a Czech immigrant and a new American citizen, fought for his adopted land with the U.S. Army in France.
My country, 'tis of thee,
Sweet land of liberty,
Of thee I sing;
Land where my fathers died,
Land of the pilgrims' pride,
From ev'ry mountainside
Let freedom ring!

My native country, thee,
Land of the noble free,
Thy name I love;
I love thy rocks and rills,
Thy woods and templed hills;
My heart with rapture thrills,
Like that above.

Let music swell the breeze,
And ring from all the trees
Sweet freedom's song;
Let mortal tongues awake;
Let all that breathe partake;
Let rocks their silence break,
The sound prolong.

Our fathers' God to Thee,
Author of liberty,
To Thee we sing.
Long may our land be bright,
With freedom's holy light,
Protect us by Thy might,
Great God our King!
https://www.youtube.com/watch?v=034fNYyY9HU
Let's call to memory many Inaugurations of the past. I've lived through nearly a hundred years of their regular occurence. America has weathered changes in our leadership since its Independence from England. WE HAVE GUARDED OUR SACRED FIVE FREEDOMS throughout our nation's history. God is the "Author of liberty" not man. And with the help of "Great God our King" and "His might to protect us," we shall go forward--however God wants to deal with our land.
*****
[Samuel Francis Smith, a Baptist pastor, wrote the lyrics to "America," which he called an American patriotic hymn, in thirty minutes while a seminary student in Andover, Massachusetts. He adapted the tune "God Save the Queen," sung for the royal family in England. The hymn was first performed in public on the 4th of July, 1831]