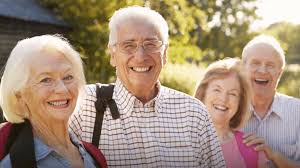 Since I'm only half a year away from my 96th birthday, I'm running head-on into the changing realities of my present "earth suit" body. You can imagine that it looks quite different from the one I started out with during my growing years. I think a little humor might make those changes more palatable.
As a typical teen, I had trouble accepting my body "as is"—or as it was. In my case, I was self-critical of the "chubby" body I inherited from my Czech ancestors. Not until my later years did I learn about nutrition and the part which my well-intentioned parents might have played by "over-nurturing" me with dumplings and gravy and bakery and sweets of their Czech tradition,
All excuses aside, now in my summit years I am who I have been becoming for a lifetime in my character and in the state of my earthly body. It is high time to make peace with the common changes that come to the bodies of all of us in advancing years and to accept gratefully the "earth suit" body God chose for me to live in. Especially as a cancer surgery survivor, I am now thankful for the strong Czech body with which He blessed and sustained me all the way into longevity.
It will go better for me if I accept with humor my "maturing" bodily changes. Even the aging apostle Paul admitted that his "earthen vessel and outer man" was falling apart as he looked realistically at the visible part of himself. Notice that he was writing in the first person in those passages in 2 Corinthians chapters four and five. His earthly tent, as he described it, was becoming tattered and ready to be discarded—at least temporarily.
Okay, Paul, did you mean that you too noticed that your skin went from smooth to wrinkled and your muscles from firm to flabby with the loss of mass and collagen? (I remember one of my little granddaughters snuggling on my lap playing with the flabby skin which used to be my double chin in my more filled-in years. Well, I did a similar thing when I was a toddler as I played with the loose skin on my grandmother's underarm. What goes around, comes around!)
Paul, did you too begin to experience beginning to move from quick to more slowly, your body changing from slim to bulky, from tall to shorter, (you were already short, tradition tells us) your balance from steady to tottering? Did you sometimes slip from alert to drowsy, from robust health to ailing, from being sure-footed to stumbling, from a steady hand to tremors? Did your hair turn from dark to gray?
Paul, did you experience the redistribution of your bodily padding to places where you would rather not have it? Men do have different appearance problems than women. Aging men often become thin while their stomachs above their belts begin to balloon. Women seem to be more vulnerable to gravity and changes of their shape as they age. Many women expand below their belts and add padding on their hips and derriere.
But I'm going to stop comparisons with the apostle Paul because he was probably able to disguise or camouflage any bodily sags and deficiencies under the draping of the flowing robes worn by Eastern men of his times.
I was determined as a teenager that I would never, ever look like all my stout, "full-figured" Czech women relatives with their ample tummies which they managed to cover up with wrap-around European-style aprons. Guess what? Now my GYN chuckles and recommends that I accept the changes of my aging body and resign myself to look like a pregnant senior citizen. Well, thanks, doctor! I really don't need that kind of encouragement. I'm not Abraham's wife Sarah or Jesus' Aunt Elizabeth either. And cover-all aprons are no longer in fashion.
I remember a time in my youth when I could eat almost anything and it didn't show up on my body. Now in my advanced calendar years I can eat modestly and the food morphs directly into cushioning fat on my stomach, hips, or backside. But something is amiss. Seems that my arms can become skinny but my body remain bulky, albeit wrinkled and saggy.
There are other changes I must accept. In my former seasons of life I was not only able to care for myself but I gladly took care of others. I realize that the time draws near when I myself will need to be cared for. In the past I have been in control of all my affairs and could be depended on to make quick, wise decisions and be a run-about. That is changing. In practical matters, sound sleep now gives way to wakefulness. There are now multiple nocturnal bathroom journeys unless, well, that all "Depends."
In my summit years I am likely to experience weakness and frailty where formerly I had been proudly strong and agile. Upright stature tends to give way to bending forward as I walk, and my joints could use some of the oil from the can that the Tin Man carried around in the Wizard of Oz story. My confident gait starts to become a stiff shuffle. Some of us flawless "rememberers" may begin to notice increasing "senior moments."
"All that is within me" used to run along smoothly and regularly and automatically when I was young. Now there is much within me that is not even fixable anymore. I must simply try to manage all whatever doesn't work. I resign myself that in common with the rest of my seasoned peers, quite often now "my get-up-and-go" has "got-up-and-went" before noon. We all experience energy crises. Gravity seems to be having the last word. We more frequently run out of steam in the short term and slump-lump into the nearest sofa chair. If we remain sitting very long, we may nod into an unplanned, brief and sonorous siesta.
There's more—but enough already! The bottom line is that I need to be philosophical and more than a bit of humor about the unavoidable changes of the human flesh part of me. I gain nothing by complaining against nature.
The Serenity Prayer is even more relevant in our summit years. "God grant me the serenity to accept the things I cannot change, courage to change the things I can, and wisdom to know the difference." If I don't recognize that difference and fail to accept the unchangeable, I will simply make myself and everyone else miserable.
Isn't it better to accept gratefully the generous measure of life which the Lord portions to each of us according to our season of life? Whatever our earth suit's outer condition, our inner soul can be abundantly and daily renewed. So let's "Celebrate each day of life as a loving gift from God" while He gives us life and breath! A better way to navigate 2021!