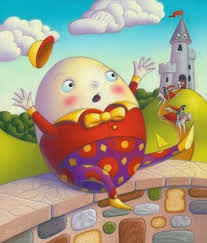 "Humpty Dumpty sat on a wall; Humpty Dumpty had a great fall. All the king's horses and all the kings men couldn't put Humpty together again."
In the late 1700s, this English nursery rhyme about an anthropomorphic egg was meant as a satire for adults about the political turmoil of that day. King Richard III had just been defeated in battle. Obviously, he was the Humpty Dumpty figure. This was breaking news, but it had to be "broadcast" through the written word without the hype of today's instant media. This short rhyme was sort of an op-ed in the newspaper of the day.
Such a pity, King Richard's entire army and political cohorts couldn't rescue him. The government was in disarray. The future of England was at stake, as was their current royal family. The analogy has been exploited in political cartoons around the world since then. In 2020 we too can sleuth out similarities to our present political happening, if we will. So let's unpack the egg carton.
It seems that Humpty had a mishap. We may ask: What was an egg like him doing on the wall in the first place? Whose wall was it? Was Humpty perchance disobeying someone's rules about wall climbing? Was this wall surrounding a garden that he wanted to peep into—but lost his balance? Did someone push him off? Did he jump? The rhyme doesn't disclose all these things. Kids don't ask such questions anyway.
Too bad he was such a softy. It would have gone better for him had he been hard boiled. Old H.D. has even been used as an example of the Second Law of thermodynamics describing a process known as entropy—about the order and disorder of properties. Humpty certainly became "disordered" as he splattered all over the ground.
His catastrophic tumble certainly rearranged his "properties"—his CaCO3 shell was shattered, the vitelline membrane, germinal disc yolk and chalazae spilled all over the place. It wasn't pretty! Actually a mop was needed, not a military attempt for damage control. After such total eggish disorder and disharmony, it figures that no one could help him reconstruct his former standing—or sitting, in his case. Was his "integrity" permanently changed? Had the time come for him to concede?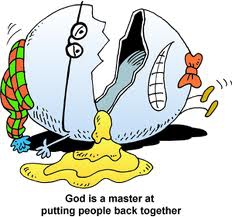 Thank God that in salvation history the "great fall" of our first parents didn't permanently change our integrity! God created man in perfection and destined us to live with Him for eternity. Although long-term disorder did set in for mankind, God, in His infinite love and mercy, didn't leave us without hope. He specializes in spiritual reconstruction.
It didn't require "all the kings horses and all the kings men" to put us together again, to reconcile us to God. The King's Son took care of it all through His plan from before the foundation of the world, the redemptive sacrifice of Christ on the cross. We could become new creations in Christ and experience His Holy Spirit's indwelling. Our disorder, our need to be put together again, could be remedied through our repentance. Forgiveness of our sins, peace, harmony, and order could be restored. Now we live on The "Rock," not on the sand of our humanity or the flimsy material wall of Humpty's nursery rhyme.
No analogy is perfect. Bear with me. Our generous birth-gift from God of our free gets us into trouble. In our case, "election" implies personal and collective choice and responsibility at the ballot box. We each decide who we want to follow. Moreover, we live in a fallen world where there is deceit and fraud. As new, restored creations we still have the freedom to jump off the safe haven of our Rock-wall. We might inadvertently slip off. Or someone or some circumstances might push us off. We can lose our balance, if we take our freedoms too lightly. We can also vote ourselves off the wall.
Like Humpty of old, we are in the midst of a governmental discombobulation and disarray. Many of us were confidently exercising our Constitutional right to cast our ballot in our preferred direction, but the outcome may not have been to our liking. Our presumption of victory seems thwarted. Our current political upheaval is like an earthquake that has shattered our "great-again" hopes and dreams. The quake and its devastating after-shocks overwhelm us with anxiety about the "what ifs" we face. Our peace flies away. Some are even tempted to jump off the wall in despair!
Humpty's summons of all the material and military resources of his human (or barnyard) kingdom didn't do him any good. In our scenario, the courts of law and the paths of justice to which we appeal, the "horses and chariots" of our day, can't seem "to put us back together again." Have we passed the point of no return? Unscrambling scrambled eggs is above everyone's finite pay grade. Vain is the help of man—or of poultry.
We need a miracle? That's God's specialty. It is a small thing for Him to restore scrambled eggs to their original wholeness. Courage. Patience. Trust. He created our Blue Planet and the Universe and everything and everyone on it, out of nothing!
Let's remind ourselves to "be still and know that He is God"—and we are not. Hush our troubled hearts so that we can hear His whispered promise that we are still in His "Plan A" and not off on a detour or being kidnapped by adverse circumstances. Our Alpha and Omega God may choose first to allow disorder, chaos, and an apparent defeat—a scrambling of eggs—as He moves His mighty hand in chastening judgment and a concurrent necessary exposure, an unmasking of the deceit, and a public political Reveal of injustice.
It may be that God is planning through the shaking of The Reveal to bring us to a higher level in His Master Plan, to morph what was meant for evil into a greater good. He does that a lot in history. Might His goal be to draw us into the wonderful, spiritual fulfillment of an Awakening of His presence and power through a Joel 2 "new wineskin" scenario far beyond what we can ask or imagine? The Divine Holy Spirit Shaking will not only change our personal souls but our national and global landscape in preparation for the return of His Son! "Even so, COME, Lord Jesus!"