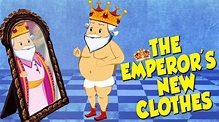 The famous Danish author Hans Christian Andersen published a folk tale, THE EMPEROR'S NEW CLOTHES, in 1837. It was about deceiving and being deceived and trying to deceive the public at large. Classic stories of the past for children, particularly from England, even songs and nursery rhymes, almost always had underlying political undertones. They were subtly disguised as pieces of fiction. The stories weren't originally written for kids. This short story is in that category—a political saga that people in the 1800's would have immediately recognized and applied to their current political leadership.
You may apply the venue to 2020—if the shoe fits. As Jesus said, "He who has ears to hear, let him hear."
Let's have some fun with this. First, I offer you the tale as originally written:
"Once upon a time, there was an Emperor who loved nothing better than wearing fancy new clothes. His only interest was in going to the theater or riding about in his carriage where he could show off his new clothes. Three times a day he would change into a brand new royal outfit. Many Emperors spend their days talking to advisers and fixing problems of the land. Not this one! He was too busy sending out his servants to find the next great outfit to wear.
One day two strangers came to town. They said they were weavers. They said the cloth they wove was the finest anyone would ever see. But in fact, they were not weavers – they were crooks.
These fake weavers said their cloth was more beautiful than any other cloth BUT it could not be seen by just anyone. Only people who were smart and the most excellent could actually see the magic cloth. People who were not smart and not excellent – well, they would see nothing at all.
Soon, word reached the Emperor about these two weavers and their fine cloth. He thought, "I am the most smart and the most excellent Emperor! Anyone can tell by how grand I always look! I do not need to worry about that silly magic."
So the Emperor went to see the two weavers. These clever crooks ran about their shop, pointing at empty corners and tables. They said with pride, "Look at these piles of fine cloth! Surely you have never seen colors as bright as these, patterns as beautiful!" The Emperor could not understand – he did not see any cloth, anywhere!
The Emperor thought, "I cannot let anyone know that I cannot see this magic cloth! Who knows what they may think of me!" So instead he said, "Indeed! This is the most beautiful cloth anyone has ever seen!"
As it turns out, the Emperor's grand annual Parade [aka Inauguration] was coming up soon. This was a special day when everyone in the kingdom lined up to admire the Emperor and cheer him as he walked by. This year the Emperor wanted an outfit more fine than ever before. It must be made from the weaver's wonderful cloth!
Yet there was very little time. Could they weave the cloth in time for the Parade? The two fake weavers frowned, as if they could not be sure. Then they smiled and said yes, they could make him the finest royal outfit and cape ever. But it would cost many extra gold coins for the work to be ready in time.
The Emperor paid it all. The two crooks put the gold right into their chest. But they did not buy yarn. All they bought were a few candles to burn in the windows at night. That way everyone would say, "Look! Those new weavers are working all night long to get the Emperor's new clothes ready in time for the Parade."
On the morning of the Parade, the Emperor came to the weaver's shop. He felt sure that this time he would be able to see the magic cloth. But still, the Emperor saw nothing!
When it was time for the Emperor to get undressed, the clever crooks said, "These clothes are so light and airy it will feel as if you have nothing on at all." And indeed, that is how it seemed to the Emperor! For when he looked in the mirror, he saw in the reflection that he was wearing nothing. But he thought, really, he must be wearing a very grand outfit. One worth all the extra money he had spent.
At the Parade, the Emperor walked tall and proud. Each person who saw him go by thought, "I cannot believe what I am seeing! The Emperor is wearing no clothes!" But each person said nothing. They knew that only people who were smart and excellent could see the magic clothes. So instead they cheered, "There goes the Emperor! [aka Hail to the Chief!] Doesn't he look fine!"
All of a sudden, one little boy called out, "Look! The Emperor has no clothes!" Everyone gasped. Then another child called out, "Look at him! He has nothing on at all!"
Then someone laughed. And someone else. Then more and more people started to laugh. Someone said aloud, "Would you look at that? Our Emperor has no clothes!" Soon, everyone was calling out and laughing.
"Oh dear!" thought the Emperor. "Now everyone knows I could not see the cloth! They will know I didn't speak up because I was afraid of what people would think of me. What will they think of me now?"
But the Parade must go on. And so the Emperor continued to walk naked. And the servants behind him [aka those of his own party] continued to hold high the train that wasn't there.
THE END
*****
The generic moral lessons of this story are not difficult to dig out. We shouldn't let pride keep us from speaking up when we know the truth? People are afraid to criticize something or someone because everyone else seems to think it is good or important. Illusion depends at least in part on self-deception of those being deceived.
The authority figure [aka political leader of his immediate world] and his closest followers [aka staff and appointees to various positions] go along with the pretense because they do not wish to appear foolish or incompetent. Conformity and obedience to authority are the word on the streets. The townsfolk uncomfortably go along with the pretense, not wanting to appear inept or stupid. People in leadership are easily tempted by the lavish perks of the office. The allure of the office can tempt the misuse of state money on personal indulgences. They believe in their own importance and thrive on being flattered.
In the end, the emperor and the fraud are exposed and everyone looks stupid. The swindlers, the impostors, happily run off with the gold. Pride prevents the leader from admitting that he was duped by the pretenders because to be truthful would have made him seem more stupid than he already was. His pride mattered more to him than the truth of his own eyes. Pride goes before a fall.
It took the innocence and boldness of a child to blurt out and reveal the chicanery, what everyone else knew was obvious. Even the naked humiliation of the emperor did not stop the parade as he attempted to save face.
I'm not privy to know whether this tale has a "he lived happily ever after" ending.