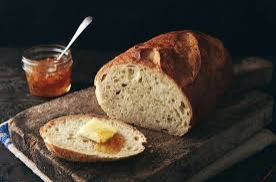 A Fresh Slice of Our Daily Bread
Think back to your high school English Literature class when we read Washington Irving's 1819 famous legend about a Dutch villager in colonial America. In an effort to escape the nagging of his wife, he went hunting in the Catskill mountains of New York. He got drunk under some ghostly circumstances and fell into a deep sleep that lasted 20 years. Rip Van Winkle woke up with a long beard and a rusty gun. Probably a hangover too.
Upon returning to his village, he didn't recognize anyone. People were suspicious at his scruffy appearance and to test his authenticity asked how he voted in the current election. Puzzled, he declared that he was a loyal subject of the distant tyrant King George III of England. He was shocked to discover a reset society that had moved on and made history while he snoozed. He slept right through the American Revolution and the violent overthrow of English rule. A first exciting election had just been held, a new nation had been born, and some General named George Washington was now President! He went to sleep as a controlled subject and awoke to being a free citizen.
Most of his friends were killed fighting in the American Revolution or permanently changed by the war. He is disoriented by finding that there is another man who looks just like him being called Rip Van Winkle—his son, now grown up, his "spittin' image."
This story written more than 200 years ago unveils some striking parallels to our lives in 2020 and beyond. We can't afford to be like Rip Van Winkle to sleep through a national and global revolution and wake up from our private lockdown to a drastically reset society whose trajectory God wanted us to influence.
If I've aroused your curiosity and you want to make some meaningful discoveries on your own, here's a link to refresh your memory of this early American piece of literature: https://www.litcharts.com/lit/rip-van-winkle/summary-and-analysis. Side by side you will find a summary of the story line and comments on the significance of what is going on in the light of hindsight.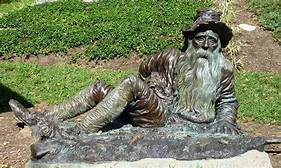 One writer concluded that the moral of this story is that time goes on and things keep changing, that no matter what you do, who you are, or what you think, you cannot stop time and must accept change. I don't think that's true nor is that the lesson we might glean from it. "Put on your thinking caps," as I recall my second grade teacher back in heartland Iowa telling us little wigglers when confronted with a lesson. Every comparison breaks down, but we can apply some points to our present circumstances.
Rip couldn't recognize his old friends after a lapse of time. Our nation is going about like strangers. When we emerge after seeing everyone wearing masks, will we be disoriented? We don't know what's been going on in our society while we have been isolated. Rip stepped into a new normal while expecting the familiar old normal—unrealistic to him and for us. He didn't go with the new flow of positive changes, but picked up where he left off and lived much as he did before. He was a symbol of the past, the same-old-same-old. He didn't become a part of the new zest for growth and progress that energized the optimistic, fledgling country with its fresh look to the future.
He previously retreated to the pub to wile away his time along with his other buddies smoking their Dutch pipes. Upon his return he sensed a new burst of energy and zeal for productive labor and his old hangout became the new Union Hotel where villagers could share excited talk about politics. Not Rip. He was unchanged, continually looking into his rear view mirror attempting to live in the past. He hung out there but kept telling his story over and over while his countrymen were writing a new patriotic history of the United States.
Rip couldn't have been at a very advanced age after a mere 20 year nap in the woods. Couldn't he have shaved his beard and rolled up his sleeves and taken part in building a new nation? Rip moved in with his grown daughter and his grandchild, content to accept his role as a has-been. He was just happy that no one seemed to have any expectations for him to perform any duties or chores.
Frankly, I'm quite disappointed in Rip and his indolence. Let's take him as our anti-example when we emerge from our sequestering. Let's not accept the label of "aging vulnerables" in isolation for the pretense of protection of our health and no longer useful for building our nation—sent out to pasture, as it were, as "non-essentials." We still have a voice and a task!
Don't we Christians of whatever age have a call upon our lives to help build and guard God's Kingdom in every generation with zeal and God's enabling—in every election? In an election we choose who we shall follow. The participation of all is vitally necessary to protect our freedoms. Yes, we need to be moving forward but wisely in a stable, positive trajectory for the survival of our "Republic for which we stand. One nation, under God, indivisible with liberty and justice for all."
There have been countless elections conducted in America's comparatively young history since the election our Rip slept through. There must have been countless opponents to the clear Constitutional direction which the early founders of our country firmly established. In American history there have always been dissenters and traitors and opponents and revisionists and hostile adversaries who seek to put their hands on the helm of the American ship and steer it in the opposite direction. They need to be firmly opposed so that the ship-of-state could sail on without shipwreck to this day and to the 2020 election in which we find ourselves. With God's help, our country has weathered many violent storms and wars. We don't want to do the reverse of Rip—to be in lockdown as citizens and awake and emerge as subjects under the control of a king we didn't choose!
The stalwart men of valor who set the United States on its course from its birth were by and large men of seasoned years, many probably older than our Rip-Van-Winkle. There have continued to be men of accumulated years and wisdom and experience—as there are now—to lead and keep our nation on an even course. Let us as Christian citizens hold up the arms of our leaders in prayer as Aaron and Hur held up Moses' arms so that the critical election and leadership battle in which we are engaged will be fought and won in the direction God has ordained for this nation in it's global mission as a city set on a hill, a beacon of freedom for all.
?