A Fresh Slice of Daily Bread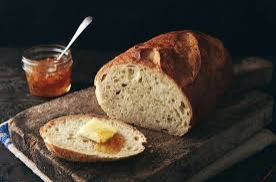 It may seem as if it's been one thing after another to weigh us down during this epidemic. Trials on top of trials as we have tried to adjust to the restrictions put upon us and our families and cope with enforced "togetherness." (Or constrained isolation and loneliness for the most vulnerable among us.)
Yes, we love one another but, 24/7 with no end in sight is too much already. Children back in school—hurrah!—then back home again. Working from home is acceptable, even tolerable—then came job setbacks. Sports started—then stopped. Things going well—then not so much. Tempers are short. Our patience is tried. We run out of creative ideas. Depression is on the horizon. Distancing from our loved ones even begins to look good. It seems as if "Murphy's Law" is the motto at our house. "Anything that can go wrong does go wrong."
Is it God who is trying to weigh us down, to pile adversity upon adversity to see how much we can take without caving in? Is He burdening us with more than we can bear? Not according to 1 Corinthians 10:13 MSG "No test or temptation that comes your way is beyond the course of what others have had to face. All you need to remember is that God will never let you down; he'll never let you be pushed past your limit; he'll always be there to help you come through it." What is there about that promise that we don't understand?
Let's take a deep breath and look at "the grand scheme of things." What does that phrase mean? "In the long term, in the complete picture of something, when you put things in perspective, taking everything into account." By comparison then, our problems or my personal hardships aren't really that significant in the grand scheme of things. That doesn't mean they don't matter, or that God doesn't care—but by comparison they are not that weighty, although they seem to weigh a ton to us.
Try this comparison from 2 Corinthians 4:17 CEB "Our temporary minor problems are producing an eternal stockpile of glory for us that is beyond all comparison."
For us who are Christians, God is working on us and through our circumstances for our good although it may not seem that way. That includes illness, strained relationships, limited finances, mental anguish, the feeling of claustrophobia, shortage of provisions, economic collapse—anything and everything.
There is a purpose in all things. Nothing is happenstance. Through these afflictions we are being changed and transformed into the image of Jesus Christ. Our trials may feel abrasive and hurtful but we are being lovingly polished in God's finishing school. What we look upon as reversals or obstacles or closed doors or tests of endurance may simply be His redirection to a better way.
What we are going through is exactly that—something we are going through. We will come out on the other side. There is light at the end of the tunnel, and that Light is Jesus and He is working out His perfect will for our lives. Life is a journey, an on-going trek through the wilderness. It is a process and we are pilgrims, sojourners. This world is not our Home; we are just traveling through.
With our finite understanding we can't see the entire panorama or the outcome of the circumstances in which we might be enmeshed today. We tend to be navel gazers, obsessed with our own problems. By our very mortality we are nearsighted, visually impaired. Our "white cane" must be to trust that "God's got the whole, wide world in His hands." He has a Master Plan from the creation of the universe for our insignificant, tilted, blue Planet Earth spinning precariously among the other heavenly bodies in space.
The grand scheme of things includes us, the earthlings He intentionally formed from the very crust and dust of the earth He created. We each have a foreordained purpose for living out our brief lives. "He chose us in Him before the foundation of the world...He predestined us...for good works which He prepared beforehand that we should walk in them" (Ephesians chapter one).The Lord doesn't simply send us out on our own but equips us to carry out those good works in our day to day lives.
Can we accept our circumstances in perspective? We are not experiencing a dead-end worst case scenario no matter how bad it feels or looks. No, not in the grand scheme of things!