A Fresh Slice of Daily Bread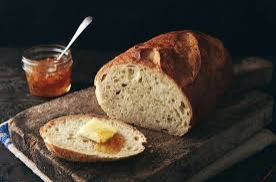 I just heard that the governors of some states declared that their citizens should cancel traditional Thanksgiving plans because of Covid! Their grinchiness is supposedly to protect each other from catching the virus. But behind the scenes we know that the real source of thievery is not the government mandate or the virus but the devil.
Jesus, the final authority, clearly stated, "The devil comes only to steal..." (John 10:10). This year he already tried to steal Passover and Easter as well as several secular and patriotic celebrations. But he can only steal from us if we let him. It is far above his pay grade to be able to steal Thanksgiving!
He was almost successful to turn Thanksgiving from a religious observance for gratitude to God into an occasion to overindulge ourselves with turkey and dressing and mashed potatoes, cranberries and pumpkin pie and all the trimmings, (can't forget the green bean casserole!). Then the grinchy devil thought up "Black Friday" to caboose Thanksgiving with its panic shopping frenzy for incredible bargains during which people act like wild animals moving in for the kill.
We can save the true Thanksgiving spirit by recognizing that it is not a date on the calendar but an attitude of gratitude which can't be stolen. It is a matter of the heart that must accompany all petitions we make to God. "Pray and in everything give thanks, for this is God's will for you" (1 Thess. 5;18; Eph. 5:20). Being thankful is no small thing. Jesus commended the one leper who returned to thank Him out of ten who were healed.
Grinches of any kind, human or the dark angels and all the minions under the devil's control which try to assail us are no match for the bubbling of joyful gratitude of the Holy Spirit who lives within every child of God. The Psalms are overflowing with admonitions to thank God. "Let us come before His presence [and enter His gates] with thanksgiving" (Ps. 95:2; 100:4).
To learn to say "Thank you" is one of the first things parents try to teach their little children when they are given something. And the child dutifully parrots "Thank you" upon being prompted, but next time the youngster might have to be reminded again. We grown-ups forget to say "Thank you" sometimes too, don't we?
When I awoke this morning, I was impressed to declare today a special Thanksgiving. Not like the first one in 1863 which Abraham Lincoln initiated. Mine isn't a national holiday but a deliberate, personal, "anti-Grinch gratitude day." Of course, I already do thank God on a regular basis. Nevertheless, I want officially, between God and me, to be on the watch to thank Him for everything I see and feel and experience and encounter and think about today—people, places, and things. I want to notice them. To acknowledge them. To name each blessing in detail. And say "Thank You, Lord!"
Now to get started. Thank You, Lord, that I woke up to another new day; for life itself; for life in Christ, for His Holy Spirit living in me; that I slept well on a luxurious queen size mattress and only got up twice; that my CPAP system worked for my sleep apnea; that I can breathe throughout the day without extra oxygen; that I can put my feet on the floor, with strength to stand up and walk unassisted, although unsteadily; that most of the bodily organs in my "earth suit" are still working after so many years of service; (and even for those that are kinda sluggish but still chugging along!); for healings and recoveries when I have needed them; as a super-vulnerable that I've not had Covid; for the assurance of Your Presence and something good to look forward to today in Your plan for my life; for a sound mind and fairly good memory; for...oh, so much You've blessed me with....and I've barely taken a few steps from my bedroom!
Why is this such a big deal for me?
A year ago this week I underwent successful major surgery and celebrated Thanksgiving in the hospital. I'm thankful to be living my 96th year on earth! Yes, it IS a big deal to celebrate each day as a loving, generous gift from God. Each day is a bonus day to do His will on earth and to please Him. How about you? Would you like to try an "anti-grinch gratitude day"?