A Fresh Slice of Daily Bread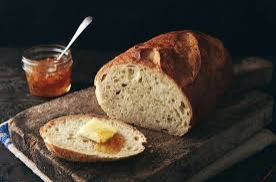 When we look around us, we may not be seeing green pastures and quiet waters. Heavy, dark clouds seem to be rolling in and we hear ominous thunder in the distance. Fear is gripping us that our civilization is crumbling around us. Our hearts may be "failing us for fear."
The Scriptures tell us precisely how to look at our negative circumstances when we encounter them. (Hebrews 12:1 MSG version) "We'd better get on with it. Strip down, start running—and never quit! No extra spiritual fat, no parasitic sins. Keep [fix] your eyes on Jesus, who both began and finished this race we're in."
The Greek word "fix" implies concentrating our gaze, focusing all of our attention on one object. When Jesus walked on the water, the disciples were terrified. Because Peter recognized Jesus he took the risk to walk on the water by keeping his eyes riveted on Jesus. He lost his balance and began to sink when he looked away at his circumstances.
If we concentrate on Jesus, we will not sink on our present stormy seas. "Fixing our eyes" implies steady focus, staring at, gazing intently with eyes wide open, paying steady attention, not shifty-eyed, darting anxiously here and there.
We are told to fix our eyes not on what we see but on what and Who we can't now see with our human eyes, but which will be seen in the future. (2 Cor. 4:18) "So we're not giving up. How could we! Even though on the outside it often looks like things are falling apart on us, on the inside, where God is making new life, not a day goes by without his unfolding grace. These hard times are small potatoes compared to the coming good times, the lavish celebration prepared for us. There's far more here than meets the eye. The things we see now are here today, gone tomorrow. But the things we can't see now will last forever."
In context these verses are dynamite, loaded with powerful truth which we can apply to any suffering, trouble, affliction, pain, or adversity—even death. It's all temporary. The coming "weight of glory" is our permanent future state—deathless, everlasting, forever. "Therefore, we do not lose heart, but though our outer man is decaying, yet our inner man is being renewed day by day. For momentary, light affliction is producing for us an eternal weight of glory far beyond all comparison." (2 Cor. 4:16,17)
Even if we are blind or visually-impaired to some degree, we can still fix our eyes on the Invisible, on things above. The fog of our pain and suffering can't obscure His face. We perceive things in the supernatural through the eyes of our spirit. For that we don't need human eyesight. It is a matter of my will to turn my inner eyes to God and to the eternal dimension in which He dwells.
There is some analogy to a night vision device, an NVD. That optical instrument is most often used by military and law enforcement agencies to see images even in levels approaching total darkness.
If the darkness around us is too dense, or the fog of our present circumstances terrifies us, or the specter of another lock-down looms and our familiar world seems to have gone crazy, the Holy Spirit is available with His precision NVD. He enables us to behold Jesus clearly even in the darkest of shadows.
The hymn writer, Helen H. Lemmel invited us, "Turn your eyes upon Jesus; Look full in His wonderful face, and the things of earth will grow strangely dim, in the light of His glory and grace." Join with the musicians below.