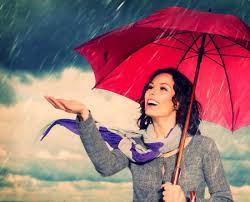 A SLICE OF FRESH BREAD EXTRA
Storm clouds are gathering. Is your PREPARATION UMBRELLA large enough to at least shelter and feed yourself and your family in some dire happening? Are you prepared to survive an even more serious lock-down from a renewed health risk, an extended power outage/total grid failure, whether natural or man-caused? A severe winter may find us without heat, light, water and empty supermarket shelves from an economic collapse—or even panic buying.
I'm not crying doom and gloom to alarm my viewers. I'm your concerned cheerleader encouraging you to intentional take action without delay. None of us knows what is possibly/probably/ inevitably ahead for the rest of 2020. As we look around we can't help but see what a crisis situation we are in.
The closer we come to the election, the more menacing and vocal are the voices revealing the polarization of our American society. (It's a given—of course you must vote!) Whatever could happen after the election is unpredictable.
Parents—what are your contingency plans? Do you have adequate non-perishable foods and water to sustain the number of people in your family? Suggested is at least a 3 months supply including meds and health and hygiene essentials. After the election might be too late to stock up. Shelves will be empty.
But what if we sailed right through Christmas never needing to use the extra we have prepared and by New Years everything remains peaceful and we "live happily ever after"? Then we'll CELEBRATE big time and thank God! We can generously share our abundance with the needy.
But what will you do if we are plunged into long-term "worst case scenario" and you neglected to prepare? Preparation is not unChristian nor does it show lack of trust in God's provision. "But prove yourself doers of the word, and not merely hearers." Joseph in the Old Testament saved not only his own family but Egypt and surrounding nations with his wise long-term preparation.
I pray daily for God's protection and health and well-being of each member of my own beloved, extended families—especially the children who can't prepare for themselves. I'm sure you pray for loved ones under your influence. I'm proud of all my viewers for the great job you have been doing with God's help for your families to survive and thrive throughout the unprecedented difficulties of 2020. But I can't do your preparation for you.
If not you, then who? If not now, then when? Where can you start your prep? Right where you usually shop. Purchase extra quantities of whatever you are accustomed to buying, and check out the Family Dollar stores for household supplies and Costco for quantities. The Lord will give you wisdom for your unique prep situation. (James 1:5) The links https://theprovidentprepper.org/preparing-for-grid-down-my-step-by-step-to-do-list/ and www.ready.gov are helpful, but let's understand—our MENTAL/SPIRITUAL PREPARATION may be more important than a stash of adequate supplies!
We can't live without a sure anchor for our MINDS when the world seems to be going crazy. That anchor is the Lord. Even if "Godless nations rant and rave, kings and kingdoms threaten," we don't need to be shaken because "Earth does anything he [God] says." (Psalm 46) Trusting Him, we can set the example for our children and others by remaining steadfast, staying calm and unmovable, fearless and courageous. Let's speak hope, understand our purpose under God, keep setting goals, and continually looking to the future which is in God's hands for good.
Our Heavenly Father is our loving Caregiver to see us through whatever we as His children are called upon to bear. Let's be sure we aren't "distancing" from Him and depending on our own resources. "Draw near to God and He will draw near to you" (James 4:8).