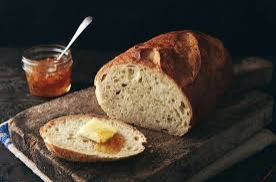 A FRESH SLICE OF DAILY BREAD
Are you a "Beautiful Dreamer?" Night dreams are one of the most overlooked forms of communication used by God from the time of His creation of man. The Old and New Testaments consistently reveal God as speaking to people—to His people as well as to those who don't know Him but whom He wants to reach with a message. If you total up all dreams and visions from Genesis to Revelation and stories and actions which result from them, they comprise about one-third of the Bible—equal to the size of the New Testament.
The following are a few thoughts about dream encounters we all may experience. By Dictionary definition, a dream is "a sequence of images, etc. passing through a sleeping person's mind;" a vision is "a mental image" one is aware of in a wakened state in the daytime." In the Christian Scriptures the terms are sometimes interchangeable. "Indeed God speaks once, or twice, yet no one notices it. When sound sleep falls on men, while they slumber in their beds. Then He opens the ears of men and seals their instruction" (Job 33:14-16).
We are living in an incredible era of history. In nations behind the Muslim curtain and among people fanatically opposed to the Christian message, God is enlightening the hearts of individuals specifically through visions and dreams of Jesus. Literally multitudes are coming to the knowledge of Jesus Christ without traditional preaching. And there is an amazing wave of purportedly prophetic dreams among prominent Christians in the West who are seeking to discern the signs of the times. The Bible is clear that there is a prophetic gift of the Holy Spirit given to certain Christians which involves dreams. However, I am addressing these thoughts to the ordinary Christian to whom He wants to speak through "dreams of the night."
God declared that He would rev up His communication with us through dreams and visions especially in the end times. "And it shall come to pass in the last days,' saith God, 'I will pour out of My Spirit upon all flesh: and your sons and your daughters shall prophesy, and your young men shall see visions, and your old men shall dream dreams'" (Acts 2:17). We can anticipate this and joyfully accept these increased encounters with Him.
It's a neurological fact: Everyone dreams, whether we realize it or not. We may simply fail to remember it. The facts are that if we live 75 years, 25 of them we are sleeping. That equates to 9,125 days in deep slumber. Sleep can't just be wasted time in God's purpose for His people. Might He not have planned sleep, such a large portion of each of our days, as fertile ground to communicate with us?
In a normal eight hours of night sleep, the entire last hour will be dream-time. Sleep laboratories with their sophisticated technology have proven that dreams occur to us all during one to two hours each night during the alpha or REM period before or after our deeper sleep period. When monitored in REM, our eyes literally move rapidly back and forth observing dream action in our minds.
Dreams are a physiological perk. It has been found that they are a normal and healthy inner release mechanism to guard our mental and emotional well-being. In the children's folk tale, Sleeping Beauty, a wicked fairy put a curse on the young teenager to sleep for 100 years. Perhaps, if she dreamed the time away, that was why she was so well-preserved when the Prince awakened her with a kiss and broke the spell! Three cheers for the "beautiful dreamer!"
Granted, some dreams are simply indigestion "pizza dreams," a jumble of characters and scenes with little coherence or plot. Enjoy the entertaining drama, if you will, or ignore those. Sometimes, however, the Lord may impress us that one may be a "spiritual dream" different from the rest, a message from God that needs our attention and some action. Try to awaken gently and quickly write it down. Alarm clocks blast tidbits of dreams into oblivion.
Our spiritual dreams are highly personal and not usually to be taken literally. They are mostly symbolic in nature as are the examples in Scripture. There are really no universal standard meanings for the symbols in our dreams. Dream Dictionaries can throw you off track. We each have to discover our own unique dream vocabulary over time by discerning the interpretation of reoccurring symbols in dreams. Our own experience and circumstances and emotional state at the time of the dream factor in. We don't necessarily need to call on professional help from the likes of the biblical interpreters Daniel or Joseph to de-code the exact meaningfor ourselves. We can ask God for wisdom (James 1:5) and He will not leave us in the dark. He initiated the dream communication.
Stephen Foster's famous composition Beautiful Dreamer written in 1864 has been a favorite of mine since school days in music class. Lovely as all the lyrics are, I'm stealing only the first line to sum up our thoughts about dream encounters with God and how we might be more open to this marvelous, biblical way of hearing from Him.
"Beautiful dreamer, wake unto Me" is an invitation from God to each of us to become aware of His desire for us to respond to Him, as our Beloved Bridegroom Lover. Enjoy this modern rendition:
https://www.youtube.com/watch?v=NpR9gl3-gic&list=RD4U1l5y2rkzA&index=5
As the biblical young Samuel was instructed to invite God's communication when he went back to sleep, let us respond, "Speak, Lord, for your servant is listening."