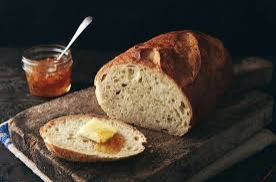 A Fresh Slice of Daily Bread
While the world is still struggling with the Corona virus pandemic, opera singers from China and Italy recorded a song titled, "Together," which was released on Chinese social media platforms. It delivers a message of love, hope and healing in a world that desperately needs it. A marked contrast to the crude, judgmental, critical, verbal posturing which is spewing out these days in our social media.
The song, adapted by Chinese composer Ma Jiuyue, is based on two famous songs from China and Italy: Chinese folk song Jasmine Flower and Nessun Dorma (None Shall Sleep), an aria from the final act of Giacomo Puccini's opera Turandot.
Stunningly beautiful and incredibly moving, it is a powerful video. I can't help sharing it with you. Let's take quiet time to lean back and relax, thanking God for the beauty of humanity when it blossoms in music. The Lord created only mankind with vocal chords so we could sing our praises back to our Creator. Music is an antidote to the raucous, discordant clamor on our streets and blaring through television to poison the ears of our hearts.
"Finally, believers, whatever is true, whatever is honorable and worthy of respect, whatever is right and confirmed by God's word, whatever is pure and wholesome, whatever is lovely and brings peace, whatever is admirable and of good repute; if there is any excellence, if there is anything worthy of praise, think continually on these things [center your mind on them, and implant them in your heart]. (Phil.:4:8 AMP version)
As you listen to the words in the Chinese language, you can pick up the repeated word "hwa" meaning "flower." By culture the Chinese have a keen appreciation of nature, particularly flowers. Much Chinese literature relates to nature. Remember the balcony scenes in Italy earlier in the pandemic where sequestered Italian people joined in the musical festivity regardless of their cloistered confinement? Music can either divide or unite us.
Mandates to stifle our singing voices of praise to our Creator and Savior and masks to cover our mouths are of no avail. "I will praise thee, O Lord, among the people: I will sing unto thee among the nations." (Psalm 57:9)
Enjoy this beautiful harmony of East and West together!
http://global.chinadaily.com.cn/a/202004/09/WS5e8edb77a3105d50a3d150e6.html
COLOR AND HARMONY
Leona Choy
GOD, in primal creation
splashed every color
hue and shade
splendid spectrum
throughout His world.
The firmament shows
His handiwork lavishly
in infinite variety
design and symmetry.
MAN, as part of creation
echoes, mirrors and reflects
his Creator
in human creativity
by taking brush
chisel and pen
instrument of music
voice and body
to express to the eye
and to the ear
color and harmony.
The DEVIL, aberration of creation
forever hiding behind a mask
pretending to be an angel of light
in reality thinks black
plans evil, expresses drab
shrouds himself in darkness
where no Pure Light shines
to reveal creation's color.
Refusing to acknowledge God's way
the devil knows how to play
only one song:
"I did it my way"
and it is off-key!
Only God paints in color
and composes harmony.