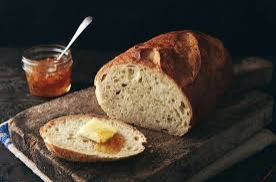 A Fresh Slice of Daily Bread
Recently, still in the midst of Covid restrictions, I pulled one of our oil lamps out of our storage to use as a centerpiece on our kitchen table—primarily as a spiritual symbol of preparedness. I wanted a visual reminder of the Matthew 25 story Jesus told about the wise and foolish bridesmaids.
Intent? To be prepared for whatever eventualities might lie ahead through natural disasters, material and food shortages, and any man-made catastrophes which may threaten to upset our daily lives. Yes, I have a new LED lantern too, but just in case….
Since I'm not familiar with oil lamps and their operation, I called on Google for a little research.
The shape of oil lamps has changed little from pre-electricity days—a clear glass or metal base to hold the oil and a wick connecting the oil with the flame which is covered by a glass chimney.
.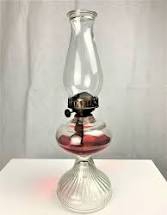 The glass chimney can get cloudy with smoke and soot buildup which cuts back the light output. When I brought my lamp out of storage, I needed to clean it. I learned that trimming the wick after burning and the shape of the wick affects the type of flame and the brightness.
Lamp trimming became a critical job onboard ships at sea in the days when light came primarily from oil lamps. the only lighting below decks came from lampsCrewmen were constantly on duty trimming the wicks so the flame would be clean and bright. They also refilled the reservoirs, which held enough oil for several hours of burning, but not enough to start a major fire if the lamp were to be knocked down or somehow damaged. As ships became larger, the number of lamp trimmers increased significantly, since.
The position of lamp trimmer was so entrenched into marine tradition that electricians were still called lamp trimmers for years after oil lamps had been completely replaced. The skilled part of being a lamp trimmer was the ability to trim a wick in such a way that it would burn evenly, without hot spots.
I practiced on the oil lamp on my kitchen table. I cut off the burned, yucky stuff. A properly trimmed wick should come to a rounded point, or be wedge-shaped. When lit, the wick should burn cleanly all the way up to the highest flame it can make. The flame should be at least the width of the wick, even, not ragged.
In bygone days before electricity, a lamplighter was employed to light and maintain candle, oil, or, later, gas street lights. Visualize a quieter lifestyle. Lights were lit each evening, generally by means of a wick on a long pole. At dawn, they returned to put the light out using a small hook on the same pole. Lamplighters carried a ladder to maintain the oil or gas wicks or mantles.
In some communities, lamplighters also served as town watchmen. Watchmen have existed since earliest recorded times in various guises throughout the world. Organized groups of men were authorized by a state, city, or local society, to provide law enforcement. They traditionally served in public safety, fire watch, crime prevention and detection and recovery of stolen goods.
Yes, I can burn any kind of oil in my lamp. Stale oil or even used cooking oil will work, but I want pure paraffin oil to provide the brightest light with no stink. The biblical bridesmaids likely used olive oil and carried extra in a flask. A temporary inconvenience, but it gave them the entrance ticket to the festivities when the Bridegroom's procession finally arrived.
How critical were their lamps to the wedding? Since early history including Jesus' day, oil lamps together with candles were the only sources of lighting. The wedding festivities depended on the lamplight of all ten of the bridesmaids' lamps. With only five lamps the venue was only half lit. The host would be counting on all ten.
On the occasion of Saint Paul preaching until after midnight in Acts 20:8, the writer Luke noted, "...and there were many lamps in the upper room where we were gathered together." Probably everyone in attendance brought his own lamp. No one even fantasized about what it might be like someday to flip a switch to bring light through electrical current, or about battery power, fluorescent lighting, or LED lighting. Semiconductors, Diodes, voltage, electrons, and photons were far in the future.
In certain less modern societies oil lamp light is still used because it is safer and brighter than candle light. In our society the purchase of oil lamps is still brisk for emergency lighting in case of a power outage, to light up primitive situations, and for romantic ambiance and a cozy atmosphere.
As Christians we await the return of Jesus. He may seem to be delaying and dark night is settling in around us as our society whirls in giddy turmoil. Let's not get drowsy and even doze off—notice, all ten of the bridesmaids slept! "Another reason for right living is this: you know how late it is; time is running out. Wake up, for the coming of the Lord is nearer now than when we first believed. The night is far gone, the day of his return will soon be here." (Romans 13:11,12 TLB)
Our lamps cloud up with the smoke and soot of concern for the affairs of this life. Let's be wise. We can't afford to be caught short of oil at the Bridegroom's sudden arrival.
Oil symbolizes the Holy Spirit in the Scriptures and Christian teaching. I need to be constantly checking my oil, topping it off if it runs low, trimming my wick, and cleaning my chimney from the cares of this world.
My smart phone has a little feature that provides an icon signal "Refresh." It takes intentionality, deliberate action, to keep spiritually refreshed and our lamps burning brightly. I am reminded to "keep being filled with the Holy Spirit" (Ephesians 5:18). I must seek first the Kingdom of God and His righteousness. (Matthew 6:33)
When I look at my oil lamp I'm reminded that it takes habitual attention, an unhurried, contemplative slice of my time. I must be continually anointed with fresh oil which is the oil of joy. (Psalm 45:7a and 92:10b) My head must be anointed with oil. (Psalm 23:5b) including my intellect, my heart, my emotions. My cluttered mind is troubled with many things of this material world even when the pandemic has separated me from my accustomed busyness.
If I am so foolish as to let my lamp run out of Oil and stop shining God's Light, whatever my venue, others will not be able to see in their darkness and are likely to stumble or lose their way. God has provided Oil so abundantly that I may not only be filled with His Holy Spirit but that I overflow.
The Lord is counting on you and me during this pandemic time to poke holes in the growing darkness of the culture around us.
JESUS is The LIGHT of the world. He is the LAMPLIGHTER. I receive His Light. I am responsible to be the WICK TRIMMER to keep my wick clean so His Light can shine to the max. God has chosen my LAMPSTAND for me (my place of influence) I'm responsible to lift my lamp high up there and shine. I'm responsible to be a WATCHMAN to alert my part of this confused world where to find the LIGHT in this darkness.
Let's STAND UP, SPEAK UP—SHINE! I may not be an LED lantern but I can fulfill God's destiny for me as an ordinary oil lamp with used oil.