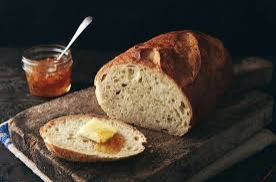 A FRESH SLICE OF DAILY BREAD
Man has stood gazing at the heavens from the time he discovered his eyes could see, wondering what or who, if anyone or anything, is "up there."
The Search for Extra-terrestrial Intelligence (SETI) is a collective term for mankind's search for some kind of "outside the earth" (extra-terrestrial) knowledge. It involves monitoring electromagnetic radiation for possible signs of signals that might be coming from civilizations on other planets or elsewhere in the universe. This search began fairly recently, shortly after the invention of radio in the early 1900s, and got really serious internationally since the 1980s.
The Deep Space Network - or DSN - is NASA's international array of giant radio antennas that supports interplanetary spacecraft missions, provides radar and radio astronomy observations. The purpose is to improve our understanding of the solar system and the larger universe. Huge banks of immense satellite dishes are erected in California, Spain and Australia to keep their big ears and eyes scanning the heavens day and night. Their antennas search for and receive never-before-seen images of the universe, our solar system and ultimately, our place within it.
Wait a minute—stop the presses! Here's some good news from pre-history! SOMEONE unseen through telescopes or by satellite, the Ultimate Extra-terrestrial "out there" in deep space yet imminent to Earth has already contacted us and established communication—on His initiative He revealed Himself!
When all is said and done, what is seen with the eyes or telescopes or satellites is temporal and will always be limited and finite; that which is unseen is eternal, omniscient, omnipotent, omnipresent. That Ultimate SOMEONE is more eager to communicate with us than we are to listen to Him.
We don't have to wonder or be in fear whether that SOMEONE is friendly and beneficent or something evil out to destroy us . He has declared Himself and proved Himself from His creation of this blue Planet and the entire cosmos to actually be loving and intrinsically good.
Even more astounding, He has established a permanent communication frequency by which even the most ordinary human being can contact Him 24/7 and receive instant replies without the use of any technology!
Moreover, that Ultimate SOMEONE is tracking each one of the billions of us humans at all times. He is intimately aware of our comings and goings, our pasts and our futures, yet allows us free will to make our choices in the present.
That SOMEONE created each one of us not only as mortal flesh with "a limited shelf-life" on Planet Earth, but also with a spirit/soul which is eternal. He has provided an "extra-terrestrial" PLACE for our souls after our earthly time span expires. He brings us to live with Him in another dimension.
When we fall into danger or mess up in some way, this "Outside the Terra of Earth" wonderful SOMEONE has compassion and rescues us, sets us back on our feet and, if we ask for His guidance, He generously supplies it.
To top it all off, that loving SOMEONE has appointed a myriad of "extra-terrestrials" called angels to assist us mortals who belong to Him.
With ever increasing technological advances, man relentlessly scans the heavens and tries to eavesdrop on the secrets of whoever or whatever might be out there. To my knowledge, so far nothing definitive has turned up.
One of these days, Surprise! Surprise! All mankind will hear an ear-splitting shout from the heavens, a trumpet sound shaking the whole earth; satellite dishes will rattle, mountains will crumble, and all the world will see at one time SOMEONE descending from the clouds.
There might be a few "extra terrestrial" angels standing by declaring, "Ye men of SETI, Why do you persistently gaze into the sky? This Jesus is the Beloved Son of the SOMEONE whom you have been seeking, who all the while has been seeking you. He was received up from earth into the sky and has come back in the same way as He was seen going into the sky" (Self-Paraphrase Acts 1:11)