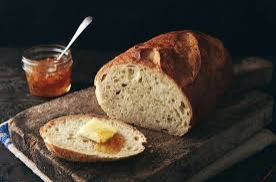 A Fresh Slice of Daily Bread
"Be on your guard. Don't let the sharp edge of your expectation get dulled by parties and drinking and shopping. Otherwise, that Day is going to take you by complete surprise, spring on you suddenly like a trap, for it's going to come on everyone, everywhere, at once. So, whatever you do, don't go to sleep at the switch. Pray constantly that you will have the strength and wits to make it through everything that's coming and end up on your feet before the Son of Man." (MSG paraphrase of Luke 21:34)
(In plain King James) "Take heed to yourselves, lest at any time your hearts be overcharged with surfeiting, and drunkenness, and cares of this life, and so that day come upon you unawares." Jesus zeroed in on three traps which would dull our anticipation to shout with joy at the sound of the Shofar trumpet when Jesus returns.
Many viewers of my posts express appreciation of my enhancement of Scripture passages with other translations. (I've done the research for you!) OK, so let's unpack this verse to squeeze all possible meanings and apply to ourselves. Here's the check list to examine ourselves and correct our course.
Surfeiting isn't a word we use every day. Other translations say: too much of anything, carousing, dissipation, intemperance, debauchery, rioting, moral laxity, orgies, gluttony, giddiness and headache and nausea from self-indulgence, lack of moderation.
Drunkenness is obvious: intoxication, tipsiness, inebriation, being soused, crocked, or other crude terms for drinking too much.
Cares of this life: worldly worries, the business of life, anxiety for day-to-day matters, hassles of busynesses of everyday life, over-attention to the temporal. This is a "biggy" for most of us.
What are the symptoms when "our hearts are overcharged" with the above negative occupations? We are weighed down, overburdened, depressed, heavy laden; our minds are dull or clouded, troubled. We become drowsy. We are likely to fall asleep, if the Bridegroom seems delayed, as did all 10 of the bridesmaids in Jesus' parable who were responsible for carrying the lamps for the Grand Wedding. The three above conditions bring with them brain fog—spiritual apathy to the evident signs of the end times.
Jesus spoke clearly about the suddenness of His return but also that there would be cataclysmic signs and events in the heavens and on earth that would precede it. We aren't left clueless. Not good to be surprised for that Event of the Ages!
In Revelation 16:15 Jesus instructs us to be at the ready, to "keep our clothes on" (be spiritually armored up) so we would not be caught walking around naked, as it were, and be ashamed at our lack of preparedness to stand before God. "Behold, I am coming like a thief! How fortunate is the one who stays alert."
The Jewish bride-to-be in Jesus' day slept in her wedding garments when the signs of her bridegroom's coming became more evident. So we, as the Church, the Bride-to-be of Christ, must be ready to greet our Bridegroom "in the twinkling of an eye" when least expected.
"The Spirit and the Bride say 'Come.' And let the one who hears say, 'Come.' Amen! Come, Lord Jesus." (Rev. 22:17,20) There won't be time to get dressed or change clothes, if there is "spot or wrinkle or any such thing." (Eph. 5:26,27) Let's take heed to ourselves and be ready.