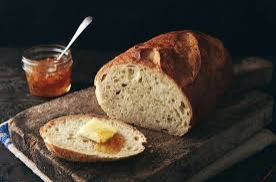 A FRESH SLICE OF DAILY BREAD
Two characters, Christian and Hopeful, in John Bunyan's famous book, The Pilgrim's Progress, arrive in a certain country where the air tended to make them drowsy. It was called Enchanted Ground. Hopeful began to feel dull, his eyes heavy with sleep. He said to Christian, "...I can scarcely hold my eyes open; let us lie down here, and take a nap."
Christian warned Hopeful that if he fell asleep, he may never wake up. Hopeful responded, "Sleep is sweet to the laboring man; we may be refreshed if we take a nap." Christian reminded Hopeful that one of the shepherds had warned them about this dangerous place. "Therefore, let us not sleep, as do others, but let us watch and be sober." (1 Thessalonians 5:6)
During seasons when a local church is not experiencing persecution, the area in which the church exists will become like Enchanted Ground. Believers, called to be watchful, will become careless and sleepy. In the deceitful calm they will want to take a nap. In the parable of the ten virgins, notice that while the bridegroom was delayed, they all slumbered and slept. (Matthew 25:5) And in Jesus' most anguished hour in the Garden of Gethsemane, His three closest disciples fell asleep.
The church in the United States has been living on Enchanted Ground and has become drowsy. We have enjoyed freedom to follow our own religious and/or ethical beliefs and practices. Without persecution the church has more easily compromised and in a sense "fallen asleep." Doesn't this appear opposite to what Jesus said? If you were His follower, you would be persecuted. Christian pilgrims are accustomed to taking short but dullness-producing naps. The sleep of spiritual death in the enchanted air of the world usually begins with one short nap. There is blessing in following hard after Christ and being persecuted. There are no blessings when we fall asleep on Enchanted Ground.
What does Enchanted Ground look like? Worldly prosperity, performance of religious duties by routine, eyes focused on the temporal, no longer delight in serving the Lord, loss of first love for Him, a feeling of being blessed because there are no attacks from the enemy. Such regular attacks go with the territory, if we are members of His Body.
We are called to carry our crosses into daily Heavenly battles for souls. When we become effective for Christ, persecution should follow. "All who will live godly in Christ Jesus shall suffer persecution" (2 Timothy 3:12). "Blessed are you, when men shall hate you, and when they shall separate you from their company, and shall reproach you, and cast out your name as evil for the Son of man's sake" (Luke 6:22). "Blessed are they which are persecuted for righteousness' sake: for theirs is the Kingdom of Heaven" (Matthew 5:10).
We long for this sheltered-in-place life to be over so we can emerge and get back into "real life" and put aside the virtual. Right? But have you seen what's been happening to the world "out there" to which we had been accustomed? When we're back out there, it's not going to be a picnic in the park. As Christians we need to be prepared to suffer for our faith. We may encounter both the gory and the glory!
"Friends, when life gets really difficult, don't jump to the conclusion that God isn't on the job. Instead, be glad that you are in the very thick of what Christ experienced. This is a spiritual refining process, with glory just around the corner." (1 Peter 4:13,14 The Message)