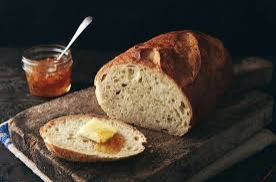 A FRESH SLICE OF DAILY BREAD
A current, upbeat worship song declares triumphantly, "God is able to deliver me!" in its lilting refrain. It echos many of the verses in the Psalms. It seems as though king David was always getting into some kind of scrape, distress, dilemma or miry pit and calling on the Lord for deliverance—which God repeatedly answered.
"I sought the Lord and He answered me and delivered me from all my fears" (Psalm 34:4). "You surround me with songs of deliverance" (32:7).
It's not a matter of God being "able" to deliver us when we call upon Him. Of course He is able! And He invites us to ask Him for help. The way and the time He chooses to deliver us is up to Him who knows what is best for us on any given occasion.
In the Bible story account three Hebrew young men were thrown into the fiery furnace for refusing to compromise their faith and worship the idol of king Nebuchadnezzar. Before they were thrown in, they declared, as recorded in Daniel 3:17, "Our God whom we serve is able to deliver us from the burning fiery furnace, and he will deliver us out of your hand, O king...but even if He does not,..we are not going to serve your gods or worship the golden image." It was going to be a win-win situation.
The Lord did not see fit to keep them from that furnace, but He joined them in the furnace and then delivered the literally cool and faithful young adults out of it safely without being singed or burned.
Later when Darius the Mede was king, Daniel served under him as commissioner in line to be appointed over the entire kingdom. Through jealousy of Daniel by the other administrators, the king was tricked into throwing Daniel into a lions' den for praying and giving thanks to his God openly, as was his habit. That was in disobedience to an edict the king could not revoke. Credit the king who said hopefully to Daniel, "Your God whom you constantly serve will Himself deliver you." And the next morning after Daniel was pulled out of the den alive without injury, the relieved king declared, "The living God...delivers and rescues and performs signs and wonders...and has also delivered Daniel."
Deliverance is defined as "a rescue from bondage or danger." Deliverance in the Bible is the act of God whereby He rescues His people from peril. Sometimes that is deliverance from the bondage of sin. He can deliver the worst sinner and make them His child. Or it can be the eventual deliverance of His children from this earth to the beauty of His Home in heaven. Sometimes that deliverance is when God simply walks through the trials by our side, comforting and encouraging us through them as He uses them to mature us in the faith.
The apostle Paul prayed three times for deliverance from the "thorn in his flesh," whatever it was. Of course God was able to deliver him! But He did not. He assured Paul that His grace was sufficient for his weakness. He learned that lesson and rejoiced in his afflictions.
If today we are weighed down with the burdens and length of this restrictive journey in our troubled, confused world, let's rejoice that God is able to deliver us! Let Him choose the way and time He knows is best. Can we trust Him enough to declare with our whole hearts, "Even if He doesn't deliver us on our prefered timeline, we will not worship and bow down to the idols or false edicts of this befuddled age, whatever they may be, when we emerge from the isolation of this pandemic?"
If we are facing difficult trials, God will walk through them with us in the fiery furnace or den and comfort and deliver us without smokey smell on our clothes or paw marks.
The Lord has promised one day to deliver His children to our permanent Home in Heaven. The time of Jesus' triumphant return is closer than it has ever been. What a joy and grand theme for our song—to know that He comes to deliver us—Hallelujah! Praise His Name! Deliverance from sin, rescue from trials, and escape from the influence of a world in the control of the evil one come only through Christ, the Son of God.