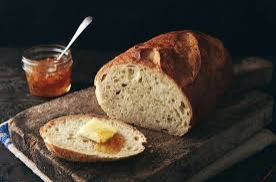 A FRESH SLICE OF DAILY BREAD
It's scary, unsettling, alarming, disappointing—the increase in dropout rate among Christian leaders today. Is it the result of being knocked off kilter by the pandemic? Leadership fatigue, emotional stress, sheer length of the journey? Does that cause moral lapse and the desire to throw in the towel?
Public exposure is not pretty. It is a smudge on our collective reputation as Christians in this day when we are already being besmirched by secular society as unnecessary. And the fallout? The spiritual stability of not a few sheep is affected, who are dependent on being fed by a faithful shepherd.
It is too easy for a shepherd to hide his real self behind a mask, to give up because of the drastically changing venues and new requirements of leadership. Is responsibility for an unseen flock too much trouble? Is the reason the inability to cope with the upsidedownness of the new life we are all being forced to adjust to? Is new wine not fitting into old wine skins? Is endurance and perseverance lacking? Love for the Lord grown lukewarm? Lamp oil has run out?
Or is personal emptiness now being exposed? Lack of a genuine, consistent, intimate relationship with Jesus? Nothing fresh and nourishing to feed the sheep? Like a tree dead at its center which is felled by a sudden blast of wind? Or a fig tree that bore no fruit? Or a house built on the sand? A wolf whose sheep camouflage dropped off as it fled?
We leave the judging to God. No finger pointing by sheep! Only mirror looking allowed. Each of us who belongs to the Lord is accountable to Him individually. The sheep and the shepherd are as one flock but spiritually judged one by one before the Lord. "I never knew you" is a possible pronouncement by the Lord to both shepherd and sheep. (Matthew 7:23)
Sheep too can hide behind masks and wear false sheep wool. We are each going through this pandemic spending it as we choose, since God has given us free will. In our sheltered place we can hide our true characters. Unseen by others we are walking, running, plodding, sleeping time away, wasting our days and weeks on trivia, drifting, bored, declining. We can also choose to grow, thrive, flourish, spiritually build ourselves up, prosper spiritually or even fly—mount up on wings like eagles. The latter powered by the energizing of the Holy Spirit as an antidote to our fatigue, weariness and exhaustion.
We sheep are equally prone to be dropouts regardless of our youth or advanced age, whether we are in the isolated, vulnerable category or just sick and tired of being alone, longing for the natural, healthy nourishment of friendship, love, comradarie—not virtual but "people with skin on." In contrast, perhaps we are ready to climb the walls with stress because of the continual abrasiveness of people of flesh, family, even loved ones crowding our space 24/7 with no privacy.
Our circumstances are common yet unique during this dragging-on pandemic. Some of us could also be heading for dropout. No casting of the first stone! Our wise, 8th century B.C. prophet friend Isaiah gives us good advice for our century. It worked in his: (Message Version Isaiah 40:27-31)
"Why would you ever complain or whine,
O [insert your name] saying,
"God has lost track of me.
He doesn't care what happens to me"?
Don't you know anything? Haven't you been listening?
God doesn't come and go. God lasts.
He's Creator of all you can see or imagine.
He doesn't get tired out, doesn't pause to catch his breath.
And He knows everything, inside and out.
He energizes those who get tired,
gives fresh strength to dropouts.
For even young people tire and drop out,
young folk in their prime stumble and fall.
But those who wait upon God get fresh strength.
They spread their wings and soar like eagles,
They run and don't get tired,
they walk and don't lag behind."
Let's pray with compassion for the shepherd dropouts.
Let's pray for one another not to be sheep dropouts but soaring eagles.