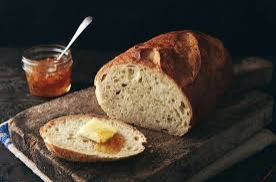 A FRESH SLICE OF DAILY BREAD
A timely prophetic message for us who are going through the COVID-19 scenario from Isaiah, the 8th century B.C. Israelite prophet.
From Isaiah chapter 26 verses 20 and 21 (NASB):
"Come, my people, enter into your rooms
And close your doors behind you;
Hide for a little awhile
Until indignation runs its course.
For behold, the Lord is about to come out from His place
To punish the inhabitants of the earth for their iniquity;
And the earth will reveal her bloodshed
And will no longer cover her slain."
(The above enhanced from various Bible translations)
[Come, see here, listen carefully, behold, look]
[Hide, go home, into you chambers, go into seclusion, take cover, lock the doors, shut yourselves in]
[for a short time, a little moment, awhile, brief moment]
[until His wrath, fury, anger, judgment is ended, over, finished, is spent, has passed]
[ADONAI, the Lord, Yahweh, Jehovah]
[comes, is about to come, is sure to come]
[out of His place, leaves His place, where He lives, heaven, His dwelling place, heavenly place]
[to punish, judge, make known]
[the wrongs, the wickedness, wrongdoing, sins, their iniquity, bad things they have done]
[the inhabitants of the earth, everyone, the world
[those who did violent crimes, the murders that were secretly committed]
[the earth shall disclose, reveal, no longer hide, will point out]
[show where the murdered have been hidden away, bring out into the open]
[the bloodshed on it, her blood, blood spilled into the dust]
[shall no longer, no more cover, bring out into the open]
[its slain, murdered, those killed]
[or conceal her guilt any longer, the guilty will be found, the ground will no longer hide those who have been killed]
Isaiah, do you have a word of hope and comfort for us?
Isaiah 26:3, 4
"The steadfast of mind You will keep in perfect peace,
Because he trusts in You. Trust in the Lord forever,
For in God the Lord, we have an everlasting Rock."
Jesus said, "He who has ears to hear, let him hear."